/ Source: a href="http://www.washingtonpost.com/wp-srv/front.htm" linktype="External" resizable="true" status="true" scrollbars="true">The Washington Post</a
Zahara Mohamedi decided she couldn't take it anymore.
Last year, when she was 18, her family sold her for the equivalent of about $1,200 into a forced marriage with a man she had never met. She moved from the city to a village, where her new husband never allowed her to leave the house. She was treated as little more than a servant, taking orders from her in-laws — even from an 11-year-old girl.
Eight months ago, Mohamedi poured cooking oil over her head and chest and announced that she was going to set herself on fire. Her in-laws dared her to. They beat her and held her. She broke free and lit a match, immediately engulfing her face and upper body in flames.
"It was a kind of protest against the pressure," said Mohamedi, who survived the ordeal but carries its scars — her left arm is badly burned and her chin is bound to her chest by her own skin.
"I didn't care about my life," she said, speaking quickly and softly, tugging at the beige shawl that covers her disfigured features. "If I was killed, I would be free of him. If I survived, I would be free of him, too."
For Afghan women, many restrictions remain
Mohamedi's story is hardly unique here in westernmost Afghanistan, where, three years after the fall of the Taliban, women remain subject to many legal, religious and cultural restrictions and domestic violence is endemic. So far this year, at least 180 women and girls have been taken to the rudimentary burn ward in Herat's hospital. More than 100 have died.
All are believed to be victims of self-immolation, though many, in the presence of their husbands or relatives, later deny they were attempting suicide and blame their injuries on cooking accidents. The majority of them, like Mohamedi, have been in their teens or mid-twenties, sold into forced marriages and victims of constant abuse.
Last year, the Afghanistan Independent Human Rights Commission, using records from the burn unit, recorded 300 suspected cases of women and girls setting themselves on fire; more than 80 percent of them died.
The commission says the actual number of women who have resorted to self-immolation is far higher than what is reflected in hospital records. In addition to those taken to the hospital, many more may be dying in isolated villages, rights workers say.
"Why does it happen? Because of poverty in society," said Qazy Ghulam Nabi Hakak, the Herat regional program manager for the human rights commission. "The families that can't survive engage their young daughters to older men. ... Another problem is the tradition of the people. Conservative families don't allow their women to sit with men, to work with men in an office or to walk open-faced from their houses. Women feel like they are in prison, and under that pressure, they commit suicide."
Conservatism in rural areas
Herat province, which borders Iran, is more religiously conservative than many parts of Afghanistan. In rural areas, men expect women to stay indoors or to cover themselves with burqas when they venture outside.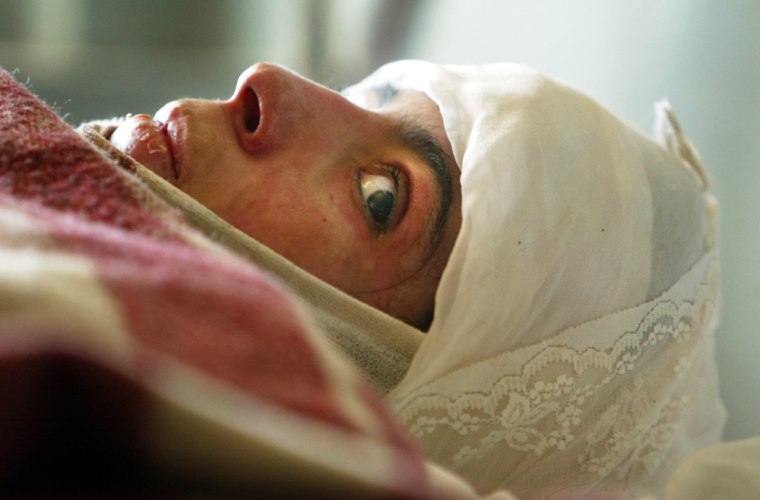 Conditions for women improved after the Taliban was toppled in 2001, but "advances were tempered by growing government repression of social and political life," according to a report issued by Human Rights Watch late the following year.
Ismail Khan, a powerful faction leader who governed Herat before and after Taliban rule, imposed many of his own restrictions on women. "Ismail Khan has created an atmosphere in which government officials and private individuals believe they have the right to police every aspect of women's and girls' lives: how they dress, how they get around town, what they say," said Human Rights Watch's Zama Coursen-Neff in the report she co-authored. "Women and girls in Herat expected and deserved more when the Taliban were overthrown."
Last month, Afghan President Hamid Karzai dismissed Khan from the Herat governorship. But popular reaction to the move did not suggest widespread support for the lifting of social constraints. A mob stormed the human rights commission's office on women's affairs and set it on fire, destroying files and computers.
Busy burn ward
Last Sunday, there were 10 burn victims in the Herat hospital's burn ward, all women, the youngest a 14-year-old. Nosh Afreen, a female physician, said 10 cases amounted to a slow day. Sometimes, she said, "we don't have one empty bed."
"Most of the women who want to commit suicide use this method," Afreen explained. "Actually, the women aren't aware of any other method to commit suicide. If they wanted to take pills, they don't know how many pills to take. So this is the only method they know."
As she spoke, a burn victim arrived, covered by a blue burqa, leaning on the arm of her husband and limping badly. When her husband saw a foreign journalist and his interpreter, he muttered, in an agitated voice: "These women ought to learn to be more careful when they're cooking!"
Later, the woman, 25, sat in a bed in the burn ward with most of her face swathed in gauze, only her eyes visible, and an intravenous drip in her arm. When questioned, her husband said that she had been preparing a meal in a pressure cooker when it exploded.
Afreen and members of the Human Rights Commission said husbands and other relatives of women who survive suicide attempts often try to cover up what happened out of shame and fear of criminal prosecution. In most self-immolation cases, police respond and file a report. Afreen said that, despite the investigations, "nothing happens."
A typical story
In many ways, Mohamedi's story is typical.
She was born in Iran to parents who were refugees from western Afghanistan. They returned to Herat even before fall of the Taliban. The family was poor, with five girls and a boy. Her father tried to make ends meet by selling whatever he could find from a wheelbarrow. Mohamedi's education ended after the seventh grade.
Last year, a distant relative came with an offer: Two young men from a village an hour away would purchase her and her younger sister, then 15, to be their wives. When the money was paid, there was a lavish double wedding.
"Nobody asked me what I wanted to do, or did I like him or not," Mohamedi said. "When I found out they had engaged me to him, I said okay, if it's my family's wish, I'll do it for them."
From the beginning, she recalled, her life was hell. She was forbidden from going outside, even to see her younger sister, who lived 20 minutes away, or her mother in Herat. Her husband beat her regularly, sometimes for no reason, but most often for asking to leave the house.
Her in-laws, she said, were worse. She was treated like the family servant. At one point, her mother-in-law told her to take orders from her 11-year-old sister-in-law. "You should serve her like a servant," Mohamedi recalled the woman telling her. "Whatever she wants, you should do it."
Mohamedi constantly warned her husband that she was thinking of killing herself. But he only laughed, she said, and encouraged her.
"He thought I was just joking," she said. "I didn't know how to commit suicide. He was encouraging me, saying, 'Why not just burn yourself?' "
One night after dinner, she served tea to her father-in-law, returned to the kitchen, poured cooking oil over herself and set herself ablaze.
The family at first refused to take her to the hospital, instead placing her on a bed and fanning her scorched body. It was only when her sister found out what happened and came, and neighbors gathered outside, that the family took her to Herat's burn ward. At first, the in-laws said she had been in a cooking accident — that her scarf caught fire. But her mother, Sharifa Ghulani, said she started screaming until she learned the truth.
Mohamedi spent 23 days in the burn ward. While there, she said, she saw 56 other women, all of whom had done the same thing. The youngest, she said, was 13.
She and her sister are now divorced from their abusive husbands. Mohamedi said she feels bad about her appearance but that her scars may serve as a lesson.
"It's not only a lesson for my younger sisters," she said. "It's also a lesson for all of our relatives and neighbors."