/ Source: The Associated Press
The Sudanese army and police have surrounded several refugee camps in the war-torn region of Darfur and denied access to humanitarian groups, the United Nations said Tuesday. The Sudanese government denied its security forces closed off the camps but said angry Arab tribesmen have gathered in the area.

"It started at 3 a.m. without any warning," said Christiane Berthiaume, spokeswoman for the World Food Program. "Agencies have been denied access to these camps since this morning."
At least 160,000 refugees in western Darfur cannot be reached by road "because of insecurity," Berthiaume said.
Aid workers pulled out
The aid workers — most working for independent aid groups — were pulled from the Golu, Zaleinge and Nertetie camps. The agency still has three employees in Zaleinge and Nertetie but may evacuate them as well, Berthiaume said.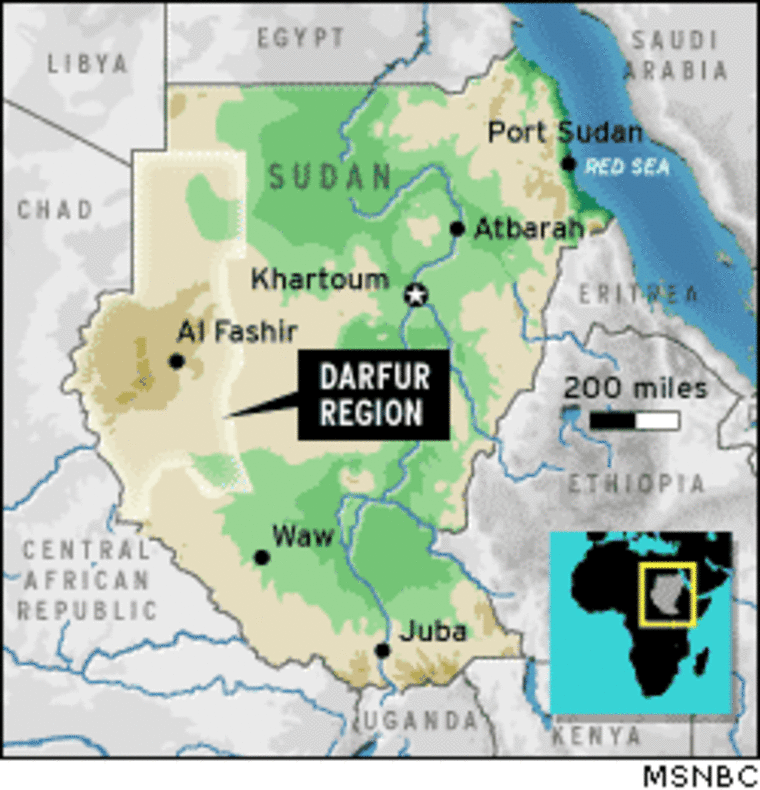 Sudan, however, denied any army or police forces were surrounding the camps. "There is no siege," Humanitarian Affairs minister Ibrahim Hamid told The Associated Press in Khartoum. "It is not true that the government was telling organizations to pull out of the area, and the areas are not besieged."
Hamid said that angry Arab tribesmen gathered in the area after the kidnapping of 18 of their men by Darfur rebels. "The African Union has been alerted and they said they would bring those abducted out of the mountainous areas of Zaleinge," he said.
Sudan's government is accused of backing the Janjaweed in a campaign of violence — including rapes, killings and the burning of villages — to help put down a 19-month rebellion by non-Arab African groups. The government denies backing the Janjaweed.
Attacks have uprooted 1.5 million of Darfur's people, and at least 70,000 have died, mostly through disease and hunger, according to the U.N. The United Nations and aid groups have called Darfur the world's worst humanitarian crisis.
U.N. suspends field missions
The United Nations has suspended all field missions by international organizations because of the kidnapping and violence in Darfur, Ron Redmond, spokesman for the U.N. High Commissioner for Refugees, said.
"Along with other international organizations, we have had to cancel missions to the field planned for this week," he said.
Hamid said that rebels near Zaleinge stopped buses and lorries Thursday and Friday, forcing people of Arab origin to dismount, then took a group into the mountains. Most of those abducted were students, he said, and three managed to escape and get word to their tribes.
The Sudanese government has accused the rebel Sudan Liberation Army of the kidnappings, while rebels claimed Janjaweed ordered 30 ethnic Africans from a bus on Sunday and shot them to death.
An African Union spokesman in Addis Ababa, Ethiopia, told AP in Kenya that his organization had not received any information that Sudanese army and police have surrounded the camps.
"I don't have that information from our military observers, so I can't comment on that," said Assane Ba.
The 53-member AU has about 80 military observers monitoring a shaky cease-fire in Darfur. It currently is beefing up its mission in Darfur, with Rwandan and Nigerian peacekeepers being flown in.