U.S. employers increased hiring in October at the fastest pace in seven months, the Labor Department said Friday in a report that showed an economy growing considerably stronger than previously believed.
Employers added 337,000 jobs last month, and figures from the past two months were revised upward, suggesting the economy has moved well beyond the summer's "soft patch" and retailers could enjoy a healthy Christmas sales season.
"The labor market went from glass half-empty to glass half-full in one shot here," said Ethan Harris, chief U.S. economist for Lehman Bros. "It looks pretty darn good now."
The employment rate rose marginally to 5.5. percent from 5.4 percent, although analysts said that was largely a positive sign that more people had decided to join the work force and look for a job.
The report offered fresh fuel to a post-election stock market rally that has propelled  the benchmark Dow Jones industrial average to its highest level in four months. Bond prices fell, sending long-term interest rates higher on the expectation that the Federal Reserve will be emboldened to continue raising short-term interest rates.
"This seals the deal for a rate increase from the Fed next week," said Mary Ann Hurley, a bond trader at D.A. Davidson & Co. Fed policy-makers meet Wednesday and are expected to raise the benchmark overnight rate by a quarter-point for the fourth time in just over four months.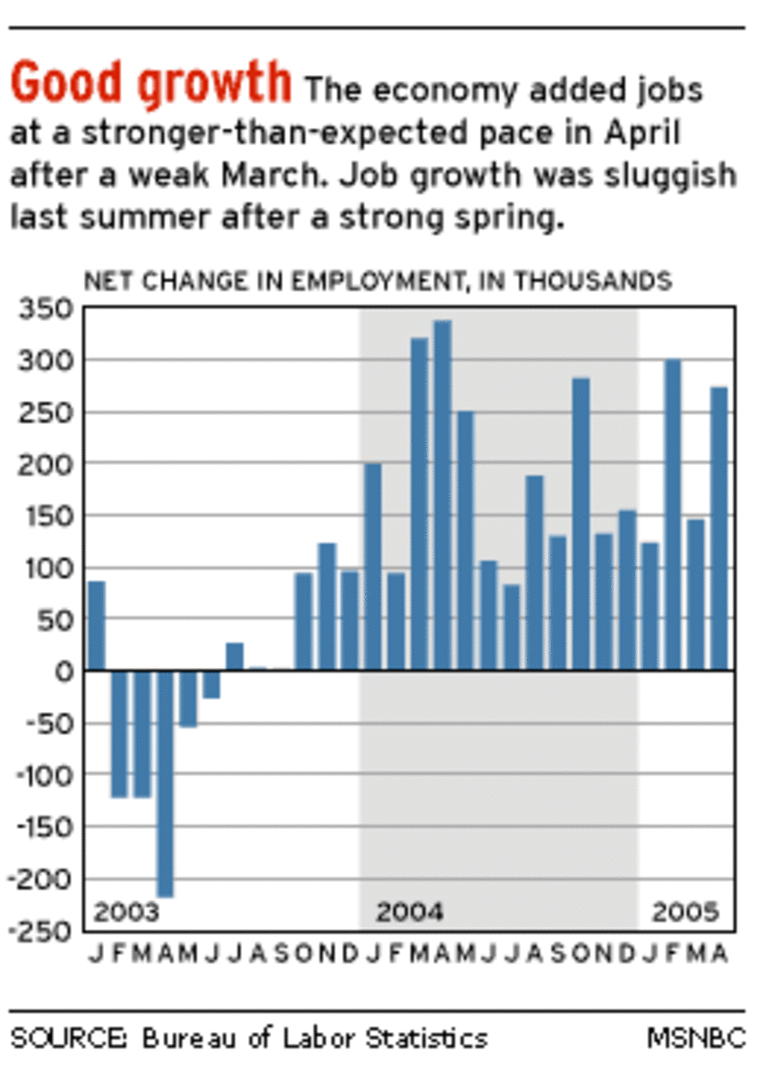 The economy now has added more than 2 million jobs over the past year, the strongest pace since the end of the 1999-2000 boom, when employers added more than 3 million workers to their payrolls. Equally important, the economy has added an average 225,000 jobs a month over the past three months, a healthy pace that should boost business and consumer confidence.
"The uncertainty which has been holding businesses back has diminished somewhat," said Sung Won Sohn, chief economist for Wells Fargo. "They're beginning to feel better — certainly the stock market has been signaling that. It  looks like we have turned on the second engine and are beginning to gain altitude."
Some analysts were skeptical about the latest surge of hiring, pointing out that much of the unusually large jump in October stemmed from cleanup and rebuilding in Florida and other states that were ravaged by four hurricanes in August and September, the Labor Department said.
"While we are encouraged by this latest spurt, (we) seriously question its sustainability," said Rich Yamarone, director of economic research at Argus Research. "We believe that pace of non-farm payroll jobs will probably revert back to the 125,000 to 150,000 a month range in coming months."
The White House, vindicated by voters in the decisive Republican victory Tuesday, saw the latest report as evidence that Bush's policy of cutting taxes to stimulate the economy is working.
"The president passed his jobs and growth bill in the summer of 2003, and we've seen robust growth since then," Bush's chief economic adviser Gregory Mankiw said on CNBC. He said Bush planned to work hard to make the tax cuts permanent and simplify the tax code while working to reduce the deficit and improve educational opportunities.
"The president has a very ambitious agenda aimed at keeping this economy growing," he said.
Mankiw and other economists said the economy faces significant challenges, including higher oil prices that could eat into disposable income this winter, especially in areas that depend on home heating oil. While oil prices have fallen in recent days, they appear likely to remain well above $40 a barrel for the foreseeable future, compared with well under $30 a year ago.
"Let's not assume that the problems are over," said Sohn, of Wells Fargo.
"So much of what is happening right now is based on external condition," he said, referring to the war in Iraq and the potential for terrorist attacks. "These things can turn on a dime."
But he and other analysts said the report sets up the retail industry for a potentially robust holiday season.
"The fact that the election is over and a lot of the legal wrangling will not take place is good news for Christmas sales," said Lynn Reaser, Banc of America Capital Management. "The job numbers will be displayed in headlines as a very good sign for consumers, and energy prices are falling. Christmas sales are looking a lot more favorable than they were just a week ago."