The assault on Fallujah has been getting extensive coverage in Britain. There is widespread belief here that there was no option but for U.S. troops to go into the insurgent city, but many also question the long-term effects of the heavy price for victory.
British Prime Minister Tony Blair on Wednesday again called on those involved in the assault to hold firm, be resolute and see things through to the end. Yet, according to opinion polls, Britons are turning further against the war.
No one doubts the American-led forces will be able to recapture Fallujah, but many wonder if overwhelming force is the wisest strategy in the long-term.
Pyrrhic victory
The defense editor for The Times newspaper, Michael Evans, wonders if it won't be a Pyrrhic victory for U.S. forces.
"Despite the determination to overcome the insurgents, lessons from the recent past — in Najaf in August and in Baghdad during the invasion last year — will serve as a reminder that overwhelming force does not always defeat the enemy, even if a city or a country is seized," wrote Evans.
In the Independent newspaper, journalist Patrick Cockburn said the crushing of Fallujah will not end the war in Iraq, and is likely to be as disappointing in terms of ending the resistance as was the capture of Saddam Hussein.
That was hailed as a huge success at the time, but, "instead the fighting got bloodier and more widespread. There should be no mystery about why this is happening. All countries object to being occupied," wrote Cockburn.
He believes one of the outcomes of the attack on Fallujah could be a boycott by Sunni Muslims of the scheduled January election.
"Even if they do vote," Cockburn wrote, "there is no reason to suppose that the guerrillas will stop fighting any more than the IRA laid down its arms despite numerous elections in Northern Ireland in the 1970s and 1980s."
Blair asks forces to 'stand firm'
During prime minister Question Time in the House of Commons on Wednesday, Blair paid tribute to British, American and Iraqi forces for what they are doing in Fallujah and expressed his belief that if the terrorism in Iraq could stop, tremendous progress could be made.
"Many of those in Fallujah are foreign jihadi's outside of Iraq. They are not people who have got any right to be in Iraq at all. We would cease operations now in Fallujah immediately — if they would lay down their weapons and agree to participate in elections."
"The real desire of these terrorists is to stop the elections because they know that if there are elections in Iraq, as there have been in Afghanistan, that is a huge blow to them as terrorists."
He repeated his insistence that the coalition had to "stand firm and see it through" as defeating the terrorists would open the way to investment, speedy reconstruction and elections.
British opinion turning further against war
Meantime, a poll in The Times newspaper shows public opposition to the invasion of Iraq has risen to record levels. 
The poll asked: "Do you think that taking military action was the right thing or wrong thing to do?" Fifty-seven percent of those polled said it was the wrong thing. While 37 percent think it was the right course of action.
That's a dramatic difference from April of last year when the conflict began. Back then, 64 percent of people polled supported it, and 24 percent did not.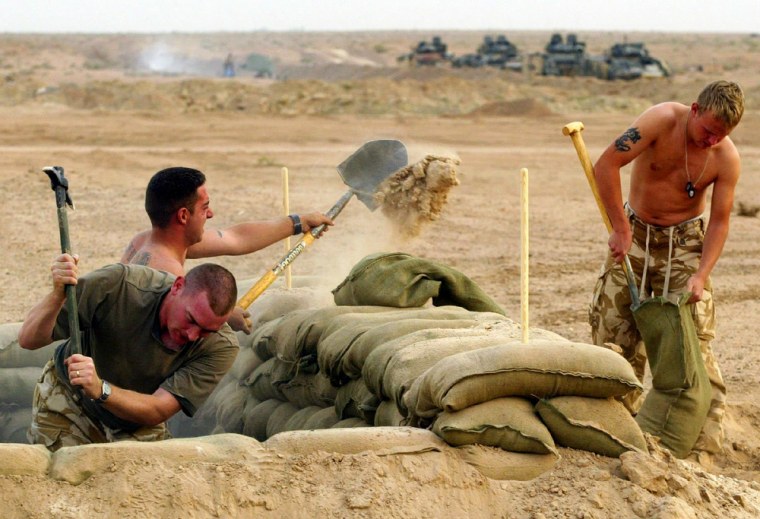 The poll comes a day after another British soldier was killed in Iraq — the fifth killed in recent days. All were members of the Black Watch regiment which, after a request from the Americans, was redeployed from the south to an area near Baghdad.
From there, the British regiment is backing up U.S. troops in their assault on Fallujah.
It's been a very controversial and unpopular move. Many people believe British soldiers shouldn't be put in even more danger when public support for the war is at an all time low.
Further problems for Blair
Blair faced a further set back and embarrassment this week from one of his former senior foreign policy advisors. 
Sir Stephen Wall cast doubt on the legality of the invasion of Iraq, saying that Britain must be firm in its adherence to the rule of law, "even if it sometimes means parting company with the United States."
In a speech at London's Chatham House Monday evening, Wall said Blair should have insisted on a second U.N. resolution authorizing military action because "we hadn't reached the point where the U.N. system had failed." 
Wall quit working for the government in the summer. He is the first former senior foreign affairs official to publicly criticize the government over Iraq.
Blair will be the first foreign leader to officially visit President Bush in Washington since his re-election.
Though Blair's support for Bush is unwavering, his cozy relationship with the U.S. president and his support for the war in Iraq continues to be make him vulnerable both among voters and among many in his own party.
Blair also faces an election next year. The Times poll showed exactly half the British electorate said that Iraq will be a "significant factor" in how they decide to vote.