/ Source: The Associated Press
A car bomb exploded in the heart of Baghdad Thursday, killing 17 people and wounding at least eight in a crowded commercial area, police said.
A police captain on the scene, speaking on condition of anonymity, said that the blast had narrowly missed a U.S. convoy that passed by seconds before.
The explosion gouged a giant crater near Nasser Square on Saadoun Street, a densely populated commercial area with major hotels housing foreigners.
An Associated Press reporter on the scene saw five dead bodies in the rubble, including a decapitated corpse. Police said at least 17 people were killed.
Several bloodied and burned victims, gasping for breath, were being carried away from the area by bystanders. At least a dozen mangled cars burned nearby.
Firefighters were trying to extinguish the fire as police, assisted by U.S. soldiers, sealed off the area. Ambulance sirens were heard wailing nearby.

Hospital officials at the nearby al-Nafis clinic, where some of the casualties were brought, said there were eight wounded.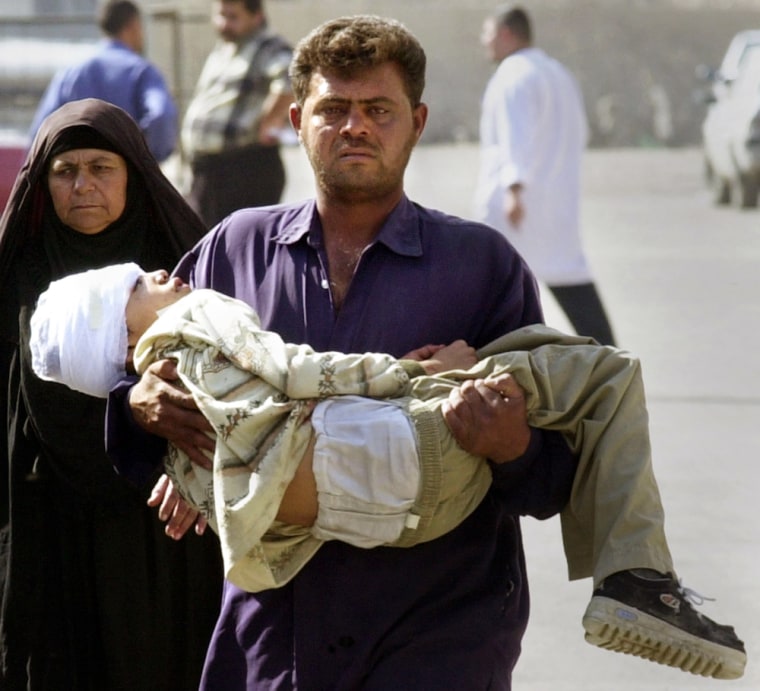 A boy with injuries to his back was rushed into the emergency room, while another was injured in the blast, Mohammed Abbas, described working at a nearby laboratory when the explosion took place. "The flying glass hit my face and shoulder," he said.
"It is a tragedy, even non-Muslims would not do this to innocent people," said one, witness Zuhier Abbas, a former Iraqi army soldier.
He called upon interim Prime Minister Ayad Allawi's government to "press and use more deadly force against the terrorists."