/ Source: a href="http://www.washingtonpost.com/wp-srv/front.htm" linktype="External" resizable="true" status="true" scrollbars="true">The Washington Post</a
Blame it on the breast.
When Janet Jackson bared her bosom at the Super Bowl halftime show in February, little did Ms. Nasty know that she was single-mammarily starting pop music's Year of the B. Good ol' B, a frisky little letter to be sure, had itself quite the time in '04. Before the year ended with a "Bomb" from Bono & Co., there was a reborn Beach Boy with a big "Smile," a Dropout Bear breaking hip-hop boundaries and an epic battle for Blue states between the Boss and Bush. Not to mention Big Kenny busting loose in boring Nashville, Britney and her skeevy betrothed (two in one year!) and Billie Joe Armstrong taking his snot-nosed buds in Green Day to a punk-pop opera.
We'll let conspiracy theorists decipher the inherent evil of this B-centric trend. (Two of 2004's lousiest albums were Jimmy Buffett's "License to Chill" and "Baptism" by Lenny Kravitz.) As for us, we'll just break down the bawdy, boozy bizarreness of Pop Music 2004:
B is for Beyonce
If there's ever a "Wonder Woman" remake, look no further than Jay-Z's super-thighed gal pal to play the part. Beyonce's November reunion with Destiny's Child ("Destiny Fulfilled") was a lukewarm letdown, but earlier in the year, La Knowles and partners-in-spectacle Alicia Keys and Missy Elliott made darn sure that the Ladies First Tour was the must-see show of the year.
B is for Backing Track
Like Milli Vanilli with cuter bangs, Ashlee Simpson got busted for lip-syncing (or at least starting to) over a recorded vocal during an October broadcast of "Saturday Night Live." Apparently, Jessica's spunky sis wasn't that scarred by the foul-up: Ashlee has a major tour scheduled for 2005.
B is for Brian
For Beach Boys fans, Brian Wilson's "Smile" was the most-anticipated album of this year . . . and the 36 years before it. Yes, Van Dyke Parks's lyrics were the gibberish Mad Libs are made of, but Wilson's looong-delayed masterpiece sounded like nothing less than the shimmering California sunset of your dreams.
B is for "Boo"
With the sexed-up musings of "Confessions," R&B hunk Usher scored the year's top-selling album. Actually, make that albums. The smooth singer slyly boosted his sales totals — to more than 7 million and counting — by releasing a "special edition" of "Confessions" that included No. 1 smash "My Boo," a duet with Alicia Keys. Oh, it was a clever ruse for sure, but it wasn't just Usher forcing fans to buy the same album twice. Pop star Jessica Simpson, rookie rockers Los Lonely Boys and Nashville newbie Gretchen Wilson also offered "specials."
B is for Best Ofs
Everyone from Dean Martin to the Bee Gees to REO Speedwagon — plus approximately 1,000 other artists — had their hits remastered and repackaged this year, yet another sign that financially floundering record labels are giving up on new music and settling for the stuff that has already sold once.
B is for Bob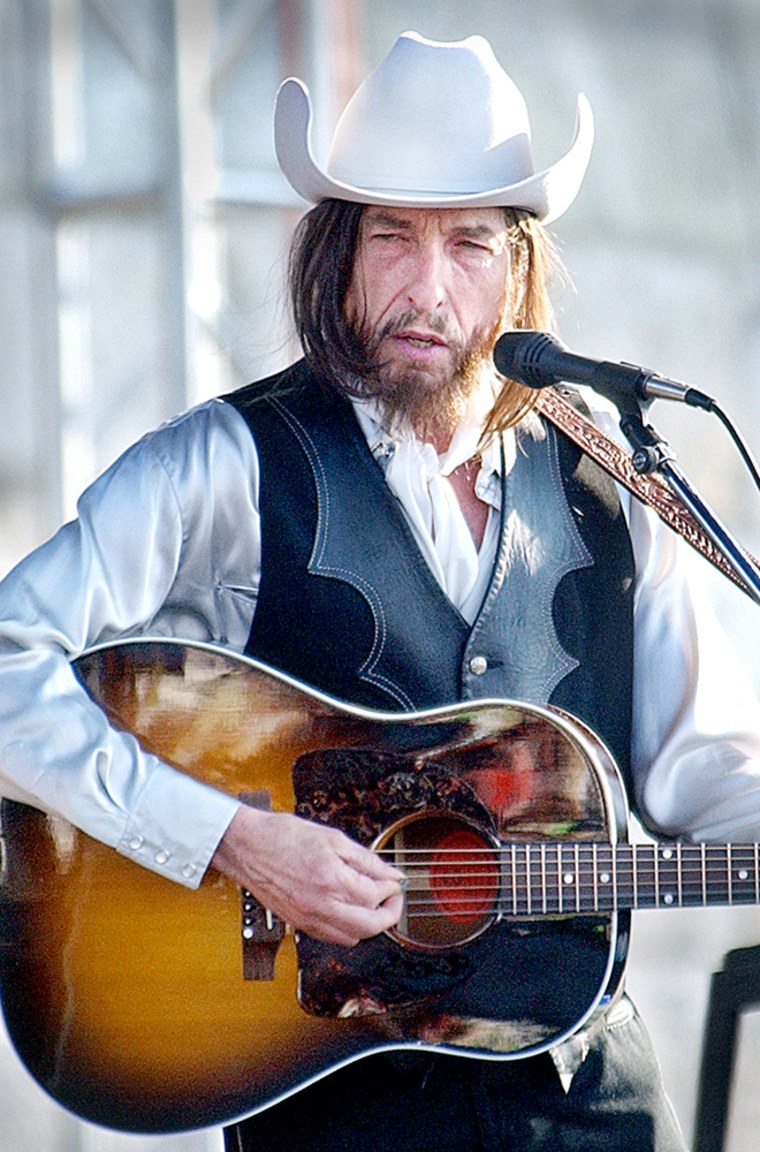 Dylan writes! Not with a lot of punctuation or narrative flow, but he writes! The autobiographical "Chronicles: Vol. One" proved to be a curious revelation, whether the great musical poet was seeking wisdom in the prowess of C-list thug Mickey Rourke ("Just seeing him act gave me the inspiration to cut the last two songs of the album") or splitting a case of Guinness with fellow B boy Bono ("He's like that guy in the old movie, the one who beats up a rat with his bare hands and wrings a confession out of him"). Turns out Dylan's just like us — only weirder and with really bad taste in movies.
B is for Beatles
The Fabs had their first four American-format albums souped up and re-released in big-ticket box-set style. Plus, thanks to Los Angeles producer DJ Danger Mouse (and his nerdy arsenal of musicmaking software), Ringo and pals unknowingly starred in the year's oddest and most talked-about collaboration: "The Grey Album," a fiendish series of "mash-ups" — that is, two preexisting songs by two very different artists smooshed together — featuring tracks from the Beatles' "White Album" crossbred with a cappella cuts from Jay-Z's "The Black Album." Because of Mr. Mouse's ingenuity, mash-ups are now all over the Internet, and Jay-Z and Linkin Park's "Collision Course," the first major-label mash, was one of the year's top-selling albums.
B is for Bowie
At a June concert in Oslo, a fan at a David Bowie show hurled a lollipop at the Thin White Duke . . . and it landed in his eye. Gross, but a great catch.
B is for Bear
The sullen, slump-shouldered Dropout Bear, seen on the cover of Kanye West's "The College Dropout," let you know that the producer-turned-rapper's debut wasn't going to be your typical hip-hop album. Instead of the usual braggadocio and violence, the hit-packed coming-out party was laced with self-deprecating wit, pointed social critiques and endlessly catchy creations. West is up for 10 Grammy Awards on Feb. 13, which we hope will make the Dropout Bear much happier.
B is for Billie Joe
On the sprawling, chaotic and often quite breathtaking "American Idiot," Green Day frontman Billie Joe Armstrong  jackknifes into the 'burbs and comes out with an opera. That's right: a pop-punk opera that goes far beyond the band's usual three-chord mayhem. Let's see Green Day disciples Blink-182 and Good Charlotte copy that.
B is for "Bomb"
U2's "How to Dismantle an Atomic Bomb" is half-baked: The album's first half is exceptional, but the Edge's prickly guitar all but vanishes in Act 2. Still, you can't beat Bono and the boys' timing. After a divisive political year, the Dubliners showed up in November, just when we needed them most.
B is for Big & Rich

After helping pal Gretchen Wilson with her debut chart-topper "Here for the Party," Big Kenny Alphin and John Rich scored their own rookie success with "Horse of a Different Color," a country album that dared to include hip-hop beats, a 6-foot-4 rapper named Cowboy Troy and "Save a Horse (Ride a Cowboy)," a randy hit that was banned from some radio playlists. Their chart domination was evidence of the growing power of the Muzik Mafia, a collective of outlaws intent on tweaking Nashville's milquetoast ways.
B is for Banging
Headbanging, that is. And the hairier the better! Velvet Revolver — the all-star lineup of wasted Stone Temple Pilots and burned-out Guns N' Roses — finished what the Darkness started in 2003: kick-starting heavy-metal mania and making sure it stuck around this time. VR's "Contraband" was the rock album of the year, and it inspired two notable reunions that will be power-chording your way in 2005: Motley Crue and Judas Priest.
B is for Bruuce!
As the guitar-wielding figurehead of the Vote for Change Tour, Bruce Springsteen joined such liberal rock royalty as John Fogerty, James Taylor and R.E.M. and took to the swing states to convince voters that President Bush must go. Pro-prez protesters chanted "Shut up and sing!" — but the thing is, that's just what the rock stars did, using music instead of speeches to get their point across. At the Vote for Change finale at MCI Center, the most moving performance was given by the opening act: John Mellencamp. That was only fitting in the Year of the B. After all, his nickname is Little Bastard.