/ Source: The Associated Press
It was just another weekend service for churchgoers in this Milwaukee suburb when, without warning, they began to be gunned down by one of their own.
Now victims' relatives are struggling to keep their faith and find answers.
"This is a totally senseless thing," said Jeff Miller, whose 44-year-old brother, Gerald, died shielding an elderly woman who survived. "He was a great guy. He didn't deserve to die."
Terry Ratzmann, a buttoned-down churchgoer known for sharing his homegrown vegetables with neighbors, walked into the room and police said he shot 22 bullets from a 9 mm handgun within a minute.
'He was average Joe'
None of those who knew him expected Ratzmann to be violent. Neighbors said he was quiet and devout, that he liked to tinker about his house and garden. He would even release the chipmunks caught in traps he set in his yard.
But Saturday, the Sabbath for the Living Church of God, Ratzmann turned on worshippers.
"He wasn't a dark guy. He was average Joe," said Shane Colwell, a neighbor who knew Ratzmann for about a decade. "It's not like he ever pushed his beliefs on anyone else."
The 44-year-old computer technician lived with his mother and sister in a modest home about two miles from the suburban Milwaukee hotel where police say he opened fire during service.
Focus on 'end times'
The Charlotte, N.C.-based Living Church of God is a denomination that grew out of a schism in the Worldwide Church of God, formed in 1933, and focuses on "end-time" prophecies.
This year, the group's leader, Dr. Roderick C. Meredith, wrote that events prophesied in the Bible are "beginning to occur with increasing frequency." The church has an estimated 6,300 members in 40 countries.
Ratzmann himself regularly attended the gatherings at the Sheraton hotel — the Milwaukee-area church group did not have a building of its own. But member Chandra Frazier said he walked out of a recent sermon "sort of in a huff."
Minister among dead
Between 50 to 60 people were at the weekly meeting, and anyone in Ratzmann's path appeared to be a target. He allegedly dropped a magazine and reloaded another.
When it was over, seven people, including the church's minister and his teenage son, were killed and four others wounded. Ratzmann, 44, had shot himself; he sat slumped against the back wall with four rounds left in his gun, police said.
It was so unbelievable, someone shouted out, "This is for real."
Dorothy Hodzinski hit the floor and Gerald Miller, a delivery truck driver, threw his arm over her as they lay together, she told WISN-TV in Milwaukee.
"He tried to protect me," she said. "I said, 'Gerry, I think you better start to pray."'
"He said 'Yeah, I think we better,' and he went 'uh' ... Maybe that's when he was shot."
Verge of losing job
Although he left no suicide note and gave no explanation for the killings, investigators said Ratzmann was on the verge of losing his job. It was unclear what prompted the slayings.
Agents who searched Ratzmann's home found three computers containing many encrypted files. They also found a rifle and ammunition.
Ratzmann went to church every Saturday, Colwell said, and had lived in the same house his entire life. But another neighbor called Ratzmann a drinker, and church members said he struggled with depression.
"Terry suffered from depression, on and off. When he was really depressed he didn't talk to people. Sometimes it was worse than others," said Kathleen Wollin, 66, who was sitting at the front of the room during Saturday's service.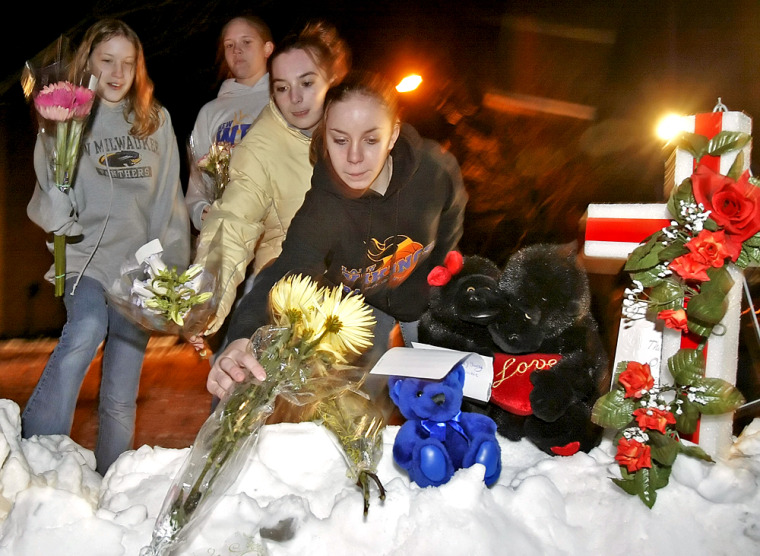 In addition to Miller, the dead were Randy L. Gregory, 51, and his son, James Gregory, 16; Harold Diekmeier, 74; Richard Reeves, 58; Bart Oliver, 15; Gloria Critari, 55.
Marjean Gregory, 52, was hospitalized in critical condition. Matthew P. Kaulbach, 21, and Angel M. Varichak, 19, were in satisfactory condition Sunday. A 10-year-old girl police identified as Lindsay was released from the hospital.
A crowd gathered for a candlelight vigil Sunday night at a makeshift memorial of flowers, crosses and stuffed animals in a snowbank in front of the hotel.
Ratzmann was not known to have threatened anyone and had no criminal record, police said. Waukesha County supervisor Andrew Kallin, who led the vigil, could only offer a prayer.
"The Lord works in mysterious ways."