/ Source: Special to msnbc.com
I first heard the coughing at around 2 a.m. My tent companion, Rex, was hacking and gurgling uncontrollably as he stumbled from our tent toward a makeshift medical center nearby. I knew at once this was the end of his Andean journey.
Three days earlier Rex, myself and our group leader Forrest "Woody" Sims had embarked on our ascent of Mount Aconcagua in Argentina, which at 22,834 feet is the highest peak not just in the Americas, but also in the southern and western hemispheres.
Now, after spending only a day at base camp, our party was reduced to just two. Rex was suffering from high altitude pulmonary edema, or HAPE — a condition in which the lungs fill with liquid and death is imminent unless you descend immediately.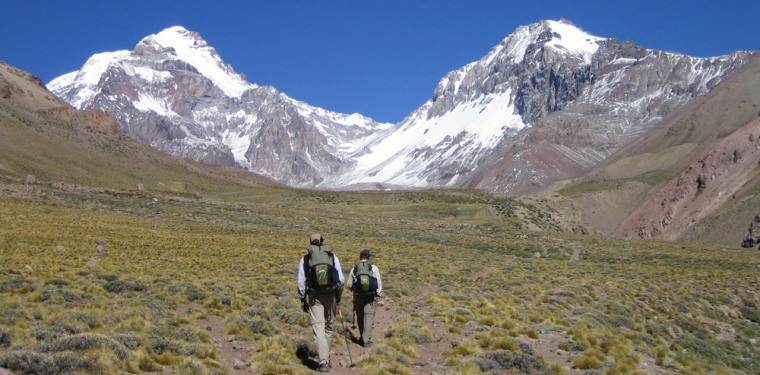 Despite its reputation as a non-technical high altitude climb, less than a third of the thousands of climbers who attempt Aconcagua each year actually make it. Many succumb to the cruel effects of the "viento blanco," or white wind, which rages at over 100 miles per hour. Others suffer from altitude sickness and are evacuated by helicopter or, in less fortunate cases such as Rex's, on the back of a mule. A freak-show of weary climbers with black frost bitten noses and fingers is often seen shuffling down the mountain.
Our Aconcagua climb had started in much more pleasant conditions: A gentle three-day hike through the Vacas Valley, a less-trodden path that avoids the crowds of climbers seen on the usual route. We followed the Vacas River through a dusty wilderness surrounded by grassy hillsides and towering golden-red cliffs. And as we enjoyed our first views of the mountain we saw a condor soaring high in the thermals above.
But those picture-postcard images gradually changed to a glacial lunar landscape of dirt covering deep icy glaciers as we left the Vacas Valley. When we arrived at base camp, we checked in with the ranger and the medical tent where a doctor checked our pulses, which were all slightly elevated, and our oxygen saturation levels, which were low as a result of the thin air. So we rested.
Reduced to a party of two, we began our gradual ascent from base camp the next day following a "climb high, sleep low" philosophy, which involved carrying heavy loads up the mountain to cache at our next camp, and returning to sleep at the camp below. This gives your body time to adjust to the altitude and lightens the load as you move up the mountain.
Throughout our trip we found ourselves on the same schedule as a friendly, but boisterous group of Americans making a documentary on climbing Aconcagua. They filmed us on various occasions and we hope to star in "Aconcagua, the movie."
After another rest day, we left base camp and moved to Camp One from where we would carry a load to Camp Two—our high camp. As we zigzagged up the mountain over endless rocky terrain, we both felt breathless as our bodies adjusted to the thinning air.
Another carry up the mountain moved us to Camp Two where, exhausted, we prepared dinner and tried to sleep—not easy at over 19,000 feet—in preparation for our summit attempt early the next morning.
That night, I was woken by strange voices and a frenzy of activity around camp.
"Help…we need…rescue!" pleaded a voice in broken English. "Do you have a radio?" another voice asked.
We soon discovered that a group of Lithuanians needed help to rescue some of their team who had not made it back to camp. The Lithuanians woke our American friends and asked to use their radio to call the mountain rescue crew. The American guides offered to help and headed out of camp sometime around 2 a.m. On their way up they met some of the Lithuanian team descending, more anxious to catch their plane home than they were about their colleagues who were still up the mountain. They assured the Americans that the rest of their team was in fact descending, and so the American guides returned to camp.
We never discovered whether the other Lithuanians actually made it down, but one thing was clear—they had left camp far too late to make the summit and return before nightfall. And people die every year on Aconcagua because they leave camp way too late, do not turn back in time and thus end up in the dark or trapped in a storm a long way from camp.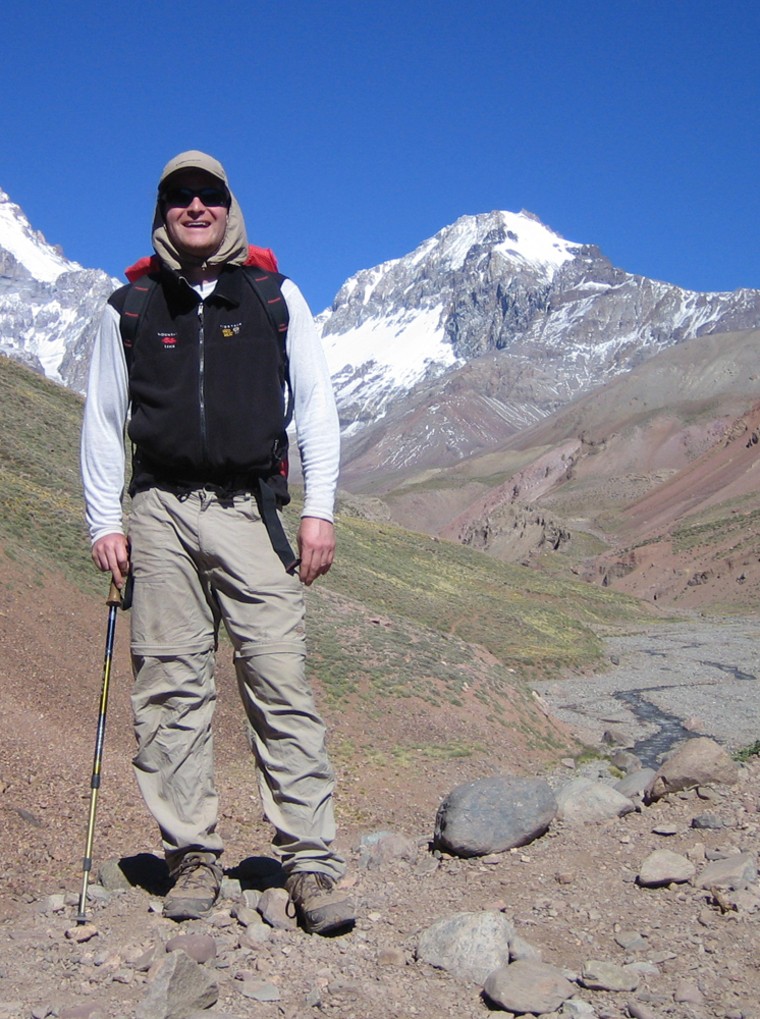 Because we were kept awake all night, we reluctantly decided on a rest day before our summit attempt the next morning. This was frustrating for me because I was ready to go for the summit and spending another night at over 19,000 feet was not appealing. And I was beginning to suffer from a sort of cabin fever making me anxious to get down the mountain and back to Mendoza to enjoy a juicy steak and a bottle of Malbec in one of Mendoza's many wineries.
But it turned out to be a blessing in disguise. The day was windy and cold, while the next morning was beautifully clear and calm when we awoke at 3:00 am to a starry sky. After forcing down a light breakfast, we put on our crampons and headed along the long traverse below the Polish Glacier. We paused for water and Gu—an energy gel that seems to work miracles. I vomited and gulped down more water and Gu, which was all I could stomach at this altitude.
A couple of hours later, we reached the Canaleta—in English (ironically) little canal—an endlessly steep icy canyon that leads to the summit. We were startled on the way up by rocks rolling down towards us as the sun dislodged the ice that bonded them to the ground. Near the top of the Canaleta I met a stray mutt who stayed by my side as I struggled up the final hundred feet. We later joked that this incredible dog must have been a reincarnated guide doomed to go up and down the mountain for the rest of its days.
After an exhausting four hours on the Canaleta, the summit was in sight. I choked down tears of joy while gasping for air as I reached the final step to the summit. I had finally reached the top of the Americas and was ecstatic. The views of snowy peaks in neighboring Chile were incredible and it seemed that we could see for a hundred miles.  A group of Frenchman offered me a shot of whisky in celebration, and being of Scots origin I couldn't resist. We signed the summit logbook, took our summit photos and rested before descending.
On our descent members of the French team seemed dangerously tired—or perhaps it was the whisky—and some could not stand up without the aid of their hiking poles. They were knocking loose rocks down the mountain, and so we cautiously stayed behind them. We later met a German in Mendoza who had been hit by a rock on the Canaleta and boasted a large bruise on his arm to show for it.
We descended rapidly despite feeling exhausted and reached Camp Two in only a few hours. Despite longing to get back to base camp we spent another night at Camp Two, too tired to eat or even boil water for tea. We awoke dehydrated, and anxious to return to base camp we staggered down the mountain with enormous loads. At base camp we celebrated with beer and pizza from the many tents offering everything from a $20 shower to a $5 per minute satellite phone call. And together with the other successful summiteers, we drank base camp dry. 
After a boisterous evening we fell unconscious into our tents. The next day we packed our gear and started the 20 mile hike back down the valley where we would spend our last night.
We celebrated our success again that night with the local mule drivers, who cooked large chunks of beef on an open fire. Most of us slept under the stars and awoke knowing the comforts of Mendoza were close at hand —a steak, red wine and, most importantly, a shower. The final trail seemed endless, and was punishing after the long hike the day before. Finally back in Mendoza we took our first shower in two weeks, delighted to have reached the summit of the Americas with all our extremities still intact.


Dryden Liddle is a lawyer in New York and an avid mountain climber. He can be contacted at .