In England in the early 1970s, you could count the top country-house hotels on one hand: the Tresanton in Cornwall, Sharrow Bay in the Lake District, the Lygon Arms in the Cotswolds, Gravetye Manor in West Sussex, and Chewton Glen in Hampshire.
This was still the era when the cheery bed-and-breakfast predominated, which meant lots of chintz, little prospect of decent food, and none whatsoever of good wine.
By the early '80s, though, the landscape had completely changed. The English country-house hotel was on the rise, propelled by Americans' love affair with English aristocracy. Staying at a country-house hotel was the easiest way to step into the world of Upstairs, Downstairs, Brideshead Revisited, and the National Gallery of Art's great Treasure Houses of Britain exhibition (1985-86). Cliveden, Le Manoir aux Quat'Saisons, Hambleton Hall, Lucknam Park, Gidleigh Park, and Hartwell House all rose to prominence during that decade. Then, in the '90s, the English country-house hotel was, abruptly, no longer the darling of affluent Americans, who stayed home after the first Gulf War and, when they ventured abroad again, found two new loves, Tuscany and Provence. Now you can count the top English country-house hotels on two hands, but one thing hasn't changed: Chewton Glen is still among them.
Very few hotels have this kind of staying power, and the reason can be summed up in four words, Martin and Brigitte Skan, the founder-owners. Martin Skan is a visionary. He saw the appeal of the country-house hotel when few others did. And he was planning the Chewton Glen spa, now one of the country's best, in the '80s, when the word spa wasn't even common currency in Britain. Spas were something you went to Germany for. To put his foresight in perspective, consider that today Chewton Glen's only rivals for the English country-house-hotel spa crown are Whatley Manor in the Cotswolds and the Grove, north of London, and both only opened in 2003.
Ninety minutes southwest of London by train, Chewton Glen is tucked away at the edge of the New Forest, so called because in 1086 William I (a.k.a. William the Conqueror) claimed it as his new forest for hunting. (Most of it still belongs to the crown.) Today the New Forest is the spiritual heart of Hampshire, one of the most affluent regions in Britain. One of the country's largest Bentley dealerships is near the hotel, and such is the level of wealth that one satirist described a velvet smoking jacket and monogrammed slippers as "Hampshire casual."
The New Forest is speckled with small villages, and the landscape around them is often gorgeously high pastoral: meadows groomed by flocks of sheep; rambling redbrick houses with dormers, eaves, and, one suspects, cozy inglenooks; winding roads walled in by banks and hedges; and, at convenient intervals, dusky pubs. The Forest also has a wilder side of open heaths and grasslands, which are grazed by ponies that are allowed to run wild and given free rein in the villages, too. During my visit I saw one standing in the graveled forecourt of a trim Georgian house as though waiting for the owner, and another walking blithely against the traffic, at a processional gait, just outside Brockenhurst, one of the larger towns.
Chewton Glen is something of an archaeological site of country-house-hotel taste, as there have been several additions over the years to the original building, a handsome early-18th-century brick house that was once owned by Colonel Ernest Lindsay Marryat. His brother, Frederick, is well known in England as the author of a classic children's book, Children of the New Forest (1847), about a group of friends who fled there during the English civil war and lived a life of adventure in a woodsman's hut. The original house, which has eight bedrooms, has that inimitable English homey feel--odd ceiling drops that make you duck your head; ensembles of wainscoting, cornices, and Chesterfield couches; mullioned windows overlooking staircases; and ground-floor sitting rooms where it always seems to be Sunday afternoon. Colefax and Fowler still quietly reign here.
The Coach House Rooms, created in the early '80s and refurbished in 1999, give a small designer spin to the country-house feel. They're duplex rookeries with closed-in gardens on the ground floor and second-floor bedrooms in which the original beams lend the space an over-the-stable feel. Number 15 is one of the most flamboyant, a long rectangular tone poem in red. "People love it or hate it," said Alison Chenet, the front-of-house manager.
The Gold Rooms, which look out on the croquet lawn, are the opposite. They're all about space--architecture giving way to roominess--because they were added in 1990 with the American market in mind. Finally, there are the rooms in the original house, such as Poachers, that have been fast-forwarded into the millennium. Blond wood paneling has replaced wainscoting, and an eclectic sensibility reigns (or romps). Now facing love seats frame a plasma TV, not a fireplace, and the coffee table is glass and Plexiglas instead of dark wood. And instead of maps of England and prints of aristocrats at play, there is an abstract painting that could be a landscape. (It's in the eye of the beholder, and this one's, I have to admit, was uncertain.)
The parklands surrounding Chewton Glen appear to be perfectly manicured because that's what they are, and the entrance feels so welcoming because it is surrounded by drifts of flowers in pots and beds, classical statuary, and a flapping Union Jack. Inside, everything is congenial clockwork. The staff is cheerful and solicitous, suggesting that you look over the hotel or have a drink before going to the room, while also doing a bit of public relations. Upon checking in, every guest is handed two stamped postcards of Chewton Glen.
When the Skans bought the property in the mid-'60s, it was a cheap boarding house with at least 20 buckets on the top floor to catch the many leaks. "There was only one member of staff when I took it over," Martin recalls, "and I had to fire her on the first morning when I found her in bed with the one regular guest."
The Skans' first break was the mass defection of superb staff from a nearby hotel when it changed ownership. "We quickly had the finest restaurant in the neighborhood and made money in our first year," Martin recalls. Then, in the early '70s, he decided to fly to New York and promote Chewton Glen, not just to travel agents but to the leading U.S. travel editors and writers. Even now, 30 years on, many of them remain close friends.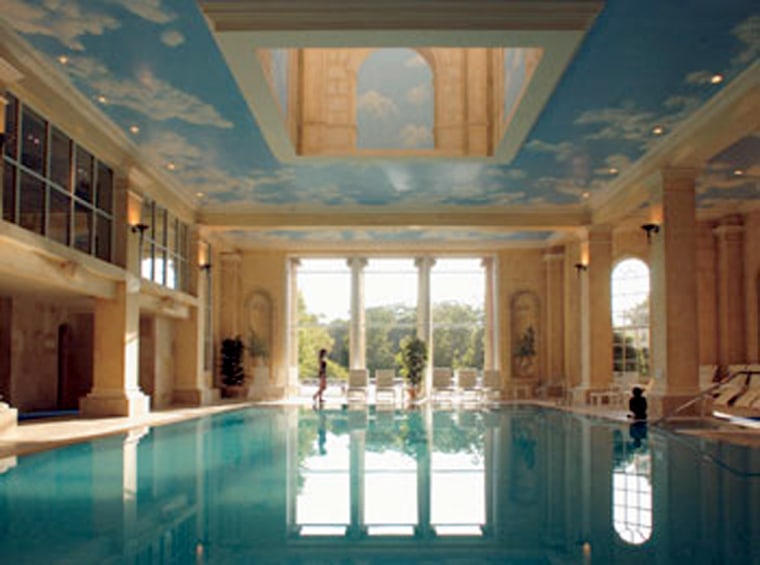 By the early '80s the Skans were planning the spa. Obtaining the necessary permission took seven years, and construction ate up three more. "We thought that creating an advanced spa would put us ahead of the pack, and that's exactly what it did," says Martin. "We had a major expansion of the spa last year, and I suppose in five years' time we will have to start all over again with an even more advanced one, even though ours evolves all the time."
After settling into my comfortable suite, Poachers, with its stylish khaki and pistachio colors, I made straight for the spa, which is connected to the main hotel by a series of corridors. The pool, with its Roman-inspired paintings, is still one of the best in Britain--in temperature neither chilly nor cloying and just right for doing lengths. The hydrotherapy pool, installed last year, was also up to speed. Unlike the ultrasleek new model at Whatley Manor, this one is more geared to individual taste. Rather than forcing you into a treatment circuit, with spouts on timers (time to move on), the Chewton Glen pool lets you dawdle. You merely wave your hand over an underwater sensor and the station springs into action. The other touch that I loved was the individually shaped, submerged stainless-steel lounges, which had their own separate bubble spouts.
The spa has 19 full-time therapists, most of whom have been there for three to five years, as well as specialists on call for treatments such as reflexology, iridology, Thai massage, and even hypnosis. The treatment rooms, which were plain white boxes, have recently been redone--"to make them less clinical," says spa director Mark Thwaites.
My first experience was the 90-minute Scandinavian hot stone massage, which I admit is now very conventional but which I've always found very soothing. Here the stones, in addition to being used to dispense heat into the body at the seven chakras, are placed along the spine on top of a towel, which retains the heat for five minutes or longer.
The next morning I tried one of the spa's more unusual machines, the Aqua Detox, which sits in a shallow footbath and purports to remove toxins via the pores in the feet. Within minutes of my inserting my feet into the machine, the water had turned a light scarlet color and continued to deepen in tone during the next 30 minutes. It was no cause for alarm, as red signifies a lack of harmful toxins. Had the water turned brown or black, on the other hand...
In keeping with the country-house theme, there is a croquet lawn and a small golf course on property, though there are first-rate 18-hole courses within a few minutes' drive. The gym looks modern enough, but there are plans to change the decor to a more contemporary style. Bicycles are available for rides through the New Forest, something well worth doing. There is an outdoor swimming pool behind the hotel (though I never saw a soul in it) and two state-of-the-art indoor tennis courts, with an excellent pro on hand.
More personal touches can be arranged with the staff, many of whom are on a first-name basis with returning guests. The just retired Jo Simonini, the hotel manager and a 36-year veteran, is a keen mushroom hunter. He took me on a tour through his favorite patch of the New Forest in search of porcini and other, lesser known mushroom varieties, which he dried and gave to favored guests as Christmas presents. Within minutes we had detected a cache of porcini and managed in nearly an hour of rigorous searching to get a basket full of edible fungus. I was more than pleased with the result when chef Luke Matthews, who has maintained the restaurant's one Michelin star, served a selection of them with dinner that night in the newly refurbished Garden Restaurant. (According to general manager Andrew Stembridge, Simonini will continue to take guests on foraging trips by request.)
Contrary to common conception, a classic hotel doesn't resist changing--that's a period piece. Rather, it adapts, but without losing sight of itself. That's why Chewton Glen will likely be on that short list of top country-house hotels in another ten years, and doubtlessly, the Skans will still be the reason why. As one of his oldest rivals said to me, "You have a very unusual man in Martin. He hates standing still and constantly wants to grow his hotel, add to it, make it better. Even after 30 years, he still has this terrific attention to detail."
the global spa resource, reaches millions of health-conscious consumers via its website, Spafinder.com. The company publishes Luxury SpaFinder Magazine, the trusted authority on luxury spas and associated lifestyles, and The Spa Enthusiast, the leading publication for active spa-goers.
*The information in this article was accurate at the time it was published on.