In spas, as in politics, San Francisco marches to its own drummer. Its top spas are located not in its luxury hotels, as they are in most cities, but along its shopping corridors and in its residential neighborhoods.
Even the new Four Seasons left out a spa of its own, relying on a health club in the building instead. (To be certain, the hotels are catching up: The new St. Regis will have a 13,700-square-foot Remède Spa when it opens in September, and the W is adding a Bliss in July.) But great day spas tend to rule here, especially around Union Square and in Nob Hill and Pacific Heights. They run the gamut from a Pop Art palace with a sassy treatment menu to an Indian fantasia where Ayurveda provides the ethos. Jurlique's gentle organic facials can be had just a few blocks from the city's best high-tech heavy hitter, Spa Radiance, whose $750 Grand Luxe Facial uses every device in the aesthetician's arsenal. (See Day Spa Dossier in the May-June issue of Luxury SpaFinder.) Here's a look at some of the Bay Area's best.

A PASSAGE TO INDIA
Kamala spa
Opened last December, this exotically outfitted day spa is a love letter to India. (The name means "lotus" in Sanskrit.) It was created by globe-trotting husband-and-wife team Christopher and Amber Marie Bently, who visited India for inspiration. Treatment rooms resemble tents, with yards and yards of rich-colored fabric draped from the ceilings and walls, and the color scheme is deep and seductive: greens, burgundies, reds, and burnt oranges in the silk pillows scattered throughout the relaxation room. (The aesthetic contrasts sharply with the location, on the seventh floor of an office building the Bentlys own, overlooking Union Square.) The Indian influence shows in the extensive menu, too: The staff was trained by an Ayurvedic specialist, and the most popular treatment is the Abhyanga Four Hands Massage (90 minutes, $295), performed by two therapists. Nice touch: Each treatment room has its own small steam room. Unusual amenity: Zinfandel and Chardonnay from Napa's Girard Winery, offered along with dosha-balancing teas. -M.B.
Phone: 415-217-7700
Website:
Address: 240 Stockton Street, 7th Floor (Union Square)
SHOPPER'S LITTLE SECRET
Spa Nordstrom
This spa, on Nordstrom's fifth floor, has been doing a booming business since the store opened in 1988. There's a month's wait for weekend massage and manicure appointments, according to spa director Debbie Carr, who says massages ($80-$100) are the most requested treatment, along with the Brazilian Bronze ($55), an airbrush tanning service. Most treatments begin with a pine and rosemary oil footbath, which soothed my tired feet. I tried the Ayurvedic Bindi Herbal Rejuvenation (60 minutes, $95), which began with a full-body application of a warm botanical exfoliating mask, followed by a brisk massage with warm herb-infused oils. My therapist was enthusiastic and knowledgeable, and the gentle scrub left my skin soft. Thoughtful detail: Guests are given heated neck rolls while waiting for their treatments. The spa is slated for a face-lift in October, which it needs. -M.B.
Phone: 415-977-5102
Website:
Address: 865 Market Street (Market Street)
BUFFEST SPA
Splash at the Sports Club/LA
Located on the fourth floor of the Sports Club/LA, in the same Market Street building as the Four Seasons Hotel, Splash is an unusually extensive spa for a health club, with a full-service menu that ranges from acupuncture to microdermabrasion. Still, gym and spa share locker rooms and other public facilities, and the club can be jam-packed before work, making it difficult to get into a spa state of mind. But it's certainly muscular--100,000 square feet, with plans to add another 20,000 next year to accommodate the demand for Pilates and yoga classes--and the excellent Thai massage (80 minutes; $140 for members, $155 for guests) is just the thing for a well-worked-out body. Therapist Carla Peterson, who studied the modality in Chiang Mai, Thailand, has a strong and assured technique. -M.B.
Phone: 800-809-0951
Website:
Address: 747 Market Street (Market Street)
BEST VERY SMALL SPA
Ritz-Carlton, San Francisco
The spa in this neoclassical landmark is an amenity with a lowercase a: It has only three large treatment rooms, but the service is terrific and the therapists are attentive. It also has a small fitness center, pool, and coed whirlpool. I had a fairly decent deep tissue massage ($60 minutes, $125; 90 minutes, $175) and a very good Anti-Stress Aromatherapy Body Treatment (60 minutes, $155) from therapist Victoria Martiskova from Czechoslavakia. It began with a thorough dry-brushing and a wrap using a huge moist towel that had been soaked in rose, lavender, and geranium essential oils. During my 30 minutes as a mummy, Victoria gave me a sublime neck and shoulder massage and a foot massage with Pevonia's stress-reducing oil, a blend of aloe vera, camphor, mint, and azulene. -M.B.
Rates: $400-$5,200
Phone: 800-241-3333
Website:
Address: 600 Stockton Street (Nob Hill)
LOUNGE LEADER
Nob Hill Spa at the Huntington Hotel
The lounge here is the best in town, with a sweeping staircase, indoor pool, and spectacular views of downtown through 18-foot-high windows. But a premium on space forced the hotel to put the ten treatment rooms underground--you feel as though you're descending into a cave. Massages can be hit-or-miss, but the best therapists, aesthetician Dany Lamkin and massage therapist Nancy Swan, sustain a Who's Who clientele for facials and scrubs. I tried the new Photo Modulation Facial (80 minutes, $175 for first treatment, then $240), which employs a noninvasive light therapy called Max 7. The results were undeniable. (Although maybe it was the Dr. Dennis Gross Alpha Beta Peel that was included.) The spa food is terrific, especially the Vietnamese Maine Lobster and Prawn Spring Rolls and the new White Grape Juice--Key Lime Elixir. -D.K.
Rates: $339-$1,199
Phone: 415-474-5400
Website:
Address: 1075 California Street (Nob Hill)
HIP HANGOUT
International Orange
This spa is named after the official color of the Golden Gate Bridge, but the look (simple, sleek, and mod) and color scheme (white and chocolate brown in the relaxation room) seem more Calvin Klein home collection. Brie, dark chocolate, and almonds are set out on trays, and champagne is available, too. Yoga is a staple here--the place bills itself a "spa yoga lounge," and classes (31 a week, primarily vinyasa variations) account for nearly 50 percent of its clientele. It's the stronger part of the equation, judging from my experience. I had a so-so signature massage (60 minutes, $95) in a room where I could hear music coming from the Smith & Hawken store downstairs. The spa retails an assortment of natural lines, such as In Fiore, Arcona, Dr. Hauschka, and Aesop. -M.B.
Phone: 415-563-5000
Website:
Address: 2044 Fillmore Street, 2nd Floor (Pacific Heights)
MOST COLORFUL
Relax Now Day Spa
The palette here is vivid--even the Sensi sandals are pink, blue, and green--patterns run rampant, and the furnishings include a low Ultrasuede sofa and shag rugs in the tiny waiting area. New treatments include the guy-friendly Metrosexual Facial (50 minutes, $90) and a four-hour package called the Betty Ford ($325) that includes a Tooty Fruity Facial with fruit-based Eminence products, an eyebrow wax, either an express pedicure or a bikini wax, a Lemon Rubdown body exfoliation, and a 50-minute massage. I tried the Fire and Ice Stone Therapy (90 minutes, $145). Szilvia Bacsa, my feisty therapist from Hungary, massaged me first with hot stones and then with cool ones. "It's good for the circulation," she said. "The cold stones shock your system, and the warm ones relax it." It left me feeling energized. -M.B.
Phone: 415-567-3529
Website:
Address: 2241 Fillmore Street (Pacific Heights)
FACIAL FORTE
Jurlique Wellness Day Spa
This sunny little spot is primarily a retail shop for Jurlique, the aromatic organic Australian skin-care line. But its real strength is the super-customized facials offered in two spacious treatment rooms. I tried the Ultimate Experience (90 minutes, $145), which the menu describes as a mini vacation because it includes a hand, arm, and foot massage in addition to the facial. My chipper aesthetician, Tricia O'Neil, was very knowledgeable about the products she used, and the gentle facial was one of the best I've received. Also on the menu: body treatments, such as the Jurlique Herbal Hot Oil Body Wrap (60 minutes, $115) and the energizing Jurlique Full Body Travel Treatment, which includes a dry brushing, hydrating wrap, Nurturing Facial to help "detoxify and balance" the skin, and an application of body lotion. -M.B.
Phone: 415-346-7881
Website:
Address: 2136 Fillmore Street (Pacific Heights)
FUSION CENTRAL
Re:Fresh, A Day Spa
The contemporary design (pebbled paths along curved walls) of this 8,000-square-foot spa near the Civic Center has held up well since it opened five years ago. It has 15 treatment rooms, three of which are private nail stations. Neutral colors--olive green, gray, cream, and camel--are complemented by tactile touches like wicker, straw, exotic woods, orchids, and silk pillows. The menu emphasizes Asian and Hawaiian therapies. I tried the Hawaiian Salt Glow with Kukui Nut Oil (80 minutes, $135), which includes a 50-minute Swedish massage. Therapist Melinda Miller knew how to maneuver the Vichy shower perfectly, and the scrub left me with a nice sheen. Bonus points: The wet table is outfitted with large heated water bags that make it comfortable to lie on. -M.B.
Phone: 415-563-2316
Website:
Address: 1130 Post Street (Lower Pacific Heights/Civic Center)
BATHING BEAUTY
Kabuki Springs & Spa
If you want a traditional Japanese bathing experience, this is the place for you. If you're timid about communal (same-sex) bathing in your birthday suit, it isn't. Facilities include a hot pool, cold plunge, sauna, steam room, individual bathing areas, and showers. Treatments are good, too. I recommend polarity, an energy-based bodywork (50 minutes, $75); Swedish and shiatsu massages (50 minutes, $75; 80 minutes, $110); and the Ginger Glow, a new wrap that uses fresh ginger (50 minutes, $75). My only complaint is that the spa can be crowded. Nice touches: beautiful light fixtures with lampshades made from antique silk kimonos and the small retail area with unique Asian soaps, washcloths, and slippers. The spa is women-only and men-only on alternating days, except Tuesdays, which are coed (bathing suits required). Entry fee: $16 weekdays, $20 evenings and weekends. -M.B.
Phone: 415-922-6000
Website: www.kabukisprings.com
Address: 1750 Geary Boulevard (Japantown)
TINY NEWCOMER
Spa Vitale at the Hotel Vitale
I was worried that the brand-new, $53 million Hotel Vitale would be another hot spot with a great bar and tiny guest rooms, so I was surprised by its quiet elegance and spacious accommodation--the smallest of the 199 rooms are 310 square feet, and my Panoramic Suite was 645. The feel is air meets water, health meets high-tech, luxury meets nature. The spa is minuscule--800 square feet, plus 400 on the roof--and so is the menu, but the small cadre of therapists are knowledgeable and skilled. A couple's massage class ($100), taught by spa manager Megan Linney, was enlightening and thorough, but an hour of instruction followed by an 80-minute side-by-side massage ($300) was too much of a good thing. The daily vinyasa yoga class is well taught, but the studio is small and awkward, with a low ceiling beam--I'm only five four and my fingers hit the ceiling with each sun salutation. Nice amenity: the large, deep tubs on the rooftop patio used for the Bathing Ritual ($40), a bath spiked with herbs, essential oils, or goat's milk. (They weren't open when I visited but were slated to open in May.) -D.K.
Rates: $269-$899
Phone: 888-890-8688
Website:
Address: 8 Mission Street (Embarcadero Waterfront)
HIPPIE CHIC
Stellar Spa
This homey Marin County spa takes a holistic approach, offering facials and body treatments using its own natural herb- and fruit-based products. What really sets it apart, though, are its signature add-ons: Self-Heating Seaweed Mud Therapy ($25-$60) and Seawater Negative Ion Inhalation Therapy (complimentary, based on room availability). For the former, the therapist mixes Phytomer seaweed powder with water, which makes it warm up and bubble, then applies it to a specific area of the body. The heat is meant to promote deeper relaxation and loosen muscles, which it does, although the application can be cumbersome, as it takes trial and error to get the temperature right. The ion inhalation therapy takes place in a room (left) with a bowl of steaming seawater, an ionizer, and, to aid absorption, UV lights on the ceiling. The high concentration of negative ions supposedly mimics the calming physiological effect of being by the ocean or in the mountains. I'm dubious on the science but was calm as could be after the 90-minute massage ($120) it accompanied--perhaps because of my therapist's languid, unhurried touch. -A.A.
Phone: 415-924-7300
Website:
Address: 26 Tamalpais Drive, Corte Madera
GRANDE DAME
Claremont Resort & Spa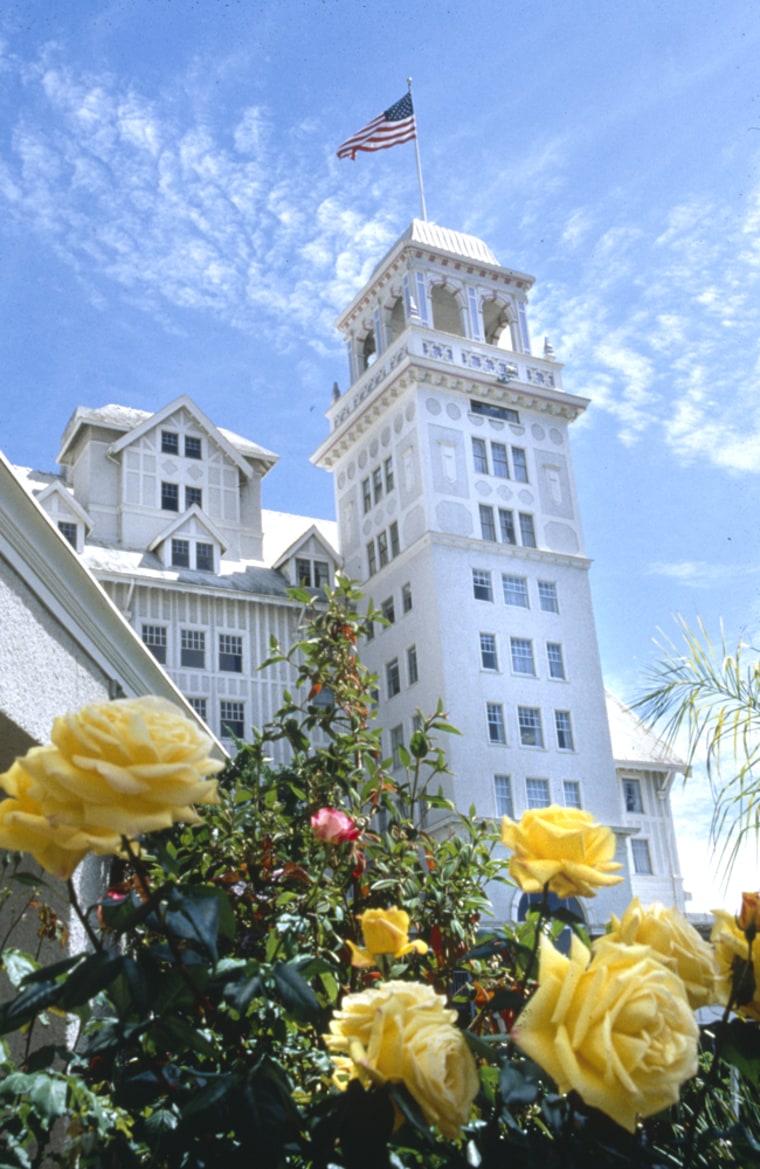 This rambling Berkeley hotel, opened 1915 as an escape from the fog for wealthy San Franciscans, has an excellent 20,000-square-foot spa with a menu long on exotic healing arts. The massage component of the 50-minute Tibetan Sound Massage ($127) was strong (as I like it), but the vibrations from the five metal bowls placed along my spine (to release negative energy) walked a fine line between soothing and grating. I liked the Mayan Temple Journey (140 minutes, $325): a scrub of blue corn rice powder, an application of warm avocado-lime mousse, and a coating of hydrating cactus gel. Therapist Amy Halozian, who has been with the spa since 1989, moved like a ballerina. The coup de grâce: a 50-minute massage with warm avocado stones that even unpinched a pesky nerve in my neck. The hotel is a dormered and eaved period piece that has been modernized inside. My room, a Grand Bay Suite, the top category, was large and straightforwardly decorated, with the bay view stealing the show. My only caveat: The hotel's size (279 rooms) and hefty meetings business create bottlenecks. I waited 15 minutes to settle my spa bill and another 15 minutes in a line four-deep to check out. -D.K.
Rates: $270-$1,060
Phone: 800-551-7266
Website:
Address: 41 Tunnel Road, Berkeley
the global spa resource, reaches millions of health-conscious consumers via its website, Spafinder.com. The company publishes Luxury SpaFinder Magazine, the trusted authority on luxury spas and associated lifestyles, and The Spa Enthusiast, the leading publication for active spa-goers.