/ Source: The Associated Press
When the TV is off and the only sounds in the neat, three-bedroom house come from the hum of the air conditioner and the gurgle of an aquarium, 89-year-old Nita LaGarde sometimes has to fight back tears as she falls asleep in her white wooden bed with clean linens.
"This is nice," she says.
The tears are not so much for what she lost, but for what she has found — a new life and new, loving friends in Houston, a city she had never even visited until a month ago during the culmination of a hellish journey.
America met Mama Nita, as she is known, and 5-year-old Tanisha Belvin as they fled the horror of the New Orleans Convention Center in the days immediately following Hurricane Katrina.
A grim-looking LaGarde was seen sitting in a wheelchair, her withered white hand clasping Tanisha's tiny black hand, in a Sept. 3 photograph taken by Eric Gay of the Associated Press. The photo of their rescue from the convention center was published on front pages around the nation, and the pair became a symbol of the disaster.
"I wasn't going to let her go," LaGarde said of her tight hold on Tanisha in the photo.
Also with them, but out of the picture, was Earnestine Dangerfield, 60, Tanisha's grandmother and LaGarde's neighbor of 20 years at the duplex they shared in New Orleans' flooded Ninth Ward.
Now, all three are living under the same roof in Houston, courtesy of a local couple.
Escaped together, saved together
The three had escaped the rising waters in New Orleans by climbing into the attic, then punched a hole in the roof. With LaGarde and Tanisha tied to Dangerfield with an orange electrical cord, the three were rescued by neighbors in a canoe. They were taken to a bridge, where they stayed for two days.
From there, a helicopter took them to a freeway overpass, then a police truck moved them to a spot outside the convention center, where they waited amid the squalor for more days — Mama Nita trading a spot on the concrete for a mattress from a looted hotel. Finally, with fears for LaGarde's declining health, soldiers summoned a helicopter to pluck them from among the thousands waiting to get away.
"They kept us together," Dangerfield said. "I told them: Where she goes, I got to go."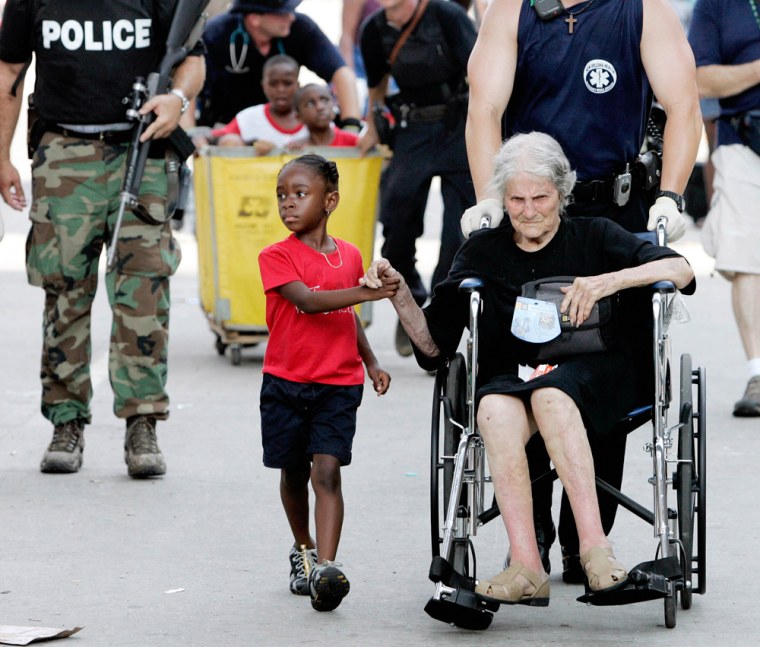 All they had were the clothes they were wearing and LaGarde's mattress as they boarded a plane for Houston, 350 miles away.
"We've been through hell," LaGarde said. "I didn't worry. I just wanted to be out of there."
They received medical treatment in Houston, then a spot at the city's Reliant Center shelter. They were moved again, to an adjacent arena, and then once more, to a motel in the suburb of Tomball. They still had LaGarde's mattress.
"When you lose everything, you just want to hold something that's yours," Dangerfield explained.
That was where they were when the Houston Chronicle followed up on the AP's Page 1 photo, which had prompted many calls from readers wishing to help. The story moved a retired Houston couple, Joe and Daisy Maura, to offer them a vacant house they rent.
"We got our kids together and told them what we were going to do," said Daisy Maura, 67, who retired in August after 45 years as a Houston public school teacher and principal. "We're going to adopt this family."
'Now they're part of us'
"You know good people when you see them," said her husband, 68, a retired school basketball coach. "You think: They're just family. Now they're part of us. They are not here alone."
The Mauras got in touch with emergency officials, who put them in contact with LaGarde and Dangerfield.
"This is too good to be true," said Dangerfield, a former bus driver in New Orleans. "When I walked in the door, I dropped to my knees. This is better than I had in New Orleans."
"I feel like a millionaire," LaGarde said.
LaGarde was born in Smoke Bend, La., and moved with her family in 1937 to New Orleans, where she worked in a plant that made airplane parts, as a waitress and for 10 years in a bakery at night while raising a son and daughter. Her husband died in 1986.
"I ain't going back no more," she said. "There ain't nothing to go back to."
During the interview, Tanisha was in perpetual motion, tugging at her grandmother, then racing around the living room. She was shy with strangers but cuddled up to Daisy Maura as if the woman were a lifelong relative. In her room, the little girl had her own TV, a few toys, and a choice of top or bottom bunk.
Still a rough reality
It hasn't all been easy. LaGarde and Dangerfield are trying to replace personal documents and get simple things like New Orleans telephone books. They do not have a car and have to rely on the Maura family to get around. Dangerfield is still trying to find other relatives scattered in Mississippi and Missouri.
And when Hurricane Rita threatened the Houston area two weeks ago, Tanisha, who has enrolled in kindergarten, was afraid their new home would be washed away just like their old one. She is afraid whenever the weather turns ugly, Dangerfield said.
But on the night Rita brushed by Houston, the Mauras had them at their house, where LaGarde, as the oldest in attendance, was the queen of their hurricane party.
(LaGarde's age somehow got reported as 105 in the caption and story that accompanied the AP photo. "Eighty-nine is bad enough," she cracked.)
"Everyone here's been wonderful," LaGarde said. "We've met so many people. I thank God every day for the people in Houston."