/ Source: a href="http://www.washingtonpost.com/wp-srv/front.htm" linktype="External" resizable="true" status="true" scrollbars="true">The Washington Post</a
What kind of a man does it take to grow a 1,300-pound pumpkin?
He needs patience, of course, for the six-month growing season, and enough dedication to work two hours every night in the patch. And it helps to have a familiarity with plant breeding, a tolerance for the smell of liquefied codfish, and a $100 Giant Pumpkin lifting tarp. All of the things you'd expect.
Plus one more: A big-time pumpkin grower needs to be comfortable with cheering crowds.
That's why, even before Jim Beauchemin brought his pale-orange monster squash to the famous Topsfield Fair weigh-off, he already had a victory speech prepared.
"Not only did I go to the Super Bowl," Beauchemin, 47, bellowed to the hundreds of spectators when the numbers of the scale finally settled at a best-in-show 1,314.8 pounds, "I won the Super Bowl!"
That's what it feels like sometimes, when you're a winner in the ultra-competitive world of giant pumpkins. This once-sleepy rural hobby features international rankings, raucous weigh-offs and a racehorse-style trade in the seeds of champions. Enthusiasts say it comes as close to true sport as anything can be -- and still be mainly about produce.
"It's extreme gardening," said George Hoomis, 54, a grower from Ipswich, Mass.
Weight is 'all that matters'
The pumpkins in question here are not just overfed siblings of the ones that make Halloween jack-o'-lanterns. Instead, they come from a strain called Dill's Atlantic Giant, specially bred for rapid growth and very thick walls.
It is not a pretty pumpkin: A lumpy Atlantic Giant often resembles a smaller, paler cousin of Jabba the Hutt. But nobody cares, as long as -- in pumpkin parlance -- it "goes heavy."
"It's a contest of weight," said Woody Lancaster, 59, treasurer of the New England Pumpkin Grower's Association. "That's all that matters."
And what weight: In the 1980s, a 400-pound pumpkin was considered huge. But that seems like a paperweight when compared with the current world record of 1,469 pounds, which was set this month at a weigh-off in Altoona, Pa.
The reason for the growth, pumpkin enthusiasts believe, is people.
Thousands of new growers, even including some in the warm, pumpkin-unfriendly climes around Washington, have been attracted to the mad-scientist thrill of growing a fruit the size of a boulder. For some reason, at least 80 percent of them have been men.
Over the years, more growers have meant more pumpkins, and more chances to cross one behemoth with another.
As this practice has become more popular, the seeds of certain well-known pumpkins -- such as a 723-pound New York specimen whose illustrious offspring have made it the Alydar of squash -- can bring hundreds of dollars at auction. At training seminars, growers will play "pumpkin poker," for one seed a hand.
Everyone's dreaming that these unions of big pumpkins will produce a generation that is bigger still.
"We've put a man on the moon. We've run the four-minute mile," said Ray Waterman, who runs a seed and supply company outside Buffalo. "And now we're going to grow a 2,000-pound pumpkin."
Devoted to pumpkin growing
Beauchemin, who runs a landscaping business in a tiny burg north of Manchester, N.H., didn't reach that goal. But his win at Topsfield has made him one of the top growers in New England, and placed him eighth in the world this year, according to a ranking organization called the Great Pumpkin Commonwealth.
"People say, 'Don't you have a life?' " Beauchemin said. "Well, you know what? This is my life, in the summer months."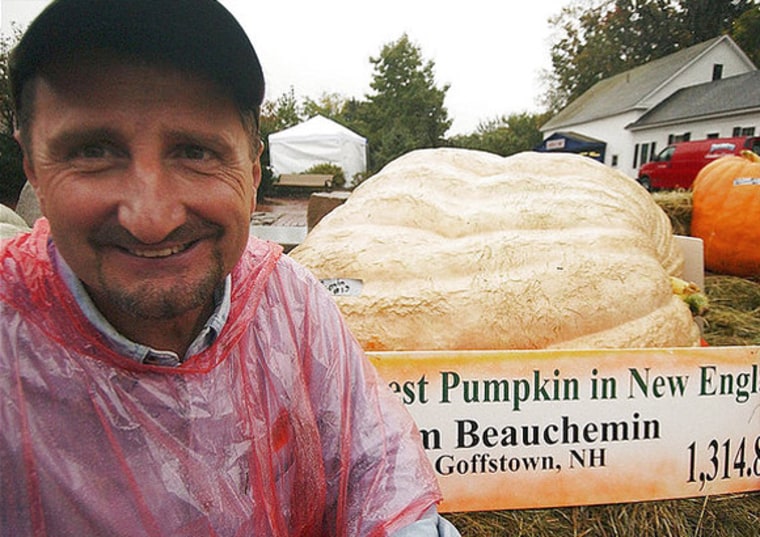 His prize winner began with a seed that germinated in April. By July, there was a golf-ball-size pumpkin in Beauchemin's garden -- although in this case, "garden" does not mean "dirt."
While the pumpkin's roots were sunk in the soil, Beauchemin shaded its prized fruit from the elements and placed it on a low-friction fabric. In the weeks to come, he knew, the mega-pumpkin would expand so fast that the roughness of the bare ground might slow it down.
"It never felt the dirt," he said. "And it never felt the rain."
After 10 days in the garden, the pumpkin was the size of a softball. At 20 days, it was a soccer ball, and after 30 days, a beach ball.
"Then all the growing kicked in," Beauchemin said. For 10 days in August, fed by hundreds of gallons of water and a fertilizer made of seaweed and liquefied fish parts, the pumpkin gained 35 pounds a day.
By the time Beauchemin picked the pumpkin on the last day of September, it was 183 inches around, about the size of a washing machine. He estimated that it might weigh 1,250 pounds.
Then, to his delight, it went heavy -- perhaps aided by thicker-than-average walls, or by Beauchemin's decision to put the pumpkin's severed vines into jars of water for one last gulp.
Before yelling his planned victory cry, Beauchemin turned to his wife, Susan, who had watched her husband spend 10 years growing pumpkins and had hoped that he might at least be getting good at it.
"I said, 'Honey, did I really win?'
"And she said, 'Honey, you just won the whole thing.' "
So how do you cap off a pumpkin season like this?
A pumpkin boat
In Goffstown, you turn a pumpkin into a boat. This weekend is the annual pumpkin regatta, in which Atlantic Giants are hollowed out to make room for a single passenger, then fitted with trolling motors and paraded on the Piscataquog River.
Beauchemin is saving his champion pumpkin for a gigantic jack-o'-lantern. But he will still be in the regatta, sitting in an 800-pound pumpkin he also grew this year.
And for that one day, at the very least, it will be impossible for anyone to accuse him of being out of his gourd.