/ Source: msnbc.com news services
Iranians on Sunday accused western countries of exploiting their president's bellicose remarks about Israel to turn up the heat on Tehran over its disputed atomic program.
President Mahmoud Ahmadinejad's remark on Wednesday that Israel should be "wiped off the map" sparked international condemnation, including a rebuke from the U.N. Security Council.
But the uproar has caused confusion in Iran, where such rhetoric has been commonplace since the 1979 Islamic revolution. Anti-Israeli diatribes are painted as murals along most highways and are heard regularly at Friday prayers.
"Our respected president has not said anything new or unprecedented about Israel to justify such a huge political tumult," wrote Hossein Shariatmadari, who was appointed to his post as editor of the Kayhan daily by Iran's Supreme Leader.
"Iran's nuclear case ... could be a reason for the recent clamor."
The United States responded to Ahmadinejad by saying his words added to fears about Tehran's pursuit of nuclear arms.
Iran faces referral to the U.N. Security Council for possible sanctions after failing to convince the world that its atomic program is for power generation rather than weapons.
Foreign Ministry Spokesman Hamid Reza Asefi told the official IRNA new agency the west was making a fuss about the remarks to ratchet up pressure before November's board meeting of the International Atomic Energy Agency.
"Since Iran has been proven right in the atomic field, they are trying to pressure us in another sphere and make us abandon our legitimate rights," he said.
Before Ahmadinejad aired his views on Israel, European diplomats said they would probably not push for a referral to the Security Council in November.
Iranians divided
Across Tehran, the president's remarks have drawn decidedly mixed reactions.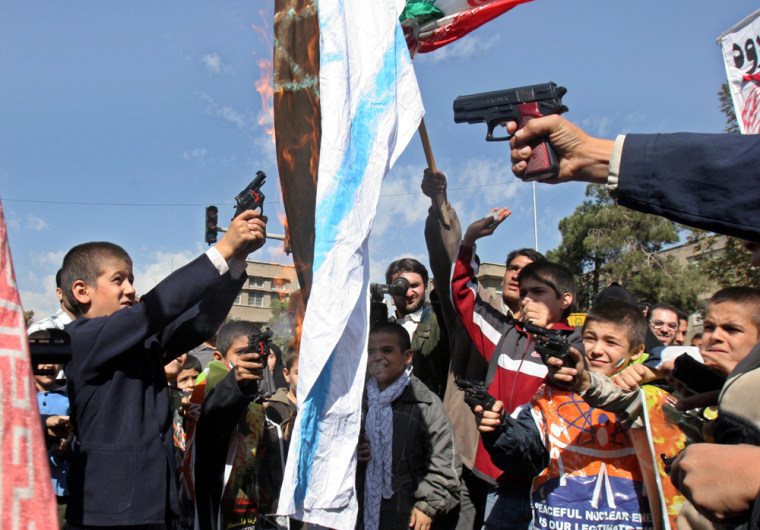 A group of some 200 men and women wearing black checkered Palestinian headscarves gathered to express their solidarity with the Palestinians, watching footage of Arab children killed in the conflict.
"I am ready to die for those poor children. I am ready to offer my blood," said 17-year-old Zahra, wearing the all-enveloping black chador.
But other Iranians reckon the president made an error of judgment. Although anti-Israeli rhetoric may be common in Iran's mosques, politicians have been careful not to make such inflammatory statements in recent years.
Iran's previous, reformist government, succeeded this year by Ahmadinejad's conservatives, was always careful to say it would back whatever course the Palestinians chose, leaving the way open for a two-state solution to the Middle East conflict.
"In a strategic masterstroke our president has broken the unipolar new world order and created a bipolar world," said a satirical piece posted on an Iranian Web site.
"Now there's Iran on one side and Europe, America, Asia, Africa and Oceania against us on the other."