/ Source: BusinessWeek Online
"Halloween will soon be here, ghosts and goblins will appear," goes a popular seasonal song from days of old. But it will be harder than ever to find ghosts and goblins this year. The reason: All Hallows Eve 2005 isn't so much about being ghoulish as it is about pop culture. These days, trick or treaters get their costuming ideas from Hollywood movies and TV shows.
"We sell characters, not costumes," says Bill Bub, vice-president of sales at Party City, the 500-store costume-retailing chain which sees some of its biggest sales around this time of the year.
That's why Batman and Spider-Man will be jousting with Darth Vader on the streets of America this Halloween as the most popular costumes for boys. And even though he first appeared on the silver screen almost 30 years ago, the villain of "Star Wars" fame was revived this year with the release of "Star Wars III: The Revenge of the Sith." So, Darth this year has the inside track as most popular look on the trick-or-treat walk, say marketers.
At Party City, Darth Vader is also the most expensive costume, starting at $99. For big spenders looking for authenticity, there's even a $799 version on buycostumes.com that includes faux leather pants and sleeves, plastic armor pieces, and a amplifying device to make your voice sound like the real thing — deep with heavy breathing.
Young at heart
The cost of the deluxe Darth gives a glimpse of how the Halloween business has changed from a kids' trick-or-treating outing to a popular costume-party event for adults. The fastest growing segment of the costume market is between the ages of 18 and 24, young adults who aren't shy about spending a lot more than kids on their get-ups, say retailers.
"Halloween means fond childhood memories to many adults these days, who are too old to go trick-or-treating but not to don a costume," says Lisa Morton, author of "The Halloween Encyclopedia."
For young adult women, the popular costumes are sexier than ever. The Batgirl costume comes with a black mini-dress featuring the yellow bat logo and black boots to match. And growing interest in the highly popular World Poker Tour is fueling sales of sultry, Vegas-style outfits like the Poker Princess. "The adults like it more glamorous, more sexy, and more expensive," says Jalem Getz, president and CEO of buycostumes.com, the largest online store for costumes.
Baby animals
For little girls, the magic of Disney and dolls continues to rule. Princess costumes like Cinderella and Jasmine remain highly popular. And even though she's had an image makeover lately, Barbie is still queen among the dress-up set on Halloween, both for young girls.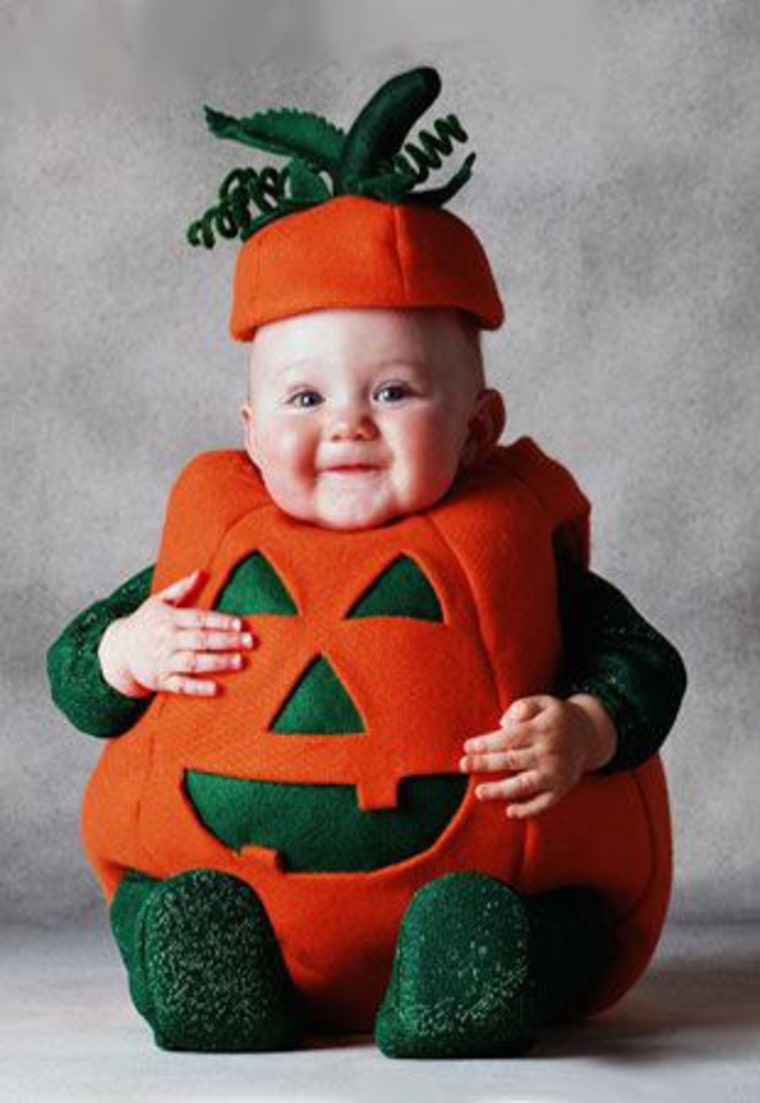 One of the fast growing categories, marketers say, is baby costumes. Costume designers have found out that parents love to dress their tots up in cute outfits for a Halloween stroll around the neighborhood. Tom Arma, renowned baby photographer, has a line of baby costumes — including monkey, elephant, and skunk options — that have been selling out all over the country, even at an average price of $50.
What's not hot this year is politics. Even though George W. Bush masks were selling at a brisk pace last year, they're now pretty hard to find on shelves. Political masks and costumes generally only do well during Presidential election years, marketers have found.
'Bragging rights syndrome'
With Halloween falling on a Monday, retailers expect a windfall. "People will need costumes for parties on Friday, Saturday, and Sunday, and then go trick or treating on Monday," says Getz. He's predicting double-digit sales growth for his company, even though the National Retailing Foundation expects Halloween sales to be up 5.4 percent for the industry, to $3.29 billion.
But costumes aren't the only fare flying off shelves. Halloween has emerged as the second-biggest season for home decorating, behind the Christmas holidays, retailers say. Some 60 percent of consumers say they will purchase something with a Halloween motif — whether it be a giant, blow-up pumpkin that glows in the dark for the front lawn, a spooky miniature haunted house, or fake spider webs. "I call it the bragging-rights syndrome, where one person gets decorations and the entire neighborhood has to match that big pumpkin blow-up," says Party City's Bub.
Indeed, competition for Halloween sales has become fierce. The Party City's of the world have to compete not only with online sites such as buycostumes.com but also with hit-and-run retailers like Halloween Express and Halloween Events that open shop in malls and downtown locations and close down after the pagan festival. Meanwhile, discounters Wal-Mart and Target are trying to corner their share of the Halloween costume market. But as Fright Night goes Hollywood, there are still plenty of bones to rake in.