After two conventions and a turbulent week of campaign news, the polls around the race for the White House look very different than they did a month ago. Hillary Clinton is surging and Donald Trump is sinking. While there's still a long time until November, here's a look at the five things we can say about the presidential race right now.
1. Hillary Clinton and the Democrats Won the Conventions
Elections may not be won in the summer, but one candidate can gain a lead that makes a win much more likely. That's Hillary Clinton across the board.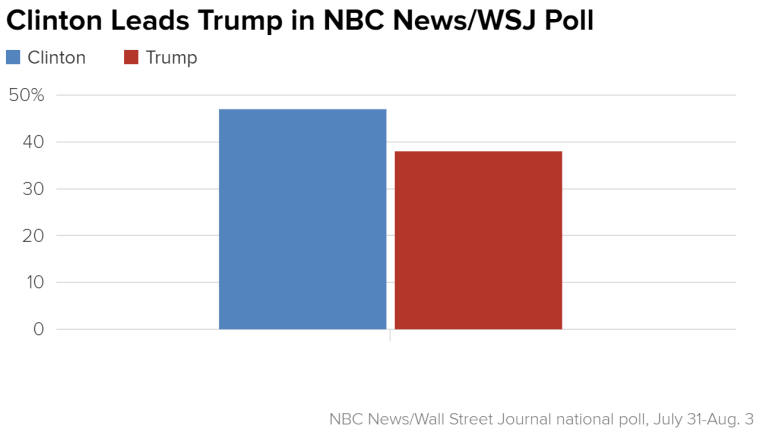 On July 17, the day before the Republican National Convention began, Clinton led Republican Donald Trump by about 3 points in the Real Clear Politics General Election Polling Average — 43.8% to 40.6%. On Friday, August 5, her lead was almost 7 points in the average — 47.3% to 40.5%
There are other measures. On July 17, the 538 Election Forecast said there was a 65% chance Clinton would win in November and a 34.9% chance Trump would win. On August 5, the numbers were Clinton 81% and Trump 19%. PredictWise had the odds at 70% Clinton and 30%Trump on July 17 and at 77% Clinton and 23% Trump on August 5. The movement was uniform.
On top of that, days after the conventions, the Trump campaign fired a strategist who helped organize the Republican convention. Those numbers and actions show there was one big winner out of the conventions: the Democratic nominee.
2. College Educated White Voters Are a Big Problem for Trump
This week's NBC News/Wall Street Journal poll shows that Hillary Clinton now has a 7-point edge over Donald Trump among college-educated white voters (47%-40%). The July NBC/WSJ poll showed that Clinton had only a 1-point edge over Trump with those voters (43%-42%).
And that growing edge is echoed in other polls. This week's CNN/ORC poll showed her edge was 10 points with college-educated whites. A poll just after the GOP convention showed her lead with those voters was only 4 points.
Considering Trump's very poor numbers with minority voters, his slide among college-educated whites suggests a road to a rough November.

3. The 2016 Urban/Rural Divide in the Electorate is Growing
While polls show a pretty uniform slide in the polls for Trump, there are some signs that he remains strong rural locales.
An analysis of the latest NBC/WSJ poll by the American Communities Project finds that while Clinton has grown her advantage over Trump in dense urban suburb counties mostly around big cities. She led him by 20 points in those places in the post-convention poll (53%-33%). Before the conventions her edge was 15 points (50%-35%). The suburbs are increasingly Hillary-land.
But in rural counties, Trump actually saw bigger margins of support in the last month. He leads Clinton by 28 points in those counties now (55%-27%). Before the conventions he led in those counties by 19 points (55%-36%). Clinton's numbers are down, but Trump is holding steady at 55%. Even after a hard few weeks, there is still a solid Trump country — it's in rural America.
4. Clinton's Growing Lead is More About Trump Falling
Hillary Clinton grew her edge over Donald Trump in the latest NBC/WSJ poll to 9-point lead from a 5-point lead. But Clinton's support actually only climbed 1 point to 47% from 46% before the convention.
Her real gain came from Trump's slide. He fell three points to 38% to 41%.
In other words, Trump may have a road back into the 2016 race. The numbers suggest he doesn't have to "flip" Clinton supporters, he just needs to find a way to get his own supporters back.


5. The Map in November Could Look Different Than Usual
State polls from around the country show a set of surprising states in play. From Georgia, where a new poll Friday showed Clinton leading, to Arizona where Republican Vice Presidential Nominee Mike Pence campaigned this week, to Utah, where Trump is having a hard time gaining traction in a solid Republican state.
Even within states, county-level maps may look different in part because of the unique education-divide on Trump. A Detroit News/WDIV poll in Michigan this week found Clinton leading Trump in conservative western Michigan, home of some highly-educated suburban population centers.
A new poll in Pennsylvania found enormous edges for Clinton in the suburbs around Philadelphia in the southeastern part of the state — 60% to 20% for Trump. But up in the northeast corner of the state, a poll from a Republican firm of the "battleground" county of Luzerne, which President Barack Obama won in 2012, shows Trump with 23-point lead.
The point? 2016 really is shaping up to be different. Rearrange your old ideas of "key demographics" or "key counties" or even "key states," standard rules may not apply.