One word seems to define the American public's mood more than 13 months until Election Day 2016 — anger.
According to the new NBC News/Wall Street Journal poll, 62 percent of respondents believe the country is headed in the wrong direction — the 59th-straight NBC/WSJ poll over the past six years when a majority thinks things are on the wrong track.
A plurality of adults feel angry because the American political system seems to be working for those with money and power.
And more than half of Americans — 55 percent — say that something upsets them enough that they'd carry a protest sign for an entire day if they could.
The one hitch: The public is divided over the source of this anger.
The top responses from Republicans on the protest sign they'd carry: "Stop Abortion"; "Enforce Immigration Laws"; "Defund Planned Parenthood"; "Impeach Obama."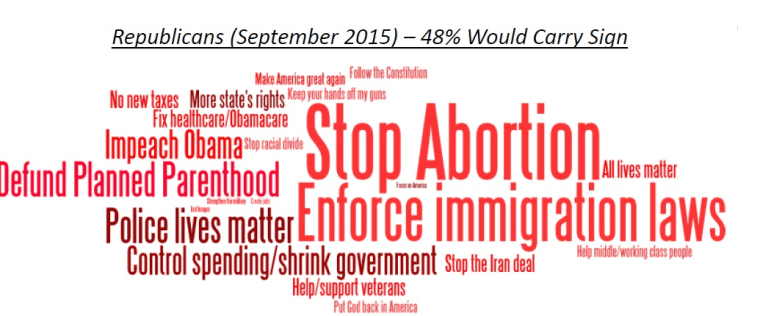 The top Democratic responses: "Fund Planned Parenthood"; "Equality/Human Rights"; "All Lives Matter"; "Get Big Money Out of Politics"; "Black Lives Matter."

"These statements read more like headlines in the news," says Democratic pollster Peter Hart, whose firm conducted this survey with Republican pollster Bill McInturff. "Yes, there is anger, but it is not galvanized."
Growing optimism about the economy
Still, there is some optimism from the public when it comes to the economy. Fifty-three percent of Americans say they're "confident and optimistic" about their own financial situation over the next year, versus 45 percent who are "worried and uncertain."
That's a reversal from the beginning of the financial crisis in Sept. 2008, when 58 percent were worried and uncertain.
But there's a stark divide by income: 69 percent of Americans making $75,000 or more per year say they're confident and optimistic about their financial situation, compared with just 30 percent of those making less than $30,000.
Testing recent trends in American society
The NBC/WSJ poll also tested some recent trends in American society.
The most popular: The increasing use of technology like smart phones and social media (60 percent said it was a step in the right direction); legislation protecting the rights of gays and lesbians (59 percent in right direction); more international trade agreements (51 percent); an increase in the number of legal immigrants (48 percent); and relaxing laws against the use of marijuana (47 percent).
The least popular trends: More restrictive laws on abortion (36 percent); racial and ethnic minorities as a percentage of the U.S. population (35 percent); and more active involvement of religious groups in politics (24 percent).
The NBC/WSJ poll was conducted Sept. 20-24 of 1,000 adults (including nearly 400 reached by cell phone), and it has an overall margin of error of plus-minus 3.1 percentage points.