The size and shape of the Republican presidential field is still shifting, but the latest NBC News/Wall Street Journal Poll suggests the remaining candidates are fighting to fill three GOP primary "lanes" – one for establishment supporters, one for social conservatives and one for the white working-class.
The three lanes are markedly different in a range of ways, from education to church attendance, and those differences could lead to a long road to the Republican nominating convention in Cleveland.
You can see the numbers best when you look at how GOP primary voter support splits in a five-way contest with the current top candidates– businessman Donald Trump, Sen. Ted Cruz, Sen. Marco Rubio, former neurosurgeon Ben Carson and former Gov. Jeb Bush. Currently, in that split, Trump leads with 30% of the vote, Cruz is second with 24%, Rubio is third with 21%, followed by Carson and Bush with 13% and 9% respectively.
Now look at what those numbers look like if we put the candidates into our three different lanes based on their appeal to the voters.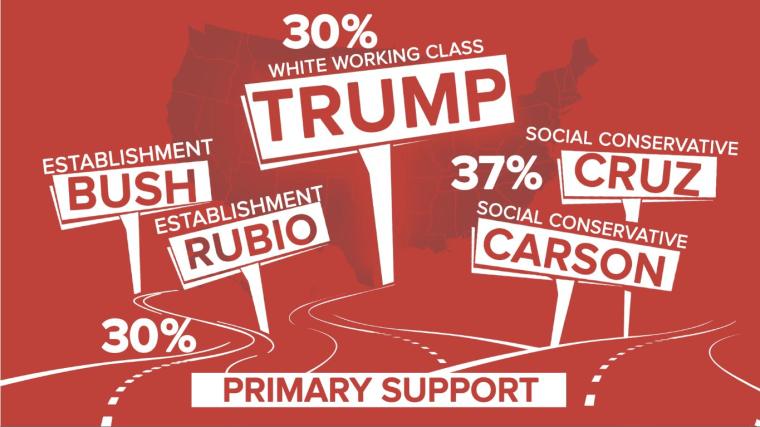 The social conservative lane has the biggest support, but no lane has a majority. The breakdown is roughly one-third of the support sitting in each. And when you look at some key demographic and cultural markers in the latest poll, you can see how different the supporters in each of these lanes is.
Supporters of our establishment lane candidates are the most highly-educated group. More than half, 56%, have a college degree. The same is true for about half of the supporters of our social conservatives. Only about a third of the supporters in our white working class lane, Trump supporters, have a college education.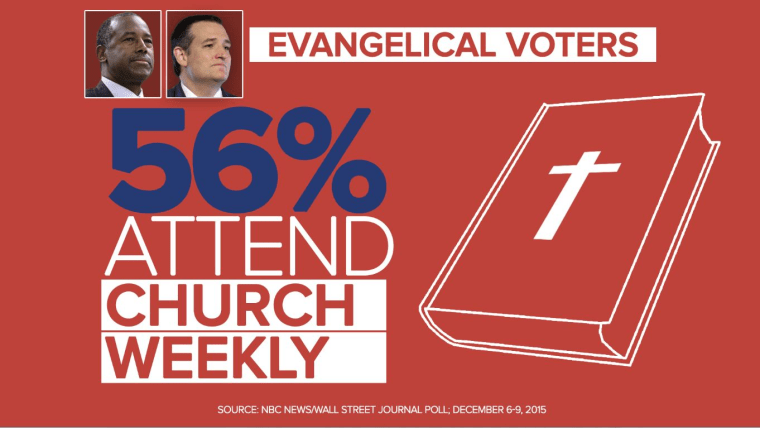 Supporters of our social conservatives stand out for their regular church attendance, 56% of them say they attend church weekly. That's true for just less than half of our establishment supporters. Those in the working class white lane are much less likely to attend church weekly.
In fact, the working class white lane, Mr. Trump's group, stands out for being on the low end of all three indicators – education, income and church attendance. It is a sign of how he is appealing to unique slice of the Republican electorate that has not had often had a champion in the past, those with lower incomes and education levels that are not big churchgoers. That is a slice of voters that has struggled to regain their footing economically since the Great Recession.
In this way the New York businessman's candidacy is about more than celebrity. He represents something new in the GOP primary field, the rise of a secular populist candidate. His poll position, should it hold when the actual primary votes arrive, threatens to remake the traditional Republican nomination storyline – a two-person fight between an establishment candidate and a strong social conservative.
In a three-lane race, defined by three distinct voter groups, it may be harder for one candidate to assert control and lock down the nomination early. And the Republican primary fight may carry on for a long time. Already the party has quietly been discussing something it hasn't seen for decades, a contested convention.