WASHINGTON — Mass shootings have become so commonplace in the U.S. in 2023 that the shelf life for any individual event before another shooting can be measured in days or sometimes hours. The latest mass shooting, in Monterey Park, California, is a prime example. 
By Monday morning, the murders Jan. 21 at a Los Angeles area dance studio were soon followed by more tragedy. By Friday morning, there had been eight more such events around the country, adding 14 more deaths to the grim ledger, according to the Gun Violence Archive. And a look at the data doesn't show any signs of a coming slowdown — or any signs of likely action in Washington. 
The Gun Violence Archive defines a mass shooting as any event with a "minimum of four victims shot, either injured or killed, not including any shooter who may also have been killed or injured in the incident." And using that definition, January has been a busy month.  
The archive lists 44 mass shootings and 79 deaths through Jan. 29 — and the month isn't over yet. On top of the deaths, there were over 175 injuries. 
That's more than one mass shooting a day and more than two mass shooting deaths per day this month. January largely fits with the broader trend in mass shootings over the past decade, and that has been climbing fairly steadily.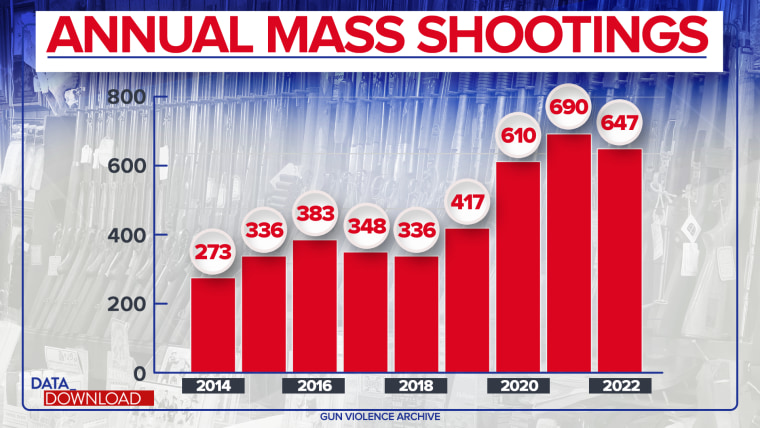 In 2014, the Gun Violence Archive chronicled 273 mass shootings in the U.S. The number climbed to 383 (an average of more than one a day) in 2016. By 2021, the figure had climbed to 690, before a slight decline in 2022, to 647 events.  
Even if you take the slight dip of 2022 into account, that's an increase of more than 130% since 2014. And the number has climbed sharply since 2019, the year before the coronavirus pandemic began.  
The numbers are difficult to ignore, and after every event and the usual calls for "thoughts and prayers," supporters of stricter gun control measures wonder why Washington does not take up legislation on guns or at least hold hearings to discuss the matter. A big answer: On the whole, voters aren't especially focused on the gun issue, especially compared to other topics.   
Consider the NBC News poll taken just before the 2022 midterm elections asking voters about "the most important issue facing the country."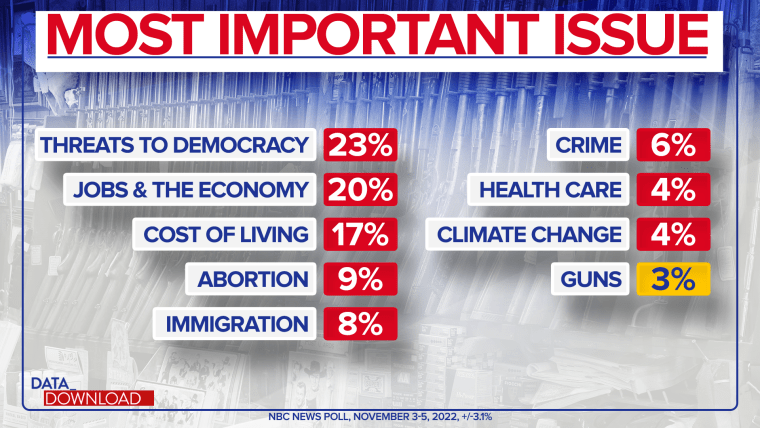 The gun issue is at the very bottom of the list, with only 3% of voters calling guns the most important issue. Above guns? A long list of topics also continually in the news: 23% of voters said "threats to democracy" was their No. 1 issue, 20% said "jobs and the economy," 17% said the "cost of living," 9% said "abortion," 8% said "immigration," 6% said "crime," 4% said "health care," and another 4% said "climate change."  
It's not that voters don't care about guns; it's that voters have a long list of issues that concern them, and when they rank areas of interest, guns tend to sit lower on the list. 
Are attitudes about guns changing? Polling data from Gallup over the past 20 years suggests the answer is a little bit yes and no.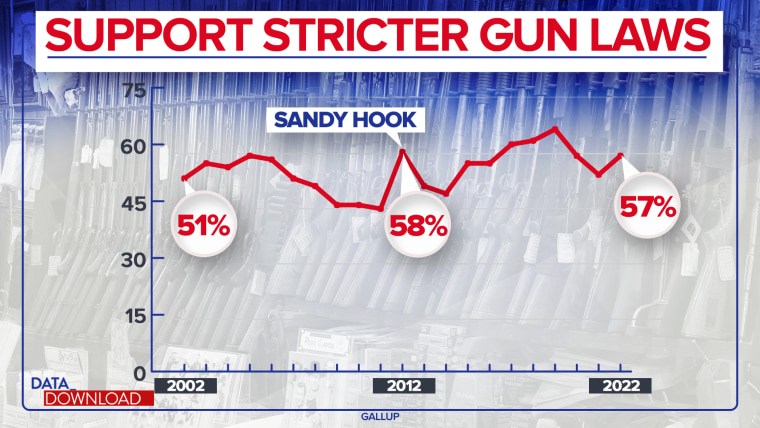 A majority of Americans, 57%, say they favor stricter gun control laws, higher than it was for most of the Obama administration, when it tended to sit in the mid to high 40s. That seems like a positive bit of news for gun control advocates. 
But the number has been higher, even fairly recently. In 2017, 2018 and 2019, the Gallup data showed that 60% or more of Americans favored stricter gun control. And no major federal gun control legislation was passed in that time — although last year did bring the Bipartisan Safer Communities Act, which provided incentives for states to pass "red flag laws." 
There are a lot of reasons for Washington's reluctance to take up gun control provisions, of course. The two major political parties tend to be strongly divided over the issue of gun control. And pro-gun lobbying groups, such as the National Rifle Association, hold a lot of sway over some, mainly Republican, lawmakers.  
However, it's hard to ignore the numbing effect the shootings may have on people, particularly when news cycles move so fast. Some mass shootings seem to break through with voters and increase the desire for tighter gun rules — but the effects are ephemeral. 
Gallup tends to ask about gun control in its October surveys every year, but it also asks immediately after some mass shootings. Look at the polling around two particularly horrific slayings, the school shootings in Parkland, Florida in 2018 and Uvalde, Texas, last year.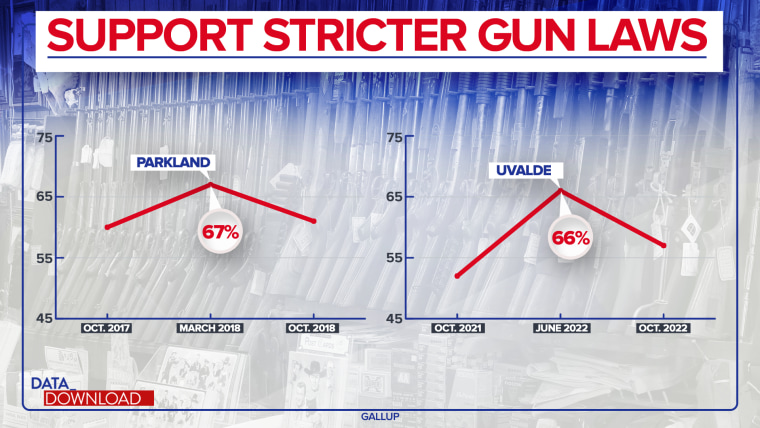 In October 2017, 60% of those surveyed said they favored stricter gun laws. Soon after the February 2018 Parkland shooting, the number climbed to 67%. But by October, the figure had dropped back to 61%. 
In October 2021, 52% said they favored stricter gun laws. After the shootings in Uvalde in May, the "stricter" number climbed by 14 points, to 66%. But by October, just before last year's midterm elections, the figure had dropped by 9 points, back to 57%. (The Safer Communities Act was passed in June, just after Uvalde.) 
The 57% in October is below the October 2018 number — and remember, that decline happened even as the number of mass shootings climbed. 
To be clear, this pattern isn't set in stone. There might come a time when a mass shooting or a series of mass shootings is enough to create a massive shift in opinion that breaks through in Washington. But as of now, the string of mass shootings this month looks like a fairly typical month in the story of guns in the U.S. 
CORRECTION (Jan. 29, 2023, 7:45 p.m. ET): A previous version of this article misstated when a mass shooting occurred in Monterey Park, California. It was Jan. 21, not Saturday.