Jeb Bush and his allies have now spent approximately $20 million in TV ads in the 2016 presidential race – more than twice as much as any other candidate or outside group, according to ad-spending data from NBC News partner SMG Delta.
And they have little to show for it, will poll numbers for Bush currently stuck in the single digits both nationally and in the early states.
The pro-Bush Super PAC, Right to Rise, has spent $19.5 million in TV ads in Iowa, New Hampshire and South Carolina, while the campaign has spent an additional $438,000.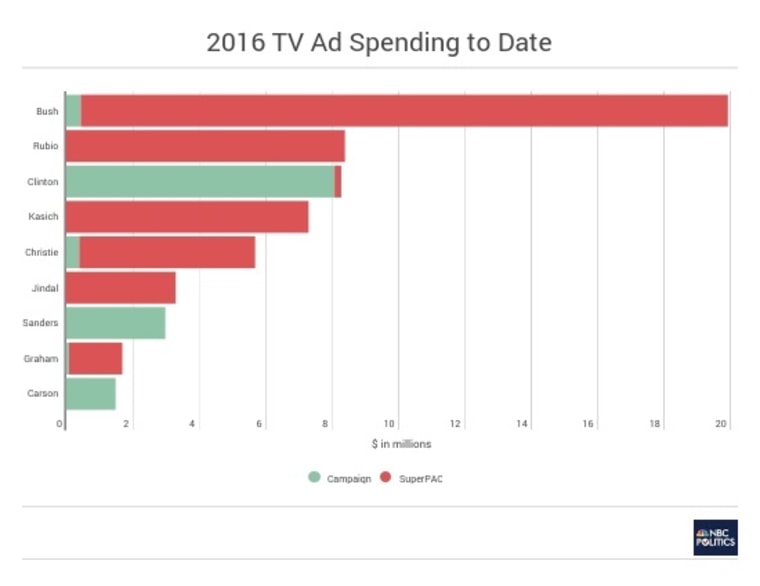 By comparison, Conservative Solutions Project – a 501c4 group supporting Marco Rubio that doesn't have to disclose its donors – has paid $8.4 million in TV ads so far. And Hillary Clinton's presidential campaign has spent $8.1 million, while the Super PAC backing her has spent an additional $199,000.
Caveat: Because campaigns get discounted ad rates from TV stations, Super PAC and outside groups pay, on average, about four times what a campaign does for the same ad. So money spent is an imperfect way to measure the 2016 TV ad wars, though it gives you a good picture of who is advertising – and by how much.
Biggest Spenders So Far (through Nov. 21)
Team Bush: $19.9 million ($19.5 million from Right to Rise Super PAC, $438K from campaign)
Team Rubio: $8.4 million (all from outside group Conservative Solutions Project)
Team Clinton: $8.3 million ($8.1 million from campaign, $199K from Priorities USA Super PAC)
Team Kasich: $7.3 million (all from two outside groups)
Team Christie: $5.7 million ($5.3 million from America Leads Super PAC, $407K from campaign)
Team Jindal: $3.3 million (all from outside groups)
Team Sanders: $3 million (all from campaign)
Team Graham: $1.7 million ($1.6 million from Super PAC, $100K from campaign)
Team Carson: $1.5 million (all from campaign)
Biggest Spenders This Week (from Nov. 15-21)
Team Bush: $2 million (all from Right to Rise)
Team Sanders: $940,000 (all from campaign)
Team Clinton: $741,000 (all from campaign)
Team Rubio: $619,000 (all from Conservative Solutions Project)
Team Kasich: $352,000 (all from New Day for America)
Team Christie: $313,000 (all from America Leads)
Team Carson: $214,000 (all from campaign)
SOURCE: NBC/SMG Delta