Though most recently they've been called a "hate group" that is "blatantly perverted," the Sisters of Perpetual Indulgence have advocated for care and community service for nearly 45 years. 
The Sisters, whose members dress in drag as nuns, became the focus of headlines last month when they were invited, disinvited and then invited again to the annual LGBTQ Pride Night at Dodger Stadium. 
The rescinded invitation on May 18 came after pressure from conservative media and religious groups, with Sen. Marco Rubio, R-Fla., even weighing in to say the Sisters mock Christians through "diabolical parodies." Civil rights organizations and LGBTQ nonprofits denounced the sudden exclusion, and both the ACLU of Southern California and the Los Angeles LGBT Center pulled their own participation from the Pride Night event. The Dodgers invited the Sisters back four days later, issued an apology and are expected to honor the organization with a "community hero award" on Friday evening.
"This affair has been an opportunity for learning with a silver lining. Our group has been strengthened, protected and uplifted to a position where we may now offer our message of hope and joy to far more people than before," the Sisters said in a statement. "May the beer and hot dogs flow forth in tasty abundance!" they added.
The group began organizing in the 1970s to support people with HIV/AIDS and today it boasts dozens of orders across the United States and the world. Each order is independently operated but they all support a shared mission, not unlike faith-based nuns — though the Sisters claim no religious denomination. 
Members take vows and commit to work on uplifting their local communities. Once part of an order, the Sisters minister to the sick and support the needy. They also host events featuring drag personas, including "Free Choice Mary" (a parody of Mary Magdalene), and hold "Hunky Jesus" costume contests (a sign at the April event read, "Can I get a gaymen?")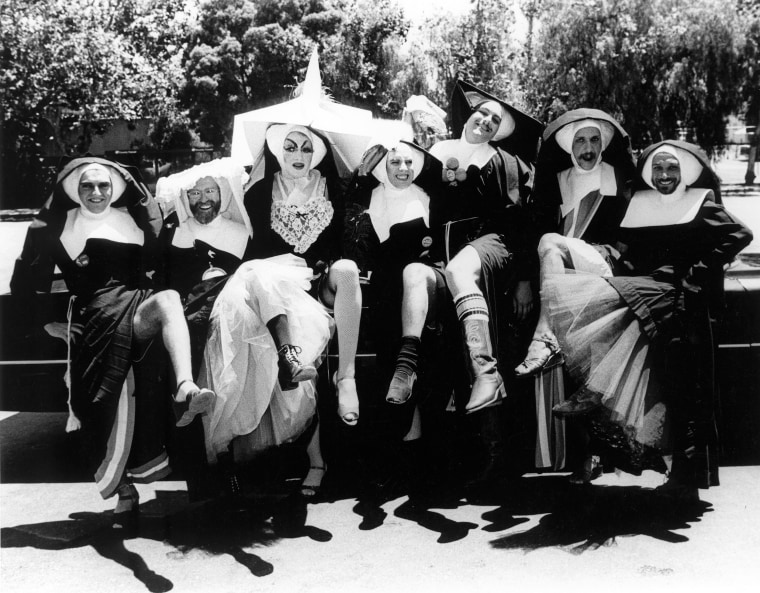 CatholicVote, a nonprofit political advocacy group, called these events "sacrilegious" and a desecration of Catholicism. 
Sister Yanita Letgo, board president of the Russian River Sisters of Perpetual Indulgence, an order in California's Sonoma County, said nuns don't have to be Catholic.
"They don't own that," she said. "Other faiths also use that. We still, to this day, face people who say, 'Catholics are the only ones who can have nuns, you're making fun of us.' No, we're ministering to people." 
In addition to costume contests, the Sisters also host popular bingo nights. Bingo night is a fundraising engine for a number of the orders, but the Russian River Sisters host an especially popular one every month. At an event last week, the Russian River order raised funds for Reach for Home, which seeks to end homelessness in the area, and for Verity, an organization supporting survivors of sexual assault.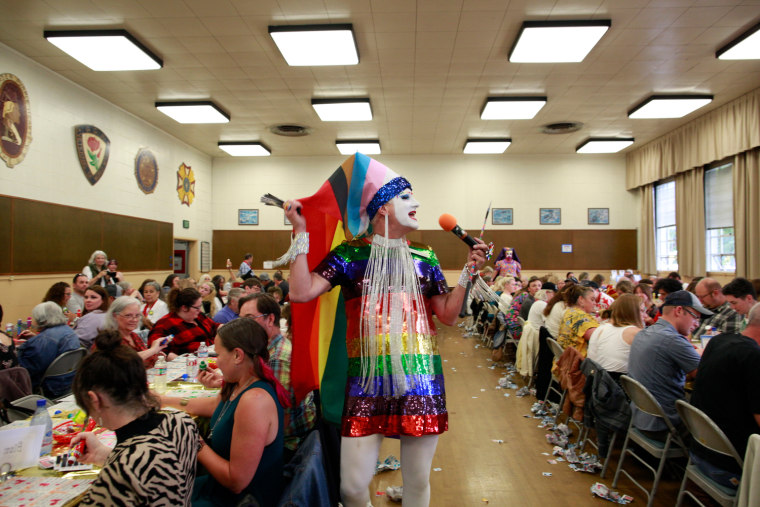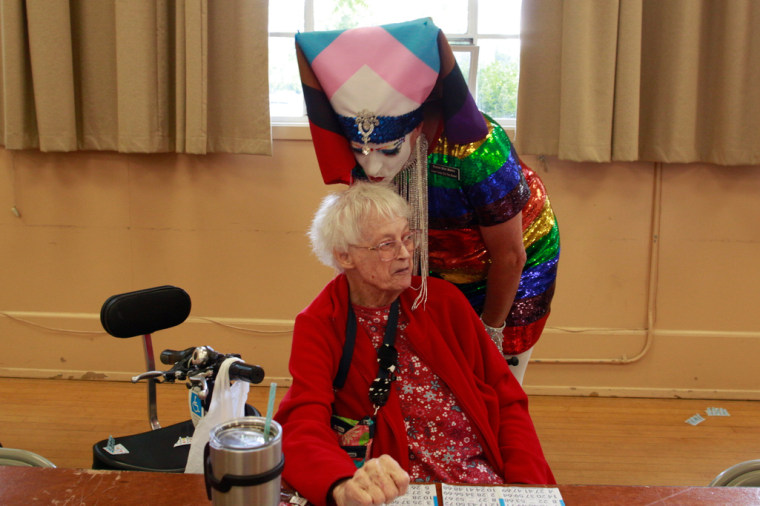 "When you come to bingo, you may see grandma, you may see a family, you may see a gay couple, you may see somebody dressed up in some very interesting, fun or crazy way," Letgo said. "Everybody comes together. And the community — not just the LGBT community, but the community at large — knows who we are."
It wasn't always this way. When bingo night began there 20 years ago, the community was divided. 
"After a few years of doing these events and engaging in the community, we began to see people move together," Letgo said. "A lot of people know we have this huge number of agencies we help support the best we can."
The support is significant. In April, the Sisters raised $43,000 for 30 local organizations ranging from animal shelters to an Episcopal church to youth drug education.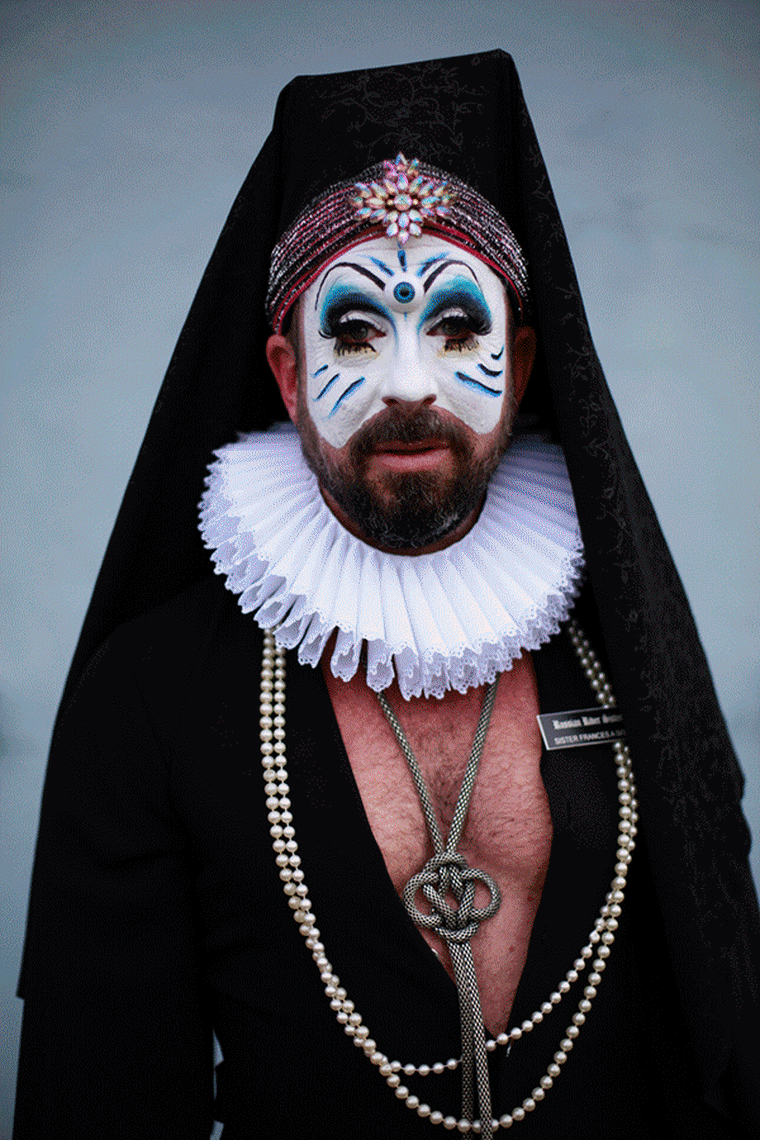 Backlash against the Sisters has intensified with the re-issued Pride Night invitation from the Dodgers. CatholicVote said last month it had allotted a $1 million advertising budget to encourage Catholics to boycott the team. Clayton Kershaw, the team's pitcher, disagreed with the decision to include the Sisters, and has pushed for a relaunch of the Dodgers' annual Christian Faith and Family Day, according to the Los Angeles Times. Put on hold since the pandemic, the event will take place next month.
"This has nothing to do with the LGBTQ community or Pride or anything like that," Kershaw told The Associated Press. "This is simply a group that was making fun of a religion, that I don't agree with."
Letgo said people often misinterpret what the Sisters do. 
"We're trying to break down some of the things that people learned in church around groups of people disliking themselves or others," she said. "So many people have scars from the faith they grew up with." 
Almost half of LGBTQ adults in the United States are religious, according to a 2020 report from the Williams Institute, a think tank at the UCLA School of Law. However, about 29% of LGBTQ Americans say they have personally "been made to feel unwelcome at a place of worship or religious organization," according to a 2013 Pew Research Center survey. Still, 17% of LGBTQ adults say religion is very important in their lives, the survey found. 
"We don't dislike any faith necessarily," Letgo said. "But we do push back on people who hate us because of who we are."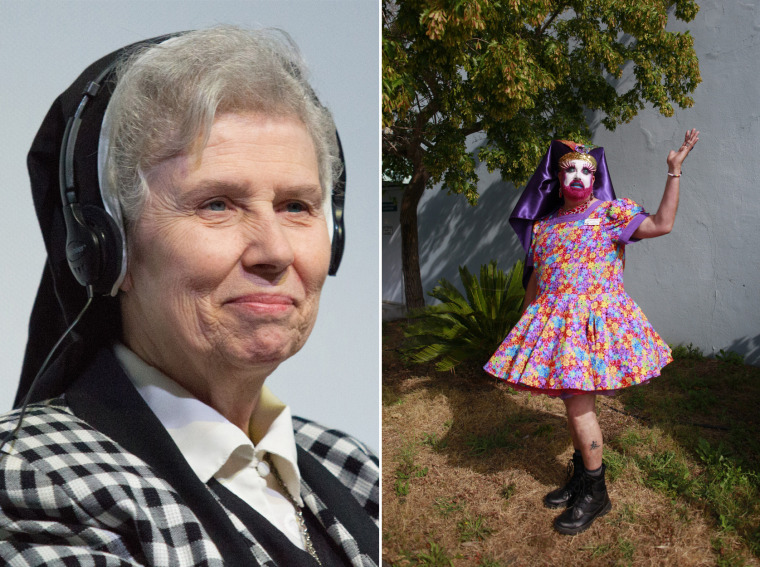 Though the voices of faith-based nuns have been largely absent during the Dodgers controversy, there is at least one Catholic nun supporting the sisters. Sister Jeannine Gramick  wrote a letter of support to the Dodgers, with one caveat: "While I am uncomfortable with the Sisters of Perpetual Indulgence using the nuns' old garb to draw attention to bigotry, whether Catholic or not, there is a hierarchy of values in this situation," Gramick wrote. "The choice of clothing, even if offensive to some, can never trump the works of mercy." 
Nine months after Letgo became a member of the Russian River Sisters, she visited her mother's Catholic church wearing her headdress and lashes. The congregation was curious and accepting. Before she left, Letgo read them her vows. 
"We can all have faith in something," she said.