PHILADELPHIA — Arriving by bus at their hotel Sunday afternoon, Asian-American delegates from Virginia were energized about a Clinton-Kaine ticket, even as U.S. Rep. Debbie Wasserman Schultz of Florida announced she would step down as Democratic National Committee chair at the end of this week's Democratic National Convention.
Wasserman Schultz's abrupt departure comes amid leaked emails from the DNC, released by WikiLeaks, that apparently show party hostility toward former Democratic presidential candidate Sen. Bernie Sanders (I-VT).
"For her stepping down, I really admire her," Suchada (Sue) Langley, a Hillary Clinton delegate, told NBC News during a Virginia delegation gathering at the Loews Philadelphia Hotel. "It shows she's a leader. She knows this is a serious issue under her watch, and she's willing to accept responsibility."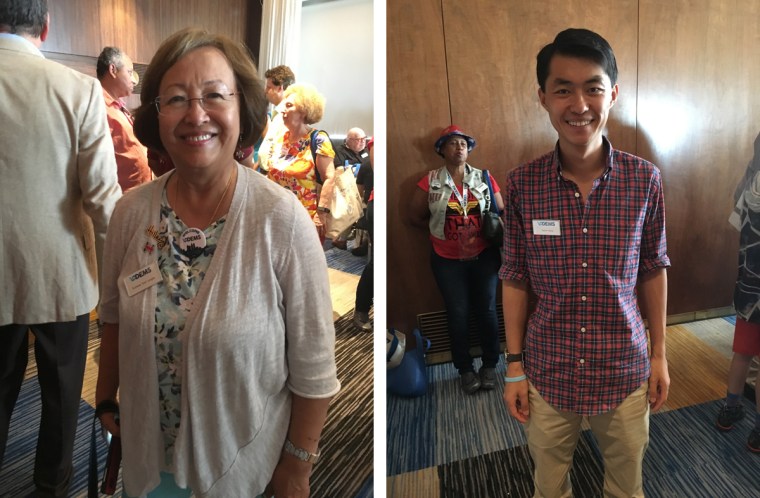 Despite the turmoil within the Democratic Party before the convention gets underway Monday, some AAPI delegates and Democrats from Virginia who spoke with NBC News said they were thrilled when they learned Friday that Sen. Tim Kaine (D-VA) was tapped to be Clinton's vice presidential nominee.
Steven Yeung, a 21-year-old who is Virginia's youngest delegate, said that Kaine's global experience acquired from exploring the world makes him a strong candidate. Kaine took a year off from law school and, in 1980, lived in Honduras, where he learned Spanish and later became fluent.
"He honestly is a very normal guy, compared to the race that we're having now with all the drama everywhere," Yeung told NBC News, adding he admires Kaine's modest and centrist views.
Langley said that Kaine's support of universal pre-kindergarten and affordable childcare are among the reasons why she admires the senator.
"Any candidate that puts an emphasis on education and childcare will get my vote," she said.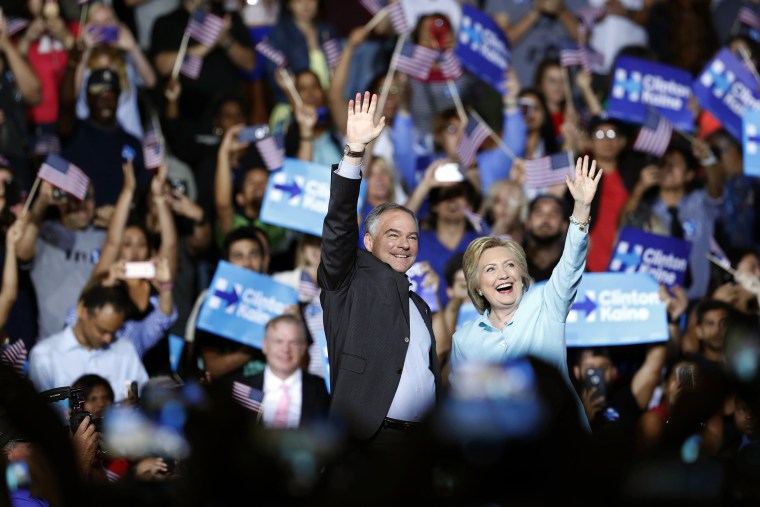 A former governor known for being affable and unassuming, Kaine is highly regarded among many in the Asian American and Pacific Islander community. Nearly 72 percent of AAPI Virginia voters cast ballots in 2012 for Kaine in his bid for the Senate, according to the Asian American Legal Defense and Education Fund.
RELATED: New Super PAC Launches, Aims to Increase Asian-American Votes
Last year, Kaine also met with Asian-American business owners in his state to discuss such topics as health care and immigration. And in January, he spoke at the launch of the AAPI Victory Fund, a super PAC seeking to improve AAPI voter engagement and boost AAPIs voting numbers — an important mission since, according to the U.S. Census, Asians ranked lowest among whites, blacks, and Hispanics in percentages of registered voters and those who cast ballots in the last presidential election.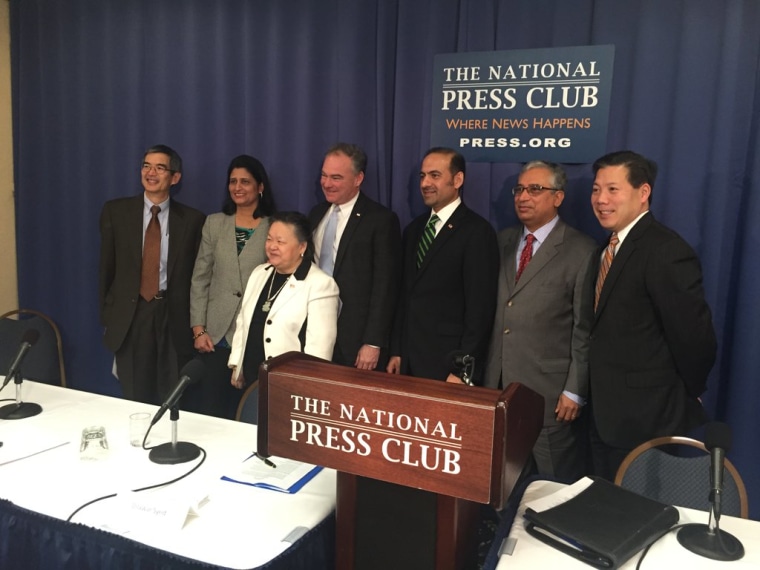 Virginia, a battleground state in this election, ranks ninth among the top 10 states for largest AAPI population, according to the 2010 Census.
RELATED: Opinion: In 2016, Asian Americans and Pacific Islanders Are Ready To Be Heard
Langley, who emigrated from Thailand in the 1970s to attend college, and Yeung, a first-generation Chinese American, confirmed they are both Clinton delegates. Yeung said he's drawn to the former secretary of state because of her support of the LGBTQ community and her stance on immigration, which includes a pathway to full and equal citizenship.
"She presents a stark contrast to Donald Trump," Yeung said.
"[Tim Kaine] honestly is a very normal guy, compared to the race that we're having now with all the drama everywhere."
Asked about the Republican nominee's convention acceptance speech, when he said he'd "do everything in my power to protect our LGBTQ citizens from the violence and oppression of a hateful foreign ideology," Yeung said he thought Trump's remarks were insincere.
"When you have a platform that is just completely antithetical to what you're saying, I don't know how he can be sincere about it," Yeung said.
Meanwhile, Sanders supporters have already begun hitting the streets of Philadelphia, ahead of the convention, to express displeasure with the Democratic Party and with Clinton's expected nomination. More protests are expected throughout the week.
The Democratic Party has 713 superdelegates — just 3 percent of whom are Asian — who are not bound to any one candidate, according to Pew Research. Superdelegates include all Democratic governors, senators, and House representatives in office, as well as past presidents and vice presidents. Most, however, are DNC officers or members.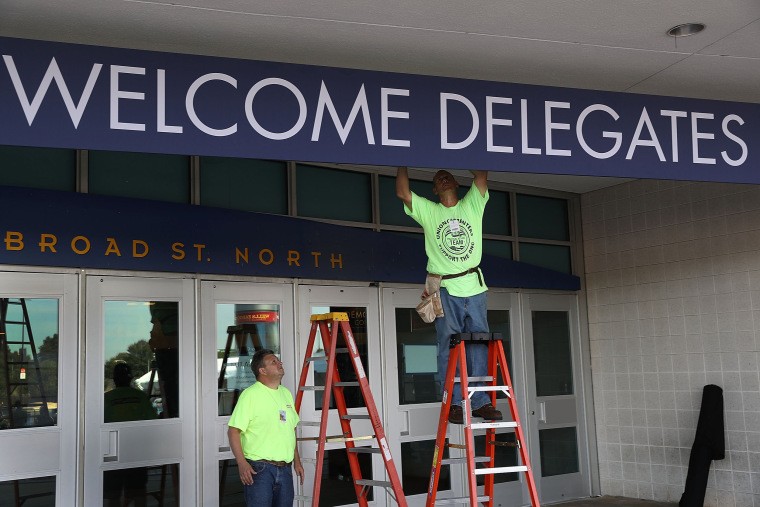 RELATED: National Asian American and Pacific Islander PAC Endorses Clinton for President
While Sanders protesters remain hopeful that their marches might win over the hearts and minds of these superdelegates, who make up 15 percent of nominating delegates, numerically Clinton would still have won the nomination with pledged delegates, even if superdelegates were eliminated.
For his part, Sanders, who endorsed Clinton earlier this month, has polled particularly well among younger Asian-American registered voters, according to a May survey released by nonpartisan advocacy groups. Three in four between the ages of 18 and 34 viewed Sanders favorably, compared to roughly one in two who felt the same way about Clinton, the survey found.
RELATED: Asian-American Voters Tip Toward Dems Headed into 2016 Election: Study
Clinton, however, enjoyed an overall higher favorability among all AAPI voters, 62 percent to Sanders' 48 percent, according to the survey. Asked about which candidates they voted for in primaries, the margin becomes narrower, with 33 percent saying Clinton and 26 percent Sanders, the survey found.
For Yeung, who said he's supported Clinton from the very beginning, Sanders' platform comes across as more idealistic than realistic, while Clinton's seems more achievable.
Asked about the impact of the leaked DNC emails, Yeung said, "I definitely don't think it's fair to Bernie and his supporters. They should definitely have a fair shot at the election. It should be a fair process."
Dewita Soeharjono, chair of the Democratic Asian Americans of Virginia, described her own support for Clinton as an "evolution." She told NBC News she wasn't happy when Clinton, as a senator from New York, voted to give then President George W. Bush the authority to go to war in Iraq.
But Clinton won her over after her House committee hearing in October investigating the Benghazi attacks in 2012, which resulted in the deaths of four Americans, including U.S. Ambassador Christopher Stevens. Clinton testified for 11 hours, projecting a calm and compassionate demeanor. That was in stark contrast to when she lost her cool at a Senate hearing on the attacks in 2013.
"I said, you know what? She's got the temperament, she's very balanced, and very poised," Soeharjono said.
Follow NBC Asian America on Facebook, Twitter, Instagram, and Tumblr.