California lawmakers announced this week they are reintroducing a bill to recognize the bravery of John Cheng, a doctor and father of two who was killed while trying to stop a shooter at a Taiwanese church in Southern California last year. 
The bipartisan bill, first introduced by Democratic Rep. Katie Porter and Republican Rep. Michelle Steel, would posthumously award Cheng the Congressional Gold Medal. 
Five other churchgoers were injured in the shooting. 
"Just over a year ago, Orange County hero John Cheng jumped into danger to stop an active shooter at Geneva Presbyterian Church," Porter wrote on social media. "His selfless actions saved lives."
Cheng, a 52-year-old sports medicine physician, was attending a lunch banquet hosted by the Irvine Taiwanese Presbyterian Church to a honor former pastor, the Rev. Billy Chang, when a gunman began to "randomly aim at the crowd and shoot," Chang recounted in a message sent to a seminary group.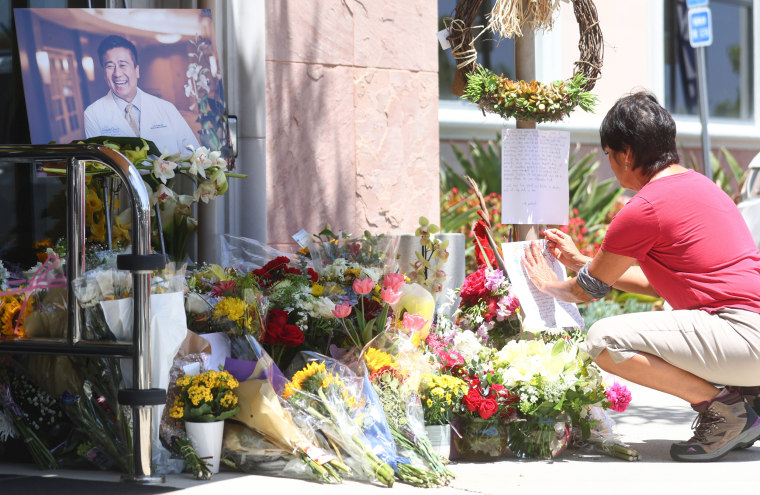 Chang picked up a chair and threw it at the gunman, and Cheng tackled the shooter. Several people tied up the gunman with an electrical cord until police arrived, officials said. 
Cheng sustained multiple gunshot wounds and was pronounced dead at the scene. David Chou, 69, of Las Vegas, was charged with dozens of federal hate crimes in connection with the attack, which investigators said was motivated by a hatred for Taiwan. 
Sheriff Don Barnes called Cheng a "hero" at a news conference, noting that his actions were critical in subduing the gunman. 
"It is known that Dr. Cheng charged the individual, the suspect, attempted to disarm him, which allowed other parishioners to then intercede, taking the suspect into custody," Barnes said.
He added that "without the actions of Dr. Cheng, it is no doubt there would be numerous additional victims in this crime." 
CORRECTION (May 29, 2023, 10 p.m. ET): A previous version of this article misstated the award the measure would bestow on Cheng. It is the Congressional Gold Medal, not the Congressional Medal of Honor.