California Governor Jerry Brown surprised Asian-American and Pacific Islander advocates by vetoing Assembly Bill AB-176, which would have created new statewide guidelines to collect disaggregated demographic data for California's diverse Asian-American and Pacific Islander populations to help address health and education disparities.
"I am wary of the ever growing desire to stratify," Brown wrote in a letter to the California State Assembly on Wednesday. "Dividing people into ethnic or other subcategories may yield more information, but not necessarily greater wisdom about what actions should follow. To focus just on ethnic identity may not be enough."
RELATED: Data Shows Duality of Asian America: High Income, High Poverty
AB-176, introduced by Assemblymember Rob Bonta, passed both houses of the California legislature—unanimously in the Senate, and all but one in the Assembly. The bill required separate categories for at least Bangladeshi, Hmong, Indonesian, Malaysian, Pakistani, Sri Lankan, Taiwanese, Thai, Fijian, and Tongan individuals in order to collect data that typically gets lost under "Other Asian."
"I was disappointed by Governor Brown's veto of my AB 176, which would have uncovered many of the social, economic, and educational disparities in the Asian Pacific Islander (API) community," Bonta said in a statement to NBC News, adding that he "respectfully, but very strongly, disagree[d]" with Brown's decision to veto.
"While many API groups share some of the same challenges, such as language access issues, racial discrimination, and obstacles arising from immigration, each of our diverse communities have different social, economic and educational outcomes that need to be addressed appropriately," Bonta said.
Bonta says he plans to reintroduce the bill next year.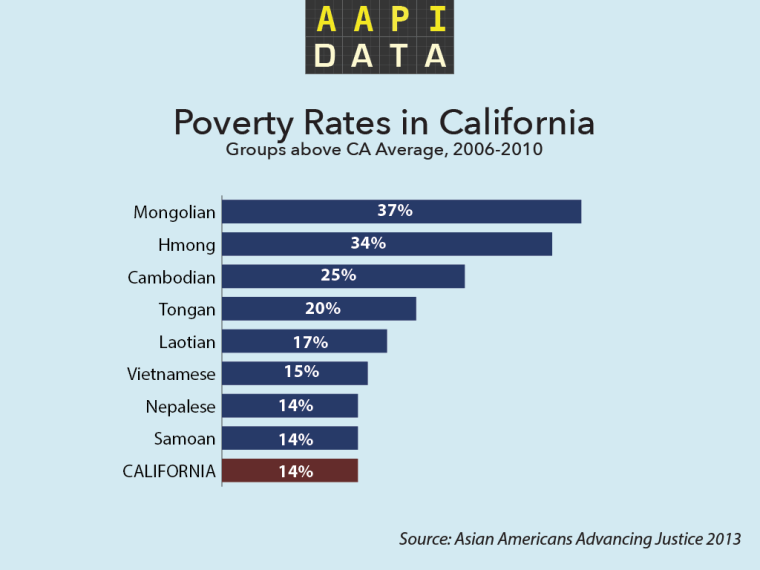 Advocates of the bill have also echoed Bonta's dissatisfaction with Brown's decision.
"[Southeast Asian American] students are systemically rendered invisible because they are lumped under the 'Asian' category, and their needs concealed by the larger Asian umbrella which consists of more than 48 groups," Quyen Dinh, executive director of Southeast Asia Resource Action Center (SEARAC) told NBC News. "AB-176 would have been instrumental in revealing, not concealing, chronic disparities with both higher education and health access."
"Instead of sweeping our problems under the rug, the data from this bill could have been used to inform state and local policymakers, enable them to make better use of our resources, and improve the educational outcomes for some of our most underserved communities by painting a more accurate picture of who Californians are," Richard Calvin Chang, Policy Director of Empowering Pacific Islander Communities (EPIC), told NBC News. "For now, community stakeholders and organizations like ourselves will simply have to continue engaging in a costly, time consuming struggle to extract data from each public higher education institution."
A recent report on Asian Americans, Native Hawaiians, and Pacific Islanders (AANHPI) and higher education in California illustrated the stark extremes between ethnic groups, such as how 70 percent of Indian adults 25 years and older have a bachelor's degree or higher, while only 10 percent of Laotian adults do.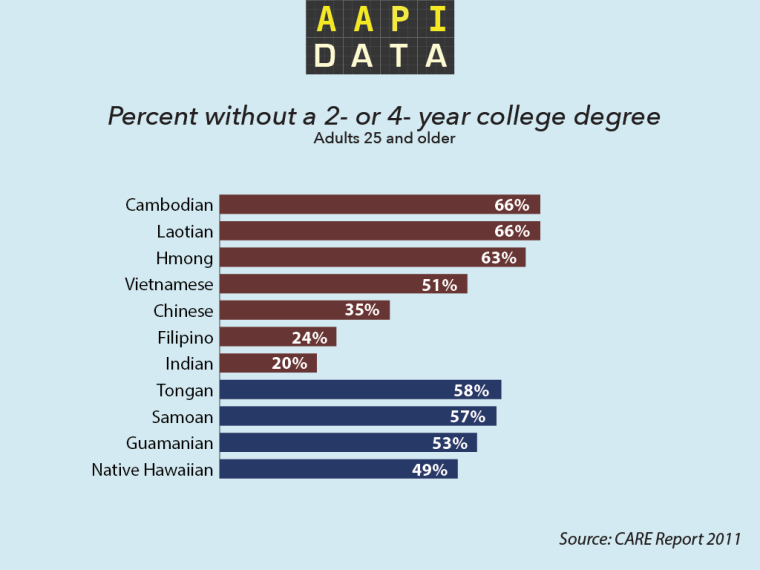 Betty Hung, Policy Director of Asian Americans Advancing Justice - Los Angeles explained the true cost to NBC News, "In vetoing AB-176, Governor Brown unfortunately sets forth a public policy approach that perpetuates the model minority myth and the dilemma of the AANHPI community being treated as a monolithic whole."