Eat Offbeat — a new startup that delivers home-style ethnic meals cooked by resettled refugees — started with a craving for hummus.
After coming to New York City from Lebanon in 2013 to study for her master's degree in public administration at Columbia University, Manal Kahi could not find any good hummus, so she made her own using her Syrian grandmother's recipe.
Friends who had only eaten supermarket hummus were amazed at the difference, she said. Her brother, Wissam Kahi, encouraged her sell it, but what she really wanted was for her Syrian grandmother to make the hummus for her.
As the Syrian refugee crisis intensified, the siblings realized that there might be many people in the refugee community who cooked like their grandmother, and that they had an opportunity to both help refugees get settled in their new lives and to change the increasingly negative narrative about what refugees had to offer.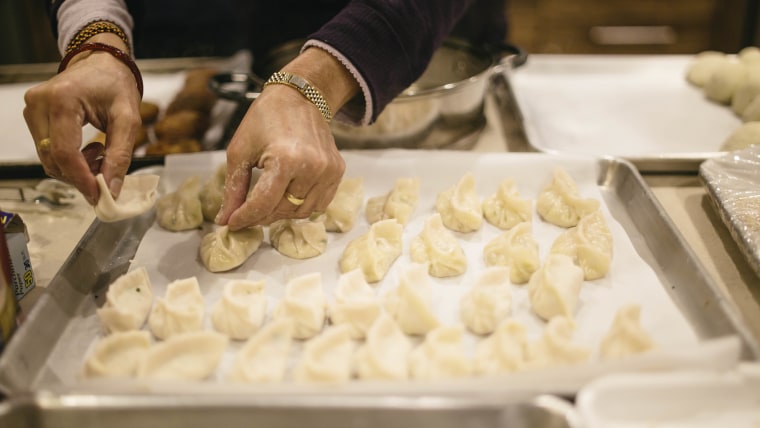 The two siblings founded Eat Offbeat to serve adventurous eaters who want to explore new "off-the-beaten path" cuisines and to help refugees use their heritage and home-cooking skills to work and support their families.
"We've been getting a lot of positive reactions, mostly from people who feel like they want to help refugees but don't really know how to," Manal Kahi told NBC News. "What's interesting is that people first come to us because they're intrigued by our mission, but they come back because they actually love the food – this is to say that the food prepared by our chefs is really outstanding, they are incredibly talented and they bring in great recipes."
The Kahis work with the International Rescue Committee to find and recruit refugees who have experience cooking for large groups and have expanded their team in recent weeks.
"We've hired three new chefs (part-time or on-demand for now, until we reach enough scale to go full-time)," Kahi said. The flexibility allows the chefs to attend English classes in the morning or tend to children, Kahi said. The Eat Offbeat team now includes chefs from Nepal, Iraq, Eritrea, Syria, and Tiber.
Chief culinary officer Juan Suarez de Lezo trains the chefs in technique and hygiene standards and helps them adapt their home recipes to commercial scale. Their kitchen produces dishes like chicken choila, Nepalese momos, oroog, sumaq salad, potato kibbeh, Iraqi mahshi, and adas, which are then delivered to customers' doors.
When recruiting chefs, Eat Offbeat requires "passion for food, and for sharing culture through food," the company said in a statement. "No professional background is required, nor English proficiency. We speak the language of food."
Follow NBC Asian America on Facebook, Twitter, Instagram, and Tumblr.
RELATED