Vinita Sud Belani knew she was finally ready to start a second career in theater after she packed her youngest child off to college.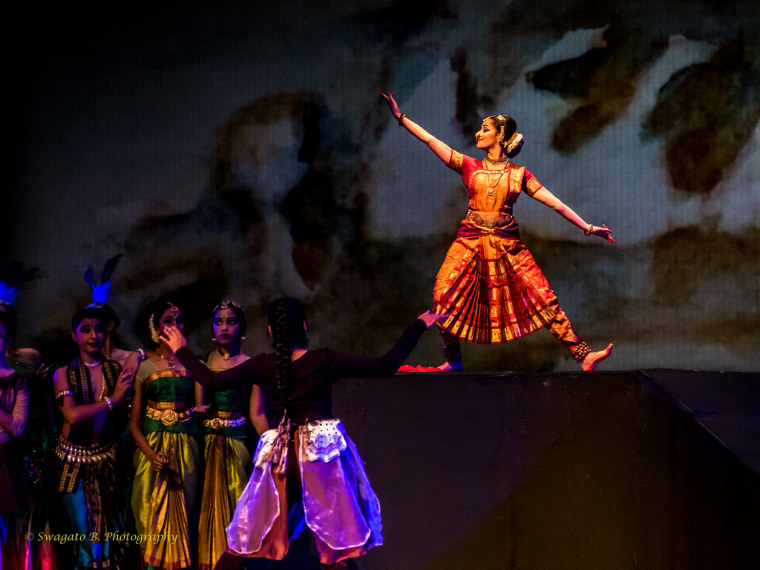 "I've been doing theater since I was five years old. I wrote plays and performed. My first love was definitely theater," Belani told NBC News. But because having a career in the arts was virtually unheard of when she was growing up in India, Belani said she had to change paths. "I worked in the tech world for 22 years and then retired and started a theater company."
When Belani began EnActe Arts in 2012, she knew she wanted to create a place that would nurture both writers and performers as they begin their careers. "We want to build the bridge between community theater and professional theater," she explained. "We are a theater ecosystem where people can hone their skills."
RELATED: At Subcontinental Drift Open Mic, You 'Don't Have to Explain The Punchline
"There were Indian American theater companies, but I was not seeing a global view [in their shows] either on living in America or in the global world."
Unlike the support and training programs actors in Great Britain often have access to, Belani found that theater companies in the United States often did not have productions featuring complex roles for actors of South Asian descent. "I was not seeing mainstream roles for South Asians," Belani noted. "There were Indian American theater companies, but I was not seeing a global view [in their shows] either on living in America or in the global world."
Part of that lack of a global view can be explained by Belani's theater experiences growing up in India, she said. "We were very postcolonial," she recalled. "We did Stoppard and Shakespeare and some big [Indian] names like Girish Karnad and Vijay Tendulkar, but it was vastly different from what we do now."
With plays like EnActe's upcoming production of "Soundwaves" ― which tells the story of the Indian World War II-era spy Noor Inayat Khan and is directed by Belani ― Belani hopes to change that through telling stories about the South Asian diaspora and showcasing the work of playwrights, actors, and techinical staff who are specifically at the starts of their careers.
"We have a talent development program where we work with actors of South Asian origin and some actors not of South Asian origin, so that they can get the necessary experience," she said, noting that EnActe had acting classes for children and adults, including an all-women program.
RELATED: Bollywood Breakout 'Monsoon Wedding' Is Going to Broadway
The investment in theater education has paid off, Belani said. One of the program's alums, actress Emielyn Das, appeared in the company's productions of "Chaos Theory" and "The Conference of the Birds" and will soon appear on Broadway when Mira Nair's "Monsoon Wedding" begins its Broadway run this fall. The company has also performed plays like "A Nice Indian Boy" by the up-and-coming Indian-American playwright Madhuri Shekar.
In order for the next generation of South Asian American theater actors to really grow, Belani believes there needs to be more collaboration and sharing between different artists, adding that part of the reason EnActe produces plays by both professional actors and amateurs was to showcase the variety of theater. "We also produce one play each season by another theater company," Belani added. "We're trying to build a community."
Follow NBC Asian America on Facebook, Twitter, Instagram and Tumblr.