There are only 240,000 Samoans and Tongans in the United States. Yet they are 28 times more likely to play football in the NFL than any other ethnic group. These statistics open "In Football We Trust," which first showed at the Sundance Film Festival last year and will make its television premiere on Monday as part of the Independent Lens documentary series on PBS.
Filmed over four years, the documentary follows four Polynesian teens who play football in the Salt Lake City area of Utah. Brothers Leva and Vita Bloomfield play for the same high school, but struggle with their family ties to a notorious Polynesian gang co-founded by their father. Fihi Kaufusi juggles Mormonism, football, and the trials of high school relationships. Harvey Langhi deals with the pressure of the spotlight as he is wooed by recruiters and showcased as a hot prospect on ESPN.
"We come from a line of warriors. Football embodies what our culture is."
"In Football We Trust" paints a complex portrait of the lives of NFL hopefuls, exploring Polynesian culture as it intersects with football. In an interview with NBC News, director Tony Vainuku said the film "creates awareness of what Polynesians are," and adds that it was also personal for him to make.
"For me, I had a younger uncle who was an NFL hopeful and my whole family hoped he'd make it to the NFL," Vainuku, who is of Polynesian descent, said. "He ended up going to prison for about 10 years. That really stuck with me and affected the family. I started looking for people to point fingers at."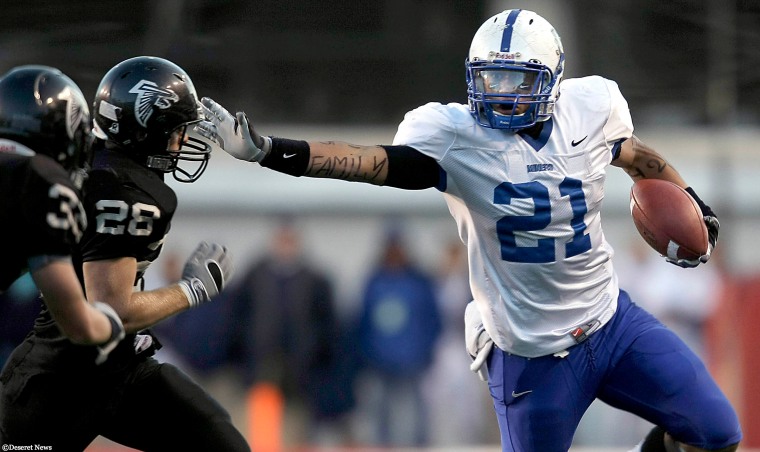 What Vainuku found was a system that groomed young Polynesian football players without giving them other options or fallbacks. "I wanted to tell that story," Vainuku said. "And I didn't want to do what the media does, which is put Polynesians in gangs or stereotype them."
Vainuku's Polynesian background, he said, was crucial in establishing the trust of his subjects. "Leva [Bloomfield] said over and over that he would never have done this story if it weren't [helmed by] a Polynesian director," Vainuku said. "All in all, the intimacy comes from the fact that I am Polynesian. That right there creates trust and bond. I was telling our story."
"In Football We Trust," which Vainuku co-directed with fellow Utah resident Erika Cohn, also features interviews with former and current NFL players of Polynesian descent, including Baltimore Ravens' Haltoi Ngata, Carolina Panthers' Star Lotulelei, and Pittsburgh Steelers' Troy Polamalu.
"We come from a line of warriors. Football embodies what our culture is," Polamalu says at the start of the film.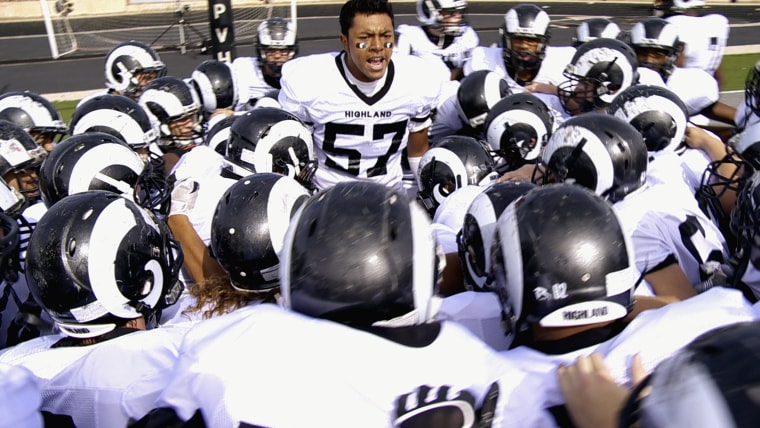 Dwayne "The Rock" Johnson, who is half-Samoan and played college football for the Miami Hurricanes, served as an executive producer for the film.
Even after the premiere of the film, Vainuku said he and Cohn maintained contact with their subjects. Vainuku recently went to a Bloomfield brother's wedding, and Cohn stays in touch with Kafausi. Langhi now plays for Brigham Young University, which recently hired the first Division 1 football coach of Tongan descent.
Above is a new and exclusive video featuring outtakes from the film of the Carolina Panthers' Star Lotulelei.
"In Football We Trust" airs on PBS Monday, January 25, at 10:00 p.m. ET.