I never thought I would be a chef. Growing up, it wasn't really an option. My immigrant Korean parents laid out my path already. It was typical. Study hard, play the piano, go to an Ivy League school, become a doctor or an engineer. So, I embarked on this journey going to Columbia's engineering school, but I strayed a little and went into finance. I then went off piste even more and went to cooking school, and embarked on my culinary career.
Despite my focus on academics growing up, I have vivid memories of my mom cooking. Whether she was orchestrating a grand kimchi making party or enslaving the whole family to make dumplings, it was never quiet in the kitchen. There were no Asian grocery stores in central New Jersey where we were. So my mom had to make everything from scratch in order to get a taste of home.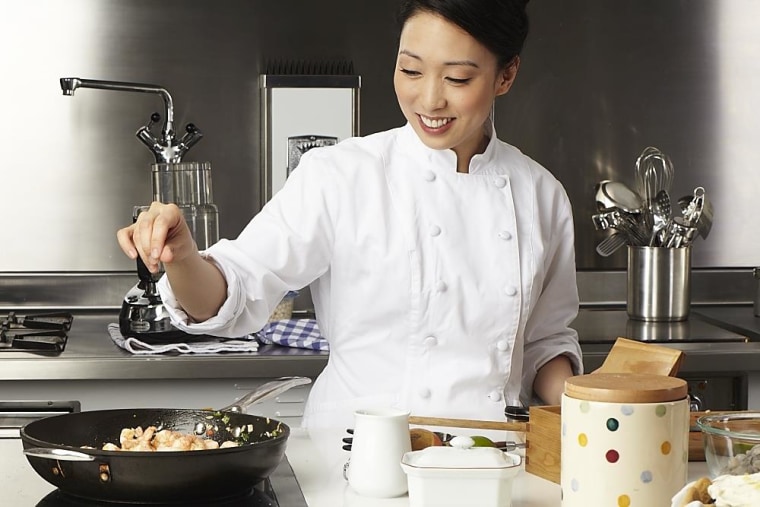 Now, I'm bringing that comforting taste of my mom's cooking, with my modern twists to others through my show, "Korean Food Made Simple," my book due out next year, and my restaurant, Jinjuu, opening end of this year in London. In my show, I travel across Korea exploring every offering from the sea to the streets then cook at home with this inspiration in mind. My food reflects my Korean upbringing, yet incorporates my multicultural upbringing, and my French training. It is comfort food with a bit more of a polished and unique feel.
Sharing is a common theme underlying all of Korean food. Bossam embodies this convivial sentiment - everyone sharing from the same plate, yet creating a small little bespoke parcel for their own consumption. I have many memories eating this dish while a student in New York. A large group of us would order it and literally pig out. The lettuce leaves and pickles cut the fat nicely and bring a welcomed freshness to the dish.
--Judy Joo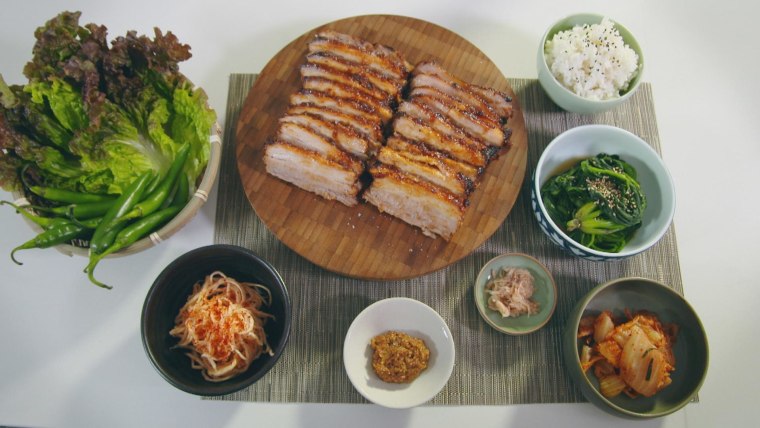 KOREAN ROASTED PORK BELLY BOSSAM
Tip: Buy the best quality pork belly you can afford. Heritage breeds yield the best flavor.
If your pork belly comes with the ribs on, slice them off and slather with the rub (make extra). Roast until cooked through and caramelized and you'll have the tastiest ribs ever.
3.3 pounds (1.5 kilograms) pork belly, skin on, boneless
Cooking Liquid:
8 cloves of garlic, crushed
7 spring onions or scallions, roughly chopped, roots on
4½ x 1½ inch piece (75 grams) ginger, skin on, roughly sliced
1 onion, peeled and cut into eighths
2 tablespoons dwengjang paste
Glaze:
2 tablespoons Korean soy bean paste (dwengjang)
2 tablespoons honey
1½ tablespoons grated ginger
1 teaspoon Korean chili paste (gochujang)
Bossam Sauce:
2 tablespoons Korean soybean paste (dwengjang)
2 teaspoons grated onion
2 teaspoons roasted sesame oil
2 teaspoons roasted sesame seeds
1 teaspoon grated ginger
In a heavy pot, place the pork belly in and all of the ingredients for the cooking liquid and add water to cover. Bring to a boil over high heat. Reduce heat and simmer until pork is fully cooked through, and very soft, for 2 hours. Remove the pork belly and place on a baking tray lined with foil to let cool. Discard the poaching liquid. Once cooled enough to handle, carefully cut off the skin of the pork and discard. Preheat oven to 350 degrees Fahrenheit/180 degrees Celsius.
Mix all of the rub ingredients together into a smooth paste and smear generously all over the top of the skin-side of belly. Place the pork in the oven, rub side up, and roast the pork until the top is nicely caramelized, about 30 minutes. Additionally you can place the pork under the broiler briefly for a little more char. Meanwhile, make the bossam sauce by mixing all of the ingredients together well in a small bowl. Set aside. Once the pork belly is nicely caramelized on top, let rest for 15 minutes in a warm place. Then transfer the pork to a cutting board and thinly slice into two-bite pieces. Serve the pork with the rice, lettuce leaves, bossam sauce, and pickled radish (recipe follows). Try eating the pork in this way: Place a lettuce leaf in your hand. Scoop in a spoonful of rice, top with smear of sauce, piece of pork, and finish with some pickled radish. Wrap it all up together and take a bite. You'll love it.
Yield: 4 to 6 servings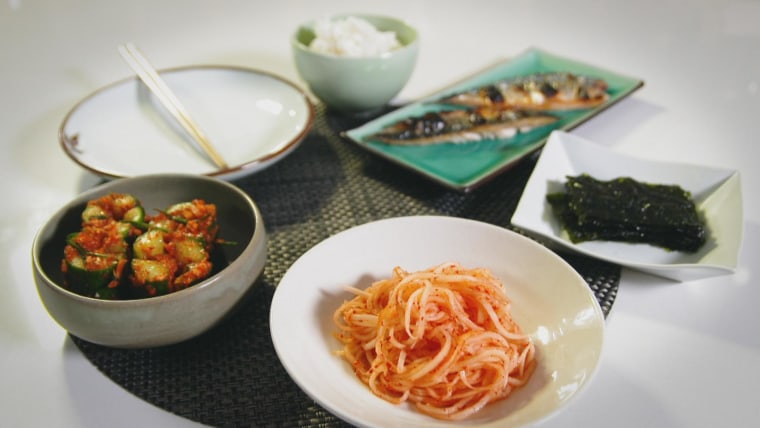 PICKLED RADISH, MOO SANG CHE
6 ounces (175 grams) white radish, mouli or daikon, julienned into long strips
4½ teaspoons Korean apple vinegar or rice wine vinegar
1½ tablespoon white granulated sugar
1½ teaspoons Korean chili flakes (gochugaru), or to taste
1 small clove garlic, grated
1 teaspoon salt, or to taste
In a medium sized bowl, mix all of the above ingredients together and stir to coat the radish well. Cover and chill for 1 hour before serving.
Yield: 4 to 6 servings