Led by a traditional Hawaiian chanter, members of the Hawaii National Guard carried U.S. Rep. Mark Takai's casket into the Hawaii State Capitol Rotunda, where his body lay in state on Thursday. Takai died July 20 of pancreatic cancer at the age of 49 during his first term in Congress.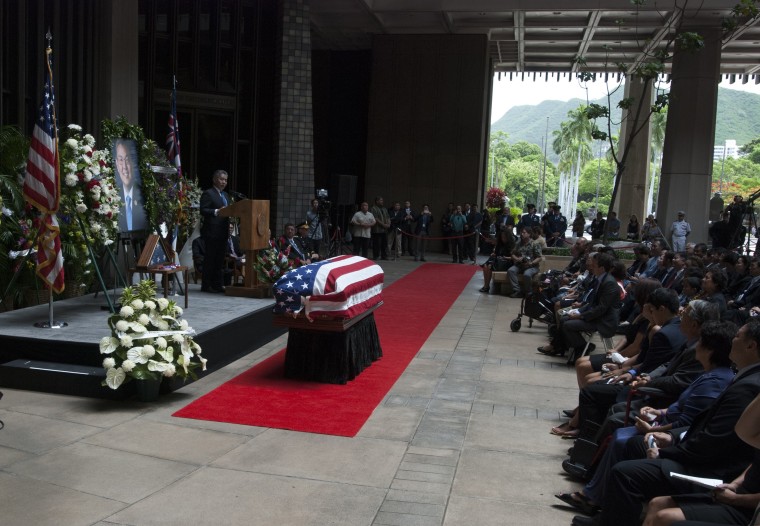 A remembrance ceremony in Honolulu on Thursday was attended by several state and federal politicians, and a memorial service will be held Friday. House Minority Leader Nancy Pelosi, Sen. Mazie Hirono, Hawaii Gov. David Ige, Hawaii House Speaker Joseph Souki, Hawaii Senate President Ron Kouchi, and others spoke fondly of Takai, his work ethic, and his dedication to the people of Hawaii.
"Eighteen months he was in Congress, 18 months," Pelosi said at the remembrance ceremony. "But he accomplished so much. He was a man in a hurry. He made use of time in a very special way."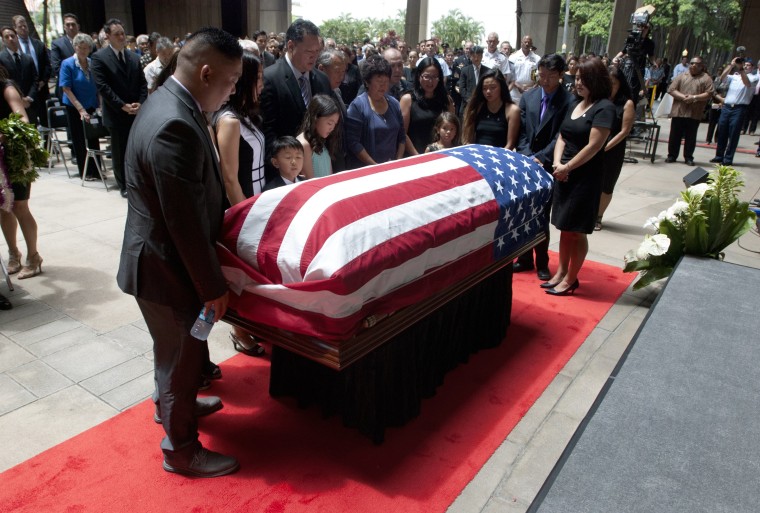 Takai had previously served in the Hawaii State House of Representatives for 20 years, since the age of 27. He also served in the Hawaii National Guard for 17 years and was deployed during Operation Iraqi Freedom, according to his office.
"In life Mark devoted himself to realizing his vision for a healthier, safer, and better world, and in death will be remembered for having so much more to give," said U.S. Sen. Brian Schatz in a statement. "Whether it was in the Hawaii Army National Guard, the Hawaii State Legislature, or in the U.S. Congress, Mark was a true champion for the people of Hawaii. We will long remember Mark for his smile, his kindness, his optimism, and the love he gave to his ohana and all he served."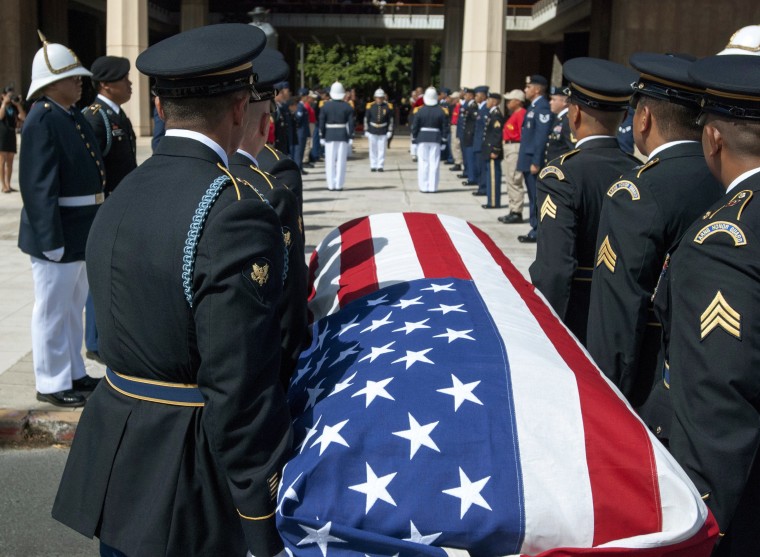 Takai is one of the very few who have lain in state at the Hawaii Capitol, joining Gov. John A. Burns, U.S. Sen. Spark Matsunaga, U.S. Rep. Patsy Mink, U.S. Sen. Hiram Fong, U.S. Sen. Daniel Inouye, and musician Israel Kamakawiwoole, according to Hawaii News Now.
Given Takai's tradition of celebrating Aloha Friday, his family has requested that those attending Friday's memorial service dress in aloha attire. Takai is survived by his wife and two children.
Follow NBC Asian America on Facebook, Twitter, Instagram, and Tumblr.
RELATED
SOCIAL