From the beginning, the odds were stacked against K-pop boy group BTS.
Not only did they come from a smaller company compared to South Korean entertainment giants SM Entertainment and YG Entertainment, but they also debuted in 2013, when K-pop superstars like Girls' Generation and EXO reigned supreme.
"Our next goal is the world stadium tour. But beside that, our next goal is staying healthy and being friends forever. Long live BTS."
But last Sunday, the band sat in the artist section of the 2017 Billboard Music Awards next to DJ Khaled and Drake, competing for the Top Social Artist award against six-time winner Justin Bieber. To their fans excitement, when the envelope opened, BTS became the first K-pop group to win a Billboard Music Award and only the second K-pop act to win since soloist PSY's "Gangnam Style" in 2013.
"No one imagined that this little K-pop boy group from far away could receive this big award in Las Vegas," BTS frontman Kim Nam-joon, better known by his stage name "Rap Monster," told NBC News in Los Angeles two days after their big win.
BTS' Billboard Award win is the latest in the band's series of successes in the United States.
Their last four albums have all charted in the Billboard 200, including 2016's "Wings," which debuted at number 26. Their 2017 single "Spring Day," an all-Korean language ballad that dropped during the highly competitive week of the Grammys, made it onto the Bubbling Under Hot 100 chart and made it onto the U.S. iTunes Top Singles Chart, placing at number nine in February. BTS is also currently the K-pop act with the most entries on the Billboard 200. They also concluded their five-stop, sold out arena "Wings"tour in the U.S. this past April.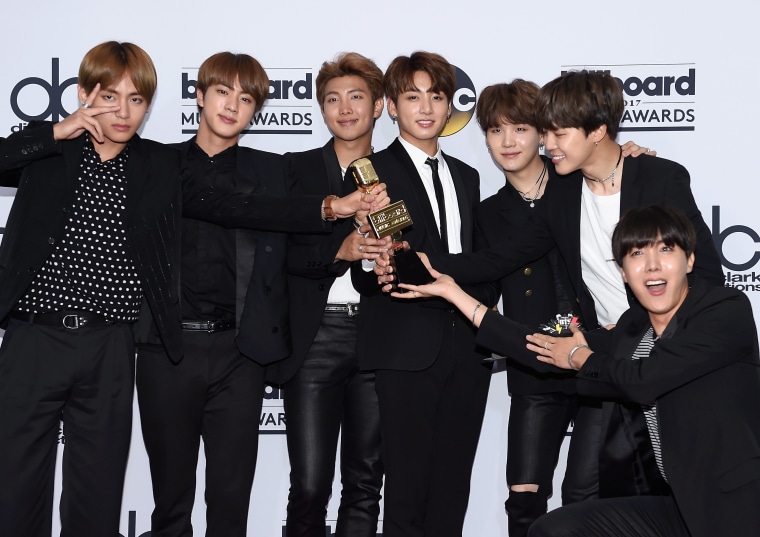 For the BTS members — Kim "Jin" Seok-jin, Min "Suga" Yoon-gi, Kim "V" Tae-hyung, Jeon "Jungkook" Jeong-guk, Park Ji-min, Jung "J-Hope" Ho-seok, and Kim "Rap Monster" Nam-joon — the win is a dream come true. They thank their fandom, known as "ARMY," for bringing them the win in the fan-voted category. And while some may minimize the importance of a social media award, it makes perfect sense for BTS, who started group Twitter, Instagram, and YouTube accounts when they debuted. The accounts feature where they uploaded content giving fans access to their personal lives.
"We always try to show what we're doing and what we're making and what we're thinking about," Kim, the only member fluent in English, said. "I think that the continuous communication [with fans] was the most important part of our success."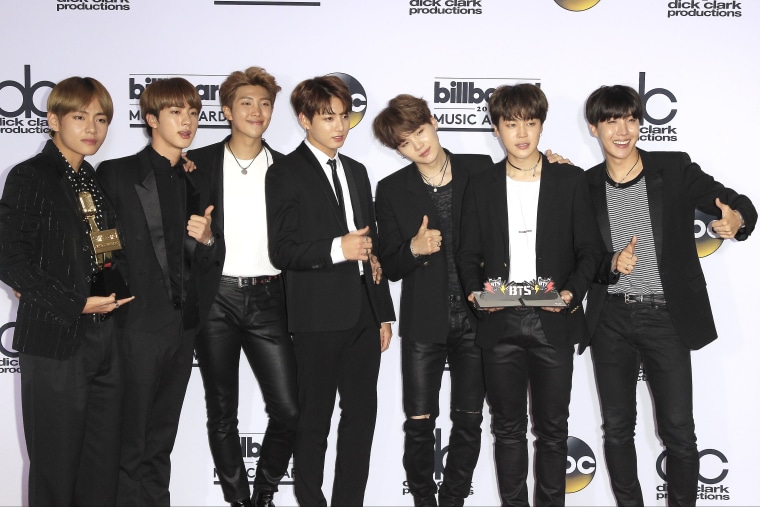 The topics covered in their music has also helped. While they're not the only or K-pop group to do so, BTS' music takes on topics affecting youth like mental health and societal pressures, as well as romance, which have resonated with ARMY all over the world.
BTS' victory has also been an achievement for fans who wanted to see an act made up of Asian performers win at an American awards' show. While prior to the win the fans simply pushed to see their favorites take the statute, many took to social media after Sunday's events to express the importance of the win.
"It's the biggest honor for us if we can give hope as an Asian to other Asians who have similar dreams of music or art," Kim said.
BTS' win is also the latest victory for Korean culture in the U.S. According to MyMusicTaste data cited by Billboard, the U.S. hosts the third-most K-pop concerts outside of Korea in the world, after Japan and China, showing consistent increase in concerts from 2013 to 2016.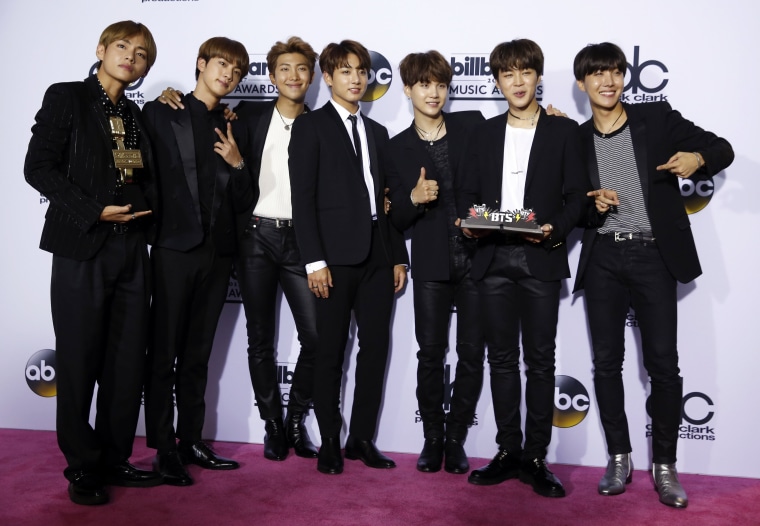 Similarly, KCON, the largest Korean cultural convention in the world, saw 110,000 fans at the New York and Los Angeles conventions last year for their fifth installment — with both events being headlined by BTS. The other Korean culture heavyweight, Korean dramas, also has a large presence in the U.S. According to data analytics company comScore, DramaFever, a K-drama streaming service, had 2.4 million unique visitors in November 2016.
"Our next goal is the world stadium tour," Kim said. "But beside that, our next goal is staying healthy and being friends forever. Long live BTS."
Follow NBC Asian America on Facebook, Twitter, Instagram and Tumblr.