An Indian charity has donated $100,000 to a Kansas man wounded after confronting a man who allegedly killed an Indian man and injured another in a Kansas shooting being investigated as a hate crime.
Ian Grillot, 24, received the check over the weekend while attending a gala hosted by India House Houston, a community nonprofit in Texas. The group said in a statement that the money will be used to help Grillot buy a house.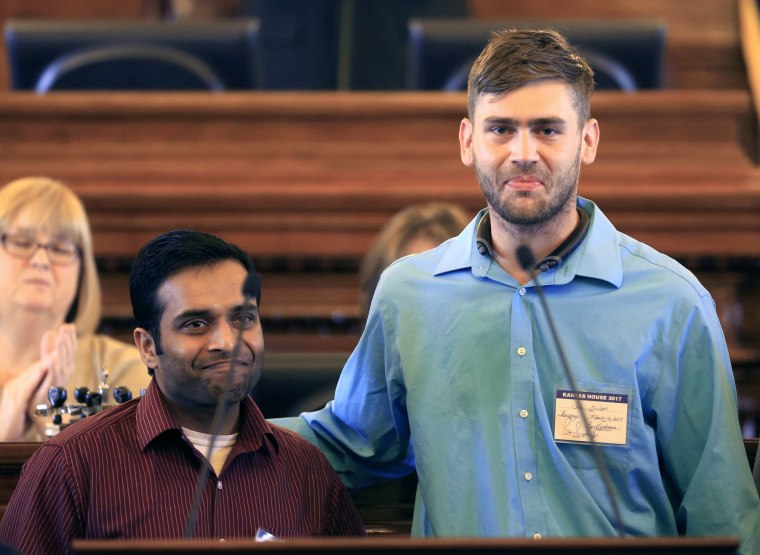 "It is not every day that one meets a genuine hero — a person who risks his life for another, and takes a bullet for a complete stranger," India House Houston's annual gala chair Jiten Agarwal said in a statement. "Ian Grillot is a man who reminds us of the promise of America and its greatness."
RELATED: Kansas Bar Shooting Survivor Expected to Return to Work, Honors Friend Killed in Shooting
Grillot was shot on Feb. 22 after Adam Purinton, 51, allegedly told two Indian men at a Kansas City suburb bar to "get out of my country" and then opened fire.
Srinivas Kuchibhotla, 32, was killed and his friend Alok Madasani, also 32, was injured. Both worked together as engineers at GPS maker Garmin, according to their LinkedIn accounts.
Grillot has been hailed a hero for trying to stop Purinton, who fled Austins Bar and Grill in Olathe, Kansas, and was later arrested.
"I don't know if I could've lived with myself if I wouldn't have stopped or attempted to stop the shooter because that would've been completely devastating," Grillot said, according to a statement from India House Houston. "I do now have a very powerful message and if I can help empower people and spread hope and love, then why not?
Purinton has been charged with one count of premeditated first-degree murder and two counts of attempted premeditated first-degree murder. He is being held on $2 million bond.
The FBI is investigating the shooting as a hate-crime; Kansas does not have a hate-crime statute.
Purinton's next court appearance is scheduled for early May.
Follow NBC Asian America on Facebook, Twitter, Instagram and Tumblr.