Mixed martial arts fighter Angela Lee has had a busy month.
The Hawaii-based 20 year old flew into Singapore last week, doing last-minute training sessions and media interviews ahead of her fight Friday, where she defended her ONE Championship atomweight title against Brazilian challenger Istela Nunes in a bout that ended in the second round with Nunes submitting to a choke from Lee.
While Lee said she still gets nervous before her matches, she tries to stay calm and save all the energy for the fight.
"Usually, I try to rest and close my eyes [right before a match], Lee told NBC News. "I do a lot of visualization thinking about my game plan, what I'm going to do in my fight."
"Mixed martial arts is not just about fighting and stepping inside the cage; it's about developing yourself and learning about yourself."
Last May, Lee — then 19 years old — defeated veteran fighter Mei Yamaguchi from Japan, securing the inaugural ONE Championship women's title for the 115-pound weight class and becoming mixed martial art's youngest champion ever, according to Reuters. Lee won by unanimous decision from the judges after a five-round fight. She had only gone professional a year before.
Lee comes from a family of martial artists: Her parents are both martial arts instructors, and her brother Christian is a professional fighter as well. She said that her parents never forced her to become a fighter, her dad just wanted his children to learn how to defend themselves. It wasn't until after high school that Lee decided to pursue martial arts as a career with her parents' full support.
"I'm always surrounded by my family," Lee said. "They travel with me wherever I go, so they're really what helps keep me calm and prepared to go out and fight."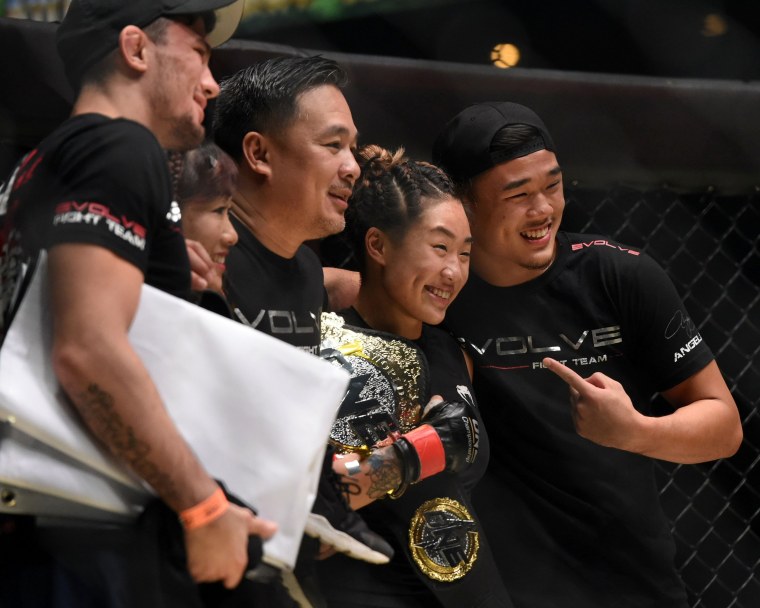 Founded in 2011, ONE is currently one of the largest mixed martial arts promotion in Asia. Events are held in packed stadiums in major cities across the region, with a global broadcast reach of 1 billion potential viewers across 118 countries, according to the company. Lee, who signed with ONE in 2014, is reportedly one of the highest-paid females in the industry.
Chatri Sityodtong, CEO and chairman of ONE, believes that the increasing visibility of women's MMA can empower women in Asia.
"It ignites the passion in women from all across the region," he told NBC News. "It shows them that they can achieve far beyond anything they have ever imagined."
In addition to expanding and growing the sport in Asia, Lee hopes to be able to use her journey to inspire more people to try martial arts, especially girls.
"I definitely feel that I'm on the stage breaking all kinds of stereotypes," Lee said. "Every time that I go out to compete, it's an opportunity for me to inspire more girls to chase their dreams and do what they love, because they can see that I'm out here chasing my dreams."
"I'm maturing as a fighter, but I still have so much to learn. That's the exciting part. I feel like I'm not even close to my peak or my potential yet."
At home in Hawaii, where her parents own a gym, Lee said that there have been times when parents enrolled their son in classes but said that martial arts are not for their daughter. As the daughter comes to watch her brother practice, she may become more interested in it, Lee noted. When that happens, she and her parents speak to those parents.
"We tell them how beneficial it is for their daughter to learn martial arts," Lee said. "It's not going to make them more violent or aggressive or anything like that. We have to explain that a lot of times."
Recently, Lee posted a few women's self-defense videos online. She said that what she saw on the news motivated her to create the videos with her brother. She disagrees with the idea that girls shouldn't be doing martial arts because it's too dangerous, and believes that everyone should give martial arts a shot.
"Mixed martial arts is not just about fighting and stepping inside the cage. It's about developing yourself and learning about yourself," Lee said. "Even if it's just to get fit, or to get healthy, or for self-defense — I think the first step is to try it out. Don't be scared to try."
The popular perception of women and girls learning martial arts is starting to change, Lee added, especially in the past few years.
"When I first started my fighting as an amateur, there were still a few critics saying women shouldn't be fighting, this and that," she said. "Just in these two years, it's really been amazing to see the mindset change for people, and how they're looking at these women who are stepping into the cage, especially here in Asia. We definitely get a lot more respect now. We've come a long way, and I'm excited for all the progress that is still to come."
Follow NBC Asian America on Facebook, Twitter, Instagram and Tumblr.