More than 150 organizations serving the Asian-American, Native Hawaiian, and Pacific Islander population have signed on to an open letter supporting affirmative action in higher education.
Asian Americans Advancing Justice (Advancing Justice) began circulating the letter on May 22, a day before a coalition of 132 Asian-American organizations filed a complaint with the federal departments of Education and Justice, alleging that Yale University, Dartmouth College, and Brown University use quotas and discriminate against Asian Americans in their admission processes.
The open letter says college admissions policies that are race sensitive and holistic promote equal opportunity and that all students, including Asian Americans, benefit from learning environments that are racially and ethnically diverse.
"Affirmative action simply takes into account whether an applicant has overcome racial and ethnic adversity as one of several factors in a holistic review of an applicant's qualifications, leadership, and potential," reads the letter, which adds that the groups oppose quotas, banned by the Supreme Court in 1978.
As of Tuesday, at least 153 local and national Asian-American, Native Hawaiian, and Pacific Islander organizations had added their names to the letter, including the Asian American Legal Defense and Education Fund (AALDEF) and the National Council of Asian Pacific Americans. The groups argue that grades, SAT scores and activities alone cannot be used to constitute merit in deciding college admissions.
"Instead, life experiences such as overcoming racial and ethnic adversity are critical factors in a student's leadership and potential contribution to the university and to our society," the letter says.
But in its complaint against Yale, Dartmouth, and Brown, the Asian American Coalition for Education raised concerns last week about the schools' holistic approach to admissions, in which a range of factors other than just grades and SAT scores are considered in deciding whom to accept.
This "allows admissions officers to apply negative stereotypes based on racial and cultural biases and misunderstanding to justify discrimination against individuals of an undesired ethnic group," the complaint reads.
The coalition also argues that racial quotas and caps are used to maintain "ideal racial balances" that have kept the percentage of Asian-American students at these schools unchanged over the last two decades.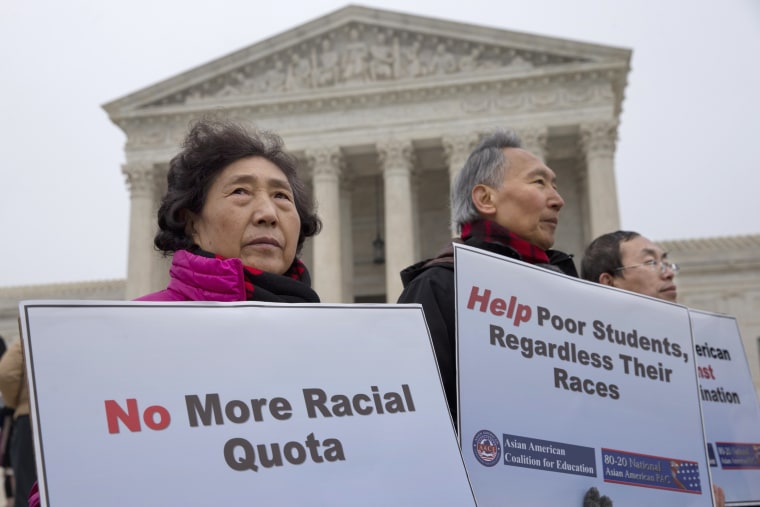 Asian American Coalition for Education president Yukong Zhao told NBC News in an email Monday that Asian Americans have historically been victimized by race-based policies.
"I am deeply troubled that some Asian American organizations today still support college admissions based on race, instead of merit and a person's character," he said.
Dartmouth spokesman Justin Anderson told NBC News in an email that all its applicants are evaluated under the same criteria. "Our admissions process considers the whole person and seeks to create an intellectually vibrant and engaged campus community," he said.
RELATED: Complaint Filed Against Yale, Dartmouth, and Brown Alleging Discrimination
Tom Conroy, a Yale spokesman, told NBC News in an email that Yale "seeks and nurtures diversity of all forms" and that scores, grade point averages and course selection, while very important, are not the only determining factors for admissions.
"In conducting a holistic review, applicants are not disadvantaged in the admissions process on the basis of race or national origin," he said.
In a statement, Brown University said it believes the complaint has no merit. "Our admissions practices are inclusive of diverse populations and do not discriminate against any racial or ethnic group," the statement reads.
RELATED: Coalition Sues Harvard Over Alleged Admission Racial Quotas
Last year, the Asian American Coalition for Education filed a similar complaint against Harvard University, but the Education Department closed it in June because of an on-going lawsuit filed in November 2014 by Students for Fair Admissions, Inc. that makes the same accusations.
Students for Fair Admissions, Inc. also sued the University of North Carolina at Chapel Hill, arguing that the school violated the Equal Protection Clause of the Fourteenth Amendment by allegedly discriminating against applicants based on race or ethnicity.
Those lawsuits remain open as the Supreme Court considers Fisher v. University of Texas at Austin. Abigail Fisher, who is white, is challenging the school's use of race in admissions after her undergraduate application was rejected in 2008. She alleges that the university's affirmative action policies prevented her admission into the school.
In November, more than 160 Asian American and Pacific Islander groups, including Advancing Justice and AALDEF, filed friend-of-the-court briefs asking the court to uphold the University of Texas at Austin's affirmative action policies. AALDEF's brief maintains that the university's admissions process allows candidates to be treated as individuals and "thwarts the harmful 'model minority' myth that masks tremendous diversity within the Asian American and Pacific Islander community."
In support of Fisher, the Asian American Coalition for Education and the Asian American Legal Foundation jointly filed an amicus brief on behalf of 117 Asian-American organizations, arguing that the university favored Hispanic applicants over Asian Americans. The brief called the school's admissions program "nothing other than forbidden racial balancing or, even worse, potentially an effort by academic and political elites to curry favor with a powerful voting bloc."
Oral arguments were heard in December, and a decision from the court is expected by late June.
Follow NBC Asian America on Facebook, Twitter, Instagram, and Tumblr.
Clarification: An earlier version of this story stated that the letter was circulated by Asian Americans Advancing Justice | AAJC. The letter was circulated by the five-member Asian American Advancing Justice affiliation.