Chinese-American nail salon workers and owners gathered on the steps of New York City Hall Monday, accusing the state of not adequately educating them about the recently passed nail salon law.
The rally comes one week after trade associations representing Chinese- and Korean-American nail salon owners in New York announced plans to sue over a mandate requiring the purchase of wage bonds.
Monday's gathering attracted Chinese-American nail salon owners and employees unhappy with how the nail salon law is being enforced, said Joseph Lin, one of the organizers and a member of the U.S. Service Association, a group representing Chinese-American nail salon owners and employees. The New York Police Department does not provide crowd estimates, but Lin said around 500 people attended.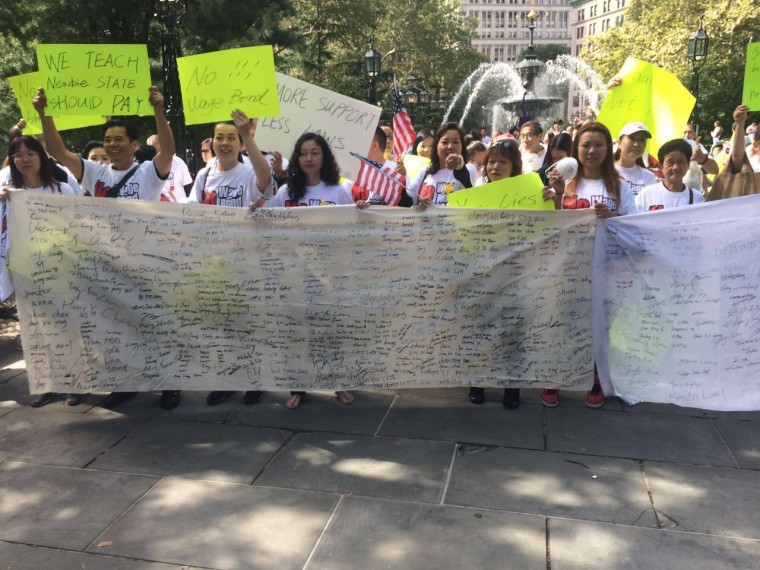 After the City Hall rally, some demonstrators headed to the New York Times building near Times Square and stood outside for about an hour to continue their protest, according to the New York Observer.
The nail salon legislation — signed into law in July after the New York Times published a two-part series in May examining worker abuse in the industry — has been a contentious topic of late among New York City's Asian-American community.
Taking issue with some of what has been reported, Lin told NBC News that most nail salon workers are paid more than the minimum wage of $8.75 an hour, that most state-issued violations stem from poor record keeping rather than underpaying, and that the government does little to provide assistance in languages other than English to help immigrant business owners and workers.
"We will go to Albany or to the White House."
"They tell you this is the law, but they don't tell you how to comply," Lin said.
But Frank Sobrino, a spokesman for New York Gov. Andrew Cuomo, disagreed. He said there have been 15 forums since May to respond to questions about the new law and regulations, including one for the Korean American Nail Salon Association of New York and two for the Chinese Nail Salon Association of East America. Two joint meetings were also held for the groups, he said, and translations were provided at all events.
"That's an insulting excuse for the widespread wage underpayment and worker exploitation in the nail salon industry," Sobrino told NBC News in response to Lin's remark.
Sobrino added that printed materials are available in Korean and Chinese, among other languages, and that the presidents of the Korean and Chinese-American nail salon associations had private briefings at the governor's office.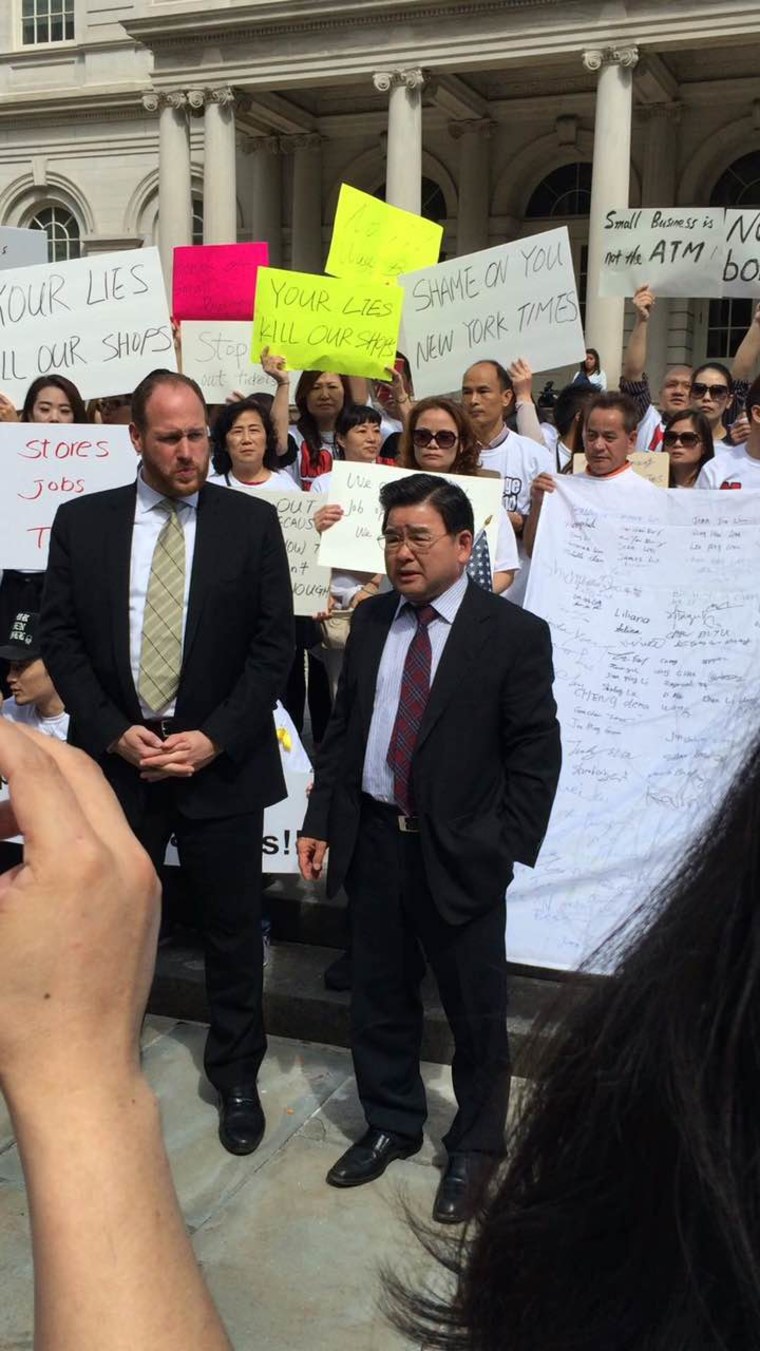 In August, the state inspected 182 salons, of which 43 percent were found to have not paid minimum wage or overtime, Sobrino said. Some 87 percent did not provide employees with wage statements or pay stubs, and roughly three out of five nail salon employers admitted to not maintaining payroll records, he said.
Monday's rally comes on the heels of a lawsuit filed in State Supreme Court in Albany on Sept. 15 to halt a wage bond mandate Cuomo issued in August. The Korean American Nail Salon Association of New York and the Chinese Nail Salon Association of East America alleged that the bonds, which could be used to cover any wages not paid to employees, were not readily available to salon owners, and that the mandate was "threatening the survival of at least one third of the Associations' members."
The state has denied claims that legitimate and licensed businesses were being denied wage bonds. Since the requirement was announced on August 10, 98.5 percent of 1,166 bond applications processed as of Sept. 16 had already been approved, Sobrino said. The deadline to purchase wage bonds is Oct. 6.
For its part, Lin said the U.S. Service Association will gauge the state's reaction to the pending lawsuit and other allegations before deciding its next move. He did not say whether that might include another strike, like the one it staged on August 25, when some city nail salons closed up shop for a day.
In the end, Lin added, if the U.S. Service Association is not happy with how the state responds, its members will continue to take action.
"We will go to Albany or to the White House," he said.