Dozens of supporters of Akai Gurley, who was fatally shot by police last November in a darkened stairwell of his East New York housing project, demonstrated on Thursday outside the Brooklyn courthouse where Peter Liang, the Chinese-American officer charged in the shooting, appeared for a hearing.
"Justice for the family is that Peter Liang is not only convicted but that he goes to jail," Hertencia Petersen, Gurley's aunt, told NBC News.
Scott Rynecki, the Gurley family's attorney, said at a press conference that the judge adjourned the case until June 23.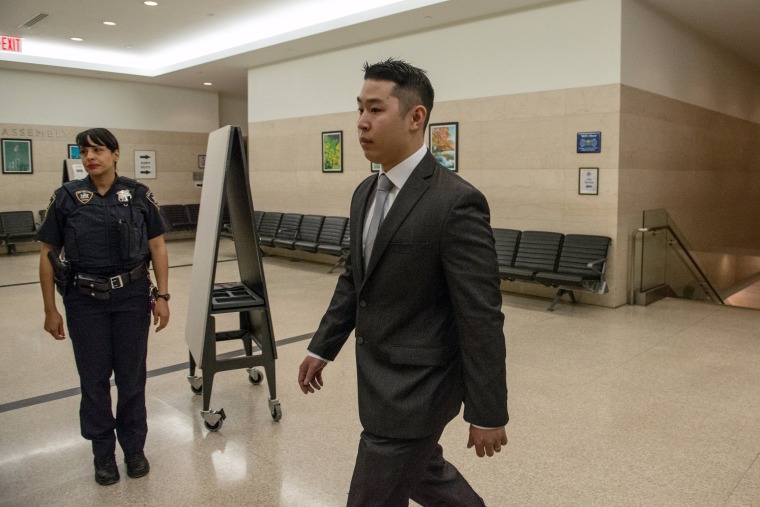 Carrying banners and signs that read "Justice for Akai Gurley" and "We See Police Murder," among other slogans, protesters began arriving outside the courthouse in downtown Brooklyn before 9am. Among them were members of theCommittee Against Anti-Asian Violence, a Chinatown organization that addresses police and hate violence toward Asian immigrants. CAAAV, along with New York City Councilmember Margaret Chin, whose district includes Chinatown, has beenoutspoken about calling for Liang to be indicted.
"It's always important to show up and support families who have lost loved ones to police violence," said Esther Wang, a CAAAV board member who demonstrated outside the courthouse and spoke on behalf of the group.
Liang, a rookie officer with the NYPD for less than two years, is accused of fatally shooting Gurley, 28, as Liang and his partner patrolled a darkened stairwell in an East New York housing project last November. Liang's bullet is said to have ricocheted off the wall, striking Gurley who had entered the stairwell with his girlfriend. New York Police Commissioner William Brattonsaid in November that the fatal shot "appears to be an accidental discharge" of Liang's gun.
Liang has been charged with second-degree manslaughter and has pleaded not guilty.
"There was a loss of life, and we share the sorrow and pain"
While the hearing was underway upstairs, dozens of demonstrators with protest placards held aloft shuffled around in a loop on the sidewalk, as they shouted chants like "Hands up to the sky, we need justice for Akai" and "Hey hey, ho ho, these killer cops have to go." Throughout the morning, additional demonstrators trickled in, joining the group with signs written in both English and Chinese. Police and court officers stood outside and watched, occasionally directing demonstrators to keep the sidewalk unobstructed. One court officer shot video with an iPhone.
Noticeably absent from the protests this morning were Chinese-American groups that, over the past few months, have staged large-scalerallies in New York - including an April 26 march across the Brooklyn Bridge - supporting Liang, and demanding a dismissal of his indictment. Standing with a half-dozen Chinese-Americans on Tech Place, just off the corner of Jay Street where Gurley supporters had gathered, Phil Gim, one of the organizers of those rallies, said that many in the Chinese community believe Liang has been made a scapegoat by Brooklyn District Attorney Ken Thompson.
"There was a loss of life, and we share the sorrow and pain," Gim told NBC News, adding that it was difficult for many Liang supporters to take off from work today and rally outside the courthouse. "But the fact is, it was an accident, and it shouldn't be treated as a felony."
Thompson, the son of a police officer and the first African American elected to that office in Brooklyn,has said the prosecution of Liang was not political.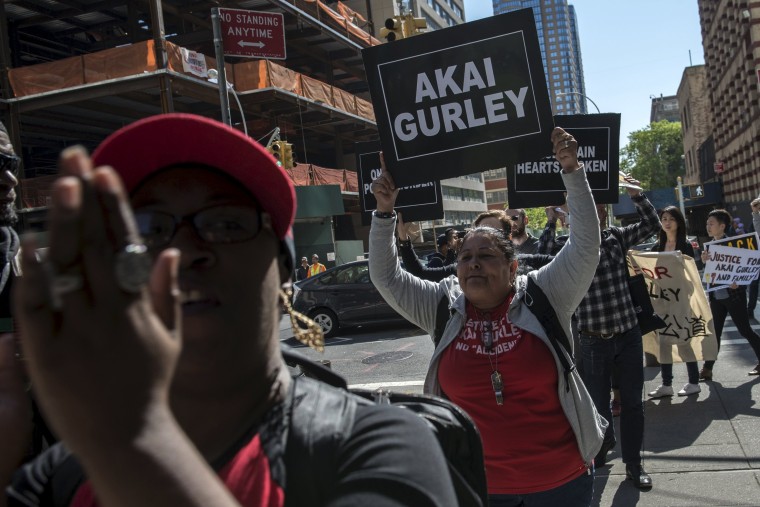 Many Asian-American organizers on both sides maintain that Gurley's death and the indictment of Liang have not divided the Asian-American community, saying instead that the media is to blame for creating that perception. But the question of whether Liang should have been indicted has indeed brought Asian Americans into a wider national debate about the role police officers have played in incidents involving civilian deaths, many of them black men.
Most recently, the death of 25-year-oldFreddie Gray in April, who suffered a spinal injury while in police custody in Baltimore, ignited riots and unrest in that city. Six police officers were later indicted in Gray's death.
For Petersen, Gurley's aunt, the hope is that her nephew's death serves to unite, and not divide.
"There should never be a division within the Asian and the African-American community," she said. "Why? Because their struggles are our struggles, and our struggles are their struggles."
Like NBC Asian America on Facebook and follow us on Twitter.