As increasingly violent protests in Hong Kong over a now-withdrawn extradition bill push into a fourth month, rallies have popped up across the U.S. and elsewhere in a show of solidarity for the former British colony.
But not everyone is on board.
Groups comprised of mostly mainland Chinese immigrants have increasingly been turning up at pro-Hong Kong rallies in major cities across the world. Their members wave Chinese flags, sing the Chinese national anthem and sometimes hurl invectives at pro-Hong Kong demonstrators, calling them "traitors."
For Anna Yeung-Cheung, a Hong Kong activist for more than 20 years, it's her first time seeing counterprotests like this in New York.
"Years ago when we hosted activities in Chinatown … never were there people who would boo you," said Yeung-Cheung, founder of the group NY4HK - New Yorkers Supporting Hong Kong, which has held pro-Hong Kong rallies and encountered the counterprotesters in August.
Unrest in Hong Kong began to escalate in mid-June over a proposed law that would allow criminals to be sent to mainland China to face trial. Hong Kong's leader, Carrie Lam, announced Wednesday that the extradition bill would be fully withdrawn, one of the demonstrators' five demands.
Amid fears of eroding rights under Beijing rule, the Hong Kong demonstrations have evolved into a broad demand for greater democracy under the "one country, two systems" policy that critics say has failed after the handover to China in 1997.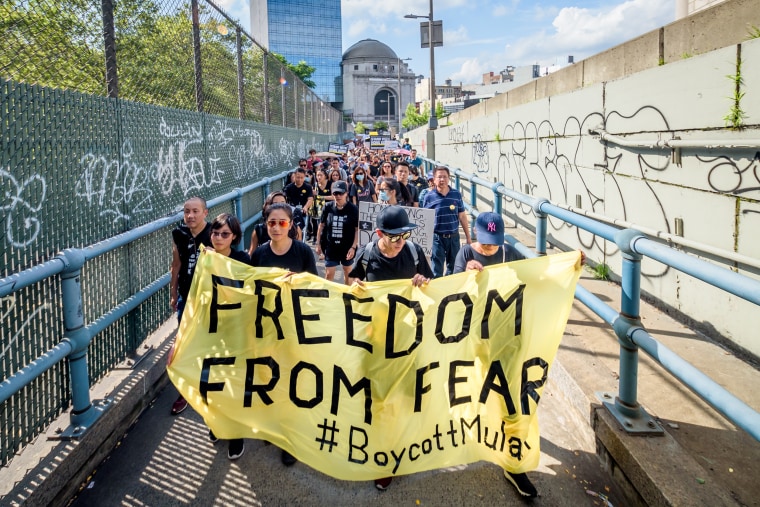 Meanwhile in the U.S., some tense moments have played out at recent pro-Hong Kong demonstrations, including one in Manhattan organized by Yeung-Cheung.
She said water bottles were thrown at some Hong Kong supporters during an August rally as they marched across the Manhattan Bridge. A pro-Hong Kong Lennon Wall, named after John Lennon of The Beatles and where people leave messages of support on post-its, was also reportedly vandalized near Chinatown.
A recent demonstration in Boston organized by Frances Hui also drew opposition.
"The counterprotesters weren't trying to attack us," she said. "But there was one Chinese guy who at the end of the march came out from the crowd and started to step on our poster … and then he even pushed one of our female volunteers using his elbow."
Rallies in support of the territory have also cropped up all over North America, as well as in Europe and Australia.
But counterdemonstrators have also taken to the streets to support the Hong Kong police and decry what they see as violence and riots overtaking the city — a view in line with the one being put out by Chinese-state media.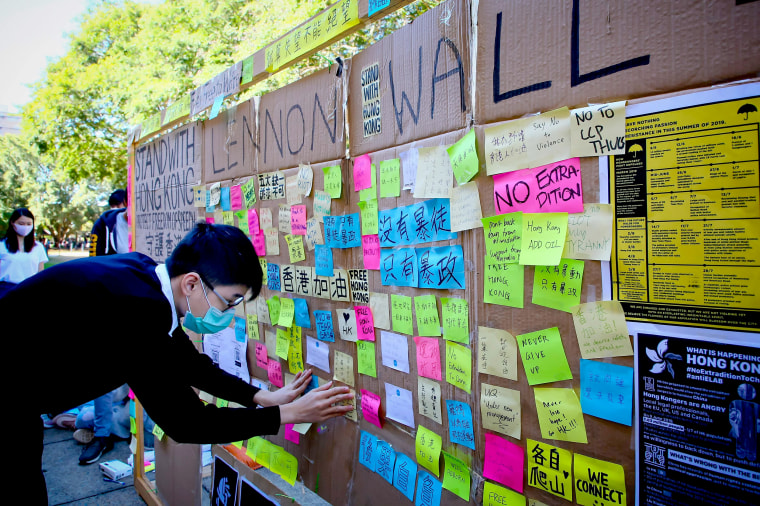 "Right now, China is still the second-largest economy in the world, and I think it is also positioning itself as a major international power," Joseph Tse-Hei Lee, a history professor at Pace University in New York, said.
"So when you look at the timing, I think there is a sense of urgency at least to control the narrative about China, the discourse about China, not just within the country but also overseas as well," he added.
Beijing does that through its United Front Work Department, an agency that reports directly to the Chinese Communist Party's Central Committee, according to a 2018 report from the U.S.-China Economic and Security Review Commission.
United Front has ramped up its efforts under Chinese President Xi Jinping, who has steadily consolidated power since becoming party head in 2012.
To push its narrative, Beijing uses its United Front efforts to suppress criticism of the Chinese Communist Party, spread positive views of China and "incentivize voters in foreign democracies to influence their domestic policies in ways favorable to China," the report reads.
The Chinese-language media landscape in the West, Lee said, is a good example of how the United Front has expanded over the last 10 years.
"China has been quite effective in using the market forces and also in utilizing the openness of the American media to expand its influence and also maybe to market its narrative abroad," Lee said.
That narrative percolates into Chinatowns across the U.S. and elsewhere, where local chapters of hometown associations, comprised of members from the same parts of China, play an important role in mobilizing their rank-and-file to advocate for causes important to Beijing, such as opposing independence for Taiwan or Hong Kong.
Observers say this is done by tapping into the ancestral attachment members may still have for their homeland, an attachment that is sharpened perhaps by a sense of frustration from the scenes they see unfolding in Hong Kong in Chinese-language media.
According to the U.S.-China Economic and Security Review Commission report, United Front officials often meet with local chapters of hometown associations, sometimes in the presence of senior staff from the Chinese consulates.
NBC News on Tuesday visited two associations in Manhattan's Chinatown to ask about the protests in Hong Kong and whether members had attended counterdemonstrations in New York.
Speaking in Mandarin, a man at the front desk of the Fukien Benevolent Association of America on East Broadway said that an appointment would have to be made with the association president, adding that he couldn't be found at the moment.
Reached by phone in the afternoon, the president did not immediately offer comment, telling NBC News he would call back later. A message sent to an email address on the group's website was not returned.
Two men at the Gee How Oak Tin Association on Bayard Street said their leader was not in.
Yeung-Cheung and Hui said pro-Beijing demonstrators accused pro-Hong Kong supporters of advocating for Hong Kong independence, but both women said that wasn't the case.
Asked whether there was room for dialogue with the counterdemonstrators, Yeung-Cheung said: "If they invite me, I would look into it. I would discuss with my core group, we would come up with a strategy, we will understand exactly how sincere they are."
Just how long the protests and counterprotests over Hong Kong will continue in the U.S. and elsewhere overseas remains to be seen.
"I think the outcome from Hong Kong is the most important factor," Lee said.