Aileen Suzara was on track to become a doctor when she was in college. But after learning about how toxins affect human health, she switched gears and got her undergraduate degree in environmental studies. Since then, Suzara has worked primarily on food, environmental justice, and health.
"[Food] meant that environmental issues could be tasty, and that health could be more delicious," Suzara told NBC News. "It was a new lens to come home and realize how much land was used for commodity crops or extractive industry, and how much fresh foods were shipped overseas, and by contrast how canned goods were a go-to due to cost and access."
"Ultimately, there are already existing healthy traditional practices in [Filipino] food and it's really just up to all of us to find ways to lift it up."
A resident of the San Francisco Bay Area's East Bay, Suzara is a chef, "eco-educator," and "just food" advocate who works with community organizations to help young people become more mindful about what they eat and its effects on communities.
Suzara said kids at workshops she facilitates often share stories about how they might make certain dishes with their grandma or how they might like sinigang — a tamarind-based sour soup — more sour than others. That type of communication helps them personally connect to the issue, Suzara said. She plans to facilitate more of that kind of discussion in the future.
"It's just encouraging people to bring their own oral history of connection — or curiosity if they don't have that familiarity to the dish – and combine it with some understanding and discussion of what food justice means to them," Suzara said. "It's really that, I think, that helps people, especially young people, have a personal connection to the issues."
Growing up, Suzara and her family led a nomadic lifestyle, living in Florida, Washington, Texas, Hawaii, and California. From the moving around, Suzara witnessed environmental justice and land sovereignty struggles in the Philippines — which she visited on multiple occasions — and in Hawaii.
After learning about how these struggles were intertwined with colonization and culture — including food — and about how corporations affected ecosystems, polluted communities, and harmed human health, she was motivated to become an environmental activist.
"It was also huge to reconsider the plantation history of workers in [Hawaii], most of whom have API roots, and to reflect on the ways industrial agriculture exposes workers to pesticides as well as the water supply," she said. "I was also moved by what was working: seeing people … finding ways to reclaim land, grow, and distribute traditionally honored foods like kalo [taro]. This work brought people together, and promoted healthy land and healthy people."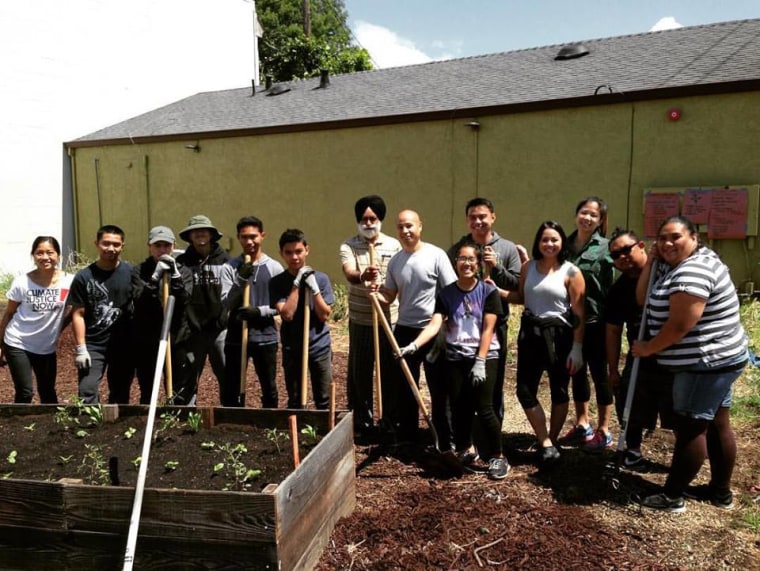 When she was 8, Suzara began her "love affair" with Filipino food, she said, after discovering her mom's lone Filipino cookbook. Growing up in a household that didn't speak Tagalog, the book made her curious about what these cultural dishes were and what ingredients were used to make them.
"It pushed me to teach myself, and to tap into the memories of my parents and the community — to reconnect to the food and with it, a bigger story, one of migration, agriculture and relationship to land," Suzara said.
That year was also when Suzara developed an interest in gardening. She was absolutely convinced that she wanted to be a farmer and a chef when she grew up.
"I remember in California in my earlier childhood, we were living in the Mojave Desert of all places, complete desert … It was not exactly the most tropical or Philippine or island-like environment, but we still managed to grow things in our backyard: herbs, vegetables, wildflowers," she said.
Suzara has taken her interest in environmental justice and food into the community as an active member of multiple organizations, including the Filipino/American Coalition for Environmental Solidarity (FACES) — an organization that works for environmental justice in the United States and Philippines, the Sama Sama Cooperative — a summer camp that works to reclaim language, culture, and land-based traditions, and Filipino Advocates for Justice (FAJ) — an organization dedicated to strengthening the Filipino community through civic engagement and advocacy.
In 2015, she worked with FAJ on a youth-led garden in Union City called Bahay Kubo, which aims to promote sustainable and healthy Filipino food practices. That same year, the project received second place in the Big Ideas@Berkeley program, an annual contest that provides funding and support for community projects.
Suzara calls her community work "passion work." In October 2016 she received the Thomas I. Yamashita Prize for her involvement. The $2,500 prize is awarded every year to a young social activist in California.
"I remember in California in my earlier childhood, we were living in the Mojave Desert … It was not exactly the most tropical or Philippine or island-like environment, but we still managed to grow things in our backyard: herbs, vegetables, wildflowers."
Apart from community work, Suzara decided last year to focus more on her food business, Sariwa, which means "fresh" in Tagalog. The concept began in 2010 originally as a pop up that stemmed from a collaboration community dinner with FACES. The dinner, held to raise funds for individuals affected by a typhoon that devastated the Philippines in 2009, served food that incorporated seasonal ingredients.
"Fast forward a bit, I returned to Sariwa's pop up concept while I was finishing my public health master's [at the University of California, Berkeley] because I was looking at what are the connections and possibilities for using Filipino-American food culture as a culinary intervention for health," she said.
While Filipino food is increasingly being mentioned in media, Suzara notes that Filipino-Americans experience high rates of chronic disease.
"And even as this picture is starting to become clearer, something that I really felt drawn to was that over and over, I would hear sometimes people sharing and saying, 'My doctor said I have to stop eating that Filipino food because it's going to kill me'," she said.
But while Filipino gateway dishes such as pancit (pan fried rice noodles) and lechon (roasted pig) are fried and fatty, there are healthier ways to make Filipino food, Suzara said.
"I really wanted to hone in on that, not because I think we have to discard the fun, delicious party food, but there is this really different picture around what Filipino food could look like and how it can actually support health and well being," she said. "Ultimately, there are already existing healthy traditional practices in the food and it's really just up to all of us to find ways to lift it up."
One way Filipino food can be made healthier is to consider regional flavors, Suzara noted. Some of her favorite dishes are simple ones like grilled eggplant and tomato, as well as varieties of adobo — meat marinated in soy sauce and vinegar — made with coconut milk or chili from Bicol, a region in the Philippines southeast of Manila.
Some of the freshest dishes Suzara recalls having come from Pangasinan, a province in the Philippines where some of her family lives.
"I remember going to the marketplace early in the morning at crack of dawn and just seeing how some of the relatives were trying to get a deal, and they would just pinch every vegetable, every long bean. They wanted the freshest thing. And it wasn't this bougie thing, it was really just looking for something fresh," she said.
Witnessing her relatives do that shattered some of the stereotypes Suzara had about Filipino food being greasy and unhealthy.
In the next decade, Suzara said her focus will be on Sariwa, which she hopes to see thriving in that time frame. She'd like it to be one that's not only sustainable financially, but one that partners with small farmers, particularly those of color and women.
"I want to find ways to make it be about something more as well. Not just about food, but just a way to connect people and hopefully continue to connect with young people through the lens of food," she said. "My dream of it is to have the food be available to everyone, but especially find a way to connect with Filipino Americans who are in the health setting. So, however that relationship is going look like, I really want to keep building bridges with folks who are seeking to address Filipino-American health and wellness."
Follow NBC Asian America on Facebook, Twitter, Instagram and Tumblr.