When Ross Butler was 10 years old, he accidentally lost his violin — at least, he's pretty sure it was an accident.
"[My mom] tried to get me into violin, and I was like, 'Nope,' and then I lost the violin a week after I got it. It wasn't even a conscious decision! I don't know what happened to it," the 26-year-old actor told NBC News. "I didn't take the bus or anything, I just...lost my violin."
He paused. "Maybe it was subconscious. My 10-year-old self knew exactly what I wanted to do."
Born in Singapore and raised in Virginia by his mother ("I'm an only Asian child to a single Asian mother," Butler said with a smile while joking about his strict upbringing), the "13 Reasons Why" actor found himself drawn to Hollywood after seeing Tom Hanks in "Forrest Gump" and learning that Hanks was playing a character, and not actually a man named Forrest Gump.
"I went to go see it with my friend, and after the movie, he was like, 'Forrest Gump was a real person, right?' And I said, 'Absolutely,'" Butler said. "His mom was like, 'No. That's an actor.'"
But despite loving movies (he wasn't allowed to watch TV growing up) and being drawn to performance, acting was never a career path he considered pursuing. Instead, Butler went to Ohio State University and began taking classes with the goal of becoming an engineer, but it wasn't long before he dropped out.
"My mom just wanted me to do anything that was academic, whether it was become a doctor or be a lawyer," Butler, who received a scholarship to Ohio State, said. "Engineering suited her… then I dropped out. It was not what I wanted to do it al all, it just felt so unnatural and I couldn't put my finger on why. I just knew it wasn't for me."
"I knew it was going to be tough. I knew there was going to be obstacles. What's the point of pushing yourself if not to overcome these obstacles?"
Butler spent time back home while thinking of his next move, and when the opportunity through a friend came up to move to Los Angeles, he didn't hesitate: he spoke with his future roommate on a Tuesday; three days later, he was in California — a decision that Butler, who was 20 at the time, said didn't sit well with his mother and caused the two to not speak for a few years.
"She wasn't very supportive at first. I did move out against her will," Butler said. "After I started to work, she had a complete 180 and became very supportive of me. Now she's cool with it."
Butler's foray into acting came as quickly as his move to Los Angeles did. For his 21st birthday, his friend bought him his first acting class for $25. After the first day, "it just clicked," Butler said, and he kept going back. Two months later, the acting teacher approached Butler and told him about a manager who was looking for Asian-American talent, and who would be coming in for one of the school's showcases. The manager liked him, Butler said, but didn't sign him yet.
"They sent me out for a year, and then I booked something and that was when the momentum started to pick up," he said.
His first major role came two years after his first acting class when he got cast for a guest role on TNT's "Major Crimes," where he played Ian Yorita, an Asian-American teen and drug dealer whose screen time included a lengthy interrogation scene. His following roles included more guest spots and TV movies such as Disney Channel's "Teen Beach 2" and Lifetime's "Perfect High."
In 2015, Butler got what he calls his "breakthrough moment" when he was cast in Disney Channel's "K.C. Undercover," starring Zendaya. "That's really what got the ball rolling, because it was the first role that had some substance to it that was breaking a stereotype," Butler said. "That was the first time where I was like, 'OK, maybe I have a shot at booking non-Asian roles."
From that role, he began to build a fan base — one that includes 1.3 million followers on Instagram and more than 260,000 followers on Twitter who like and comment on his love of dogs, his ramen obsession, and his musical skills (despite losing his violin, Butler is classically-trained in piano, and also plays the guitar and sings).
These days, Butler is recognizable to fans as Reggie Mantle in The CW hit "Riverdale" based on the Archie Comics franchise (though Butler is leaving the show after one season due to scheduling conflicts, according to TVLine) and as jock Zach Dempsey in Netflix's "13 Reasons Why." Booking "Riverdale" was another milestone for Butler, who had been telling his team for years he didn't want to only be sent out for roles that were only looking for Asian actors.
"When they sent me the breakdown for Reggie, it said: 'American jock. Kind of a jerk. Arrogant. Cocky.' No ethnic specifications," Butler, who originally read for the role of Jughead (now played by Cole Sprouse), added. "I was like, 'Perfect.'"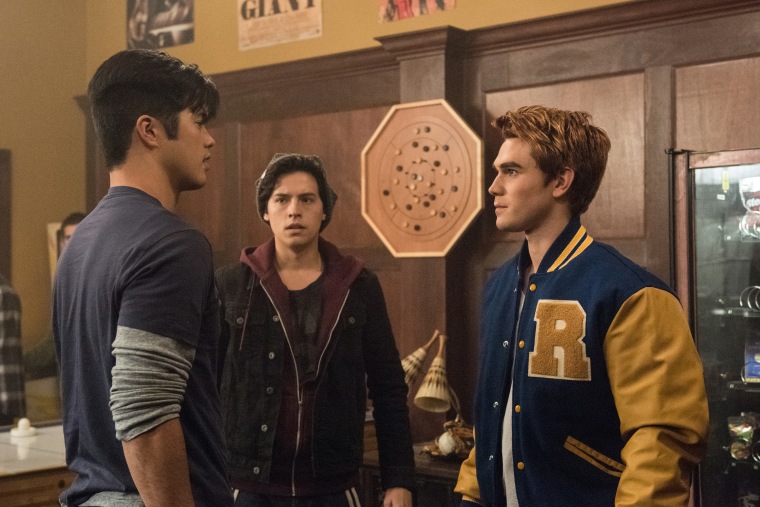 The casting notices for both Reggie and Zach, Butler said, were similar, though he's not worried about being typecasted. Instead, his focus right now is on changing how Asian Americans are seen (or, rather, not seen) in Hollywood. Acknowledging he is half-Asian and half-white, Butler, who recently signed with UTA, wants his shot at being the leading man in a feature film someday.
"Asians playing [Asian characters] should be a given...it's a segue into Asians playing leading roles, and I want to skip to that step because I think that's what's going to lead the way," he said. "To better show we're a part of American culture is to play [lead roles] — not martial artists or those stereotypical roles."
He adds, "I would get a lot of questions like, 'What is your dream role?' And a few years ago, I'd say, "'Dragon Ball Z,' 'Cowboy Bebop,' a martial artist,' and I realize that that's kind of messed up because the only reason I think of those people is, you know…" he said. I knew it was going to be tough. I knew there was going to be obstacles. What's the point of pushing yourself if not to overcome these obstacles?"
Follow NBC Asian America on Facebook, Twitter, Instagram and Tumblr.