When the U.S. Department of Housing and Urban Development released its 2018 thresholds for affordable and subsidized housing last month, San Francisco had the highest in the nation — $117,400 for a family of four is now considered "low income."
San Francisco's housing crisis has reached such heights that a fair-market two-bedroom apartment now rents for more than $3,000 a month, according to the National Low Income Housing Coalition, an affordable housing advocacy group.
City government has made some strides: The late Mayor Ed Lee set a goal of creating 5,000 new housing units annually and revitalizing the Small Sites Program to help nonprofits acquire affordable housing units, while Mayor-elect London Breed has vowed to expand affordable and rent-controlled housing.
But Asian-American advocates who are working to protect their own communities are calling on the city to do more.
"They're changing the narrative around the notion of affordable housing," Malo André Hutson, a professor of city and regional planning at the University of California, Berkeley, said of the advocates. "They're changing that conversation from a purely economic one to say, 'What makes a city sustainable, healthy, vibrant and diverse — which is what people want?'"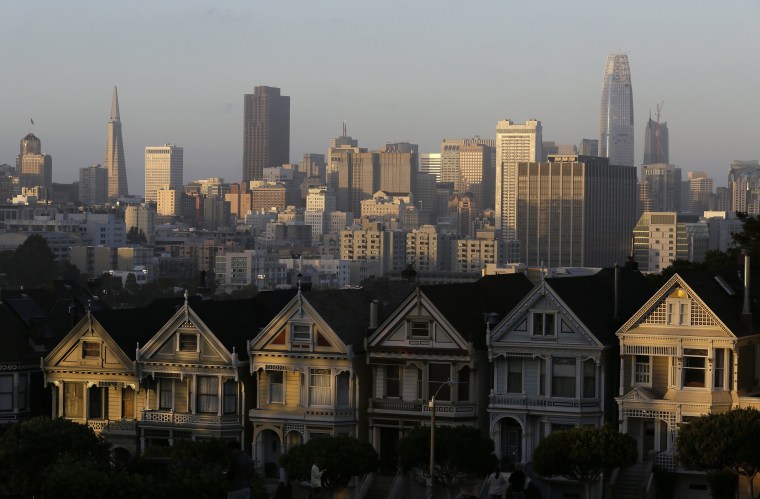 The soaring housing prices in San Francisco has led many low-income Asian Americans to live in overcrowded, single-room-occupancy hotels, also known as SROs. According to a 2015 report from SRO Families United Collaborative, the number of families living in SROs in San Francisco increased 55 percent from 2001 to 2014.
The majority of those families — 74 percent — live in Chinatown, the study also found.
"SROs are affordable housing for the family in the sense that it's what's affordable," said Joyce Lam, senior community organizer for the nonprofit Chinese Progressive Association. "But they're very far from being housing that's adequate for families."
The Chinese Progressive Association works to support low-income Asian-Americans in San Francisco by organizing workers to demand better living conditions, fighting evictions, providing services to SRO residents and educating them about tenant rights.
Many people come to San Francisco because of our vibrant history, our multicultural neighborhoods and enclaves like Chinatown, the Mission, South of Market. We have to do something right now, or in a couple years it'll all be different.
Many families aren't able to find affordable housing elsewhere, either because it doesn't exist or because they can't pay what the city considers "affordable," said Lam, noting that the city's affordable housing can cost as much as $1,400 a month in rent, compared with $700 at SROs.
"The city is talking about a family of four with a yearly income of $80,000," Lam said of affordable housing. "But in Chinatown, they're making $30,000 or even $20,000 a year."
SROs are also affected by the housing crisis: According to Gen Fujioka, policy director for the Chinatown Community Development Center (Chinatown CDC), SRO rents ballooned 90 percent from 2013 to 2017 in part because of owners converting units into dorms for tech workers.
Another effect is displacement, which Hutson said often hits ethnic enclaves such as Chinatown the hardest.
"These were welcoming places for many people, and now, ironically at a time when cities are going through economic booms, these places that were refuges that helped them have upward mobility are the exact communities that are under assault, in many ways, by the neighborhood change and the displacement that's happening," he said.
The pressures cause "enormous stress," especially among older residents, Fujioka said.
"The greatest impact is on seniors who have the hardest time being able to find housing that's supportive to them outside of Chinatown, because they don't speak the language, the services are here, their doctors are here," he said. "They are very traumatized, and we haven't been able to track people's health over the long-term once they leave, but there's anecdotal evidence that their health deteriorates and they don't do well outside the community where they have support."
One strategy to combat this has been for nonprofits such as the Chinatown CDC and the Tenderloin Neighborhood Development Corporation (TNDC) to buy and renovate buildings into affordable housing for the community. Keeping these properties off the market ensures they won't be converted to other uses.
Chinatown CDC now has 32 properties in San Francisco, for more than 3,700 families, while the TNDC has 39 properties and another 12 under renovation.
Now, about one-third of the Tenderloin neighborhood — which became home to large numbers of Southeast Asian refugees after the Vietnam War — has been preserved by nonprofits or the public sector, according to Don Falk, chief executive of TNDC.
"Building more nonprofit affordable housing is a way to maintain San Francisco as a place where low-income people can afford to live," he said.
Chinatown CDC also offers tenant counseling services to assist those who have been unjustly evicted, or who are facing harassment by landlords who want them to leave.
Advocates say that there are also many steps the city can take to protect their communities: pushing big tech companies to pay into an affordable housing fund; creating stronger legal protections for tenants — particularly monolingual, low-wage workers; zoning to limit commercial use in vulnerable neighborhoods; supporting small businesses; and preventing affordable housing and SROs from being converted into market-rate housing and tourist hotels.
But the problem is also a regional, state and national one.
Anj Chaudhry, director of organizing for the National Coalition for Asian Pacific American Community Development (National CAPACD), said that Asian Americans and Pacific Islanders living in poverty are more likely than any other racial or ethnic group to live in "a high-cost city."
Rents in neighborhoods with large Asian-American and Pacific Islander communities analyzed by National CAPACD — including San Francisco's Chinatown and South of Market neighborhoods — increased an average of 74 percent from 2000 to 2014, compared with 53 percent nationwide.
Without a fix, the impact of the housing crisis could be dire.
"I think it changes who we are — I think it changes San Francisco," Lam said.
"Many people come to San Francisco because of our vibrant history, our multicultural neighborhoods and enclaves like Chinatown, the Mission, South of Market," she said. "We have to do something right now, or in a couple years it'll all be different."
Follow NBC Asian America on Facebook, Twitter, Instagram and Tumblr.