Sriracha is no longer an afterthought relegated to Asian cuisine — it's become the red-hot star in routine recipes.
Plenty of brands are proudly adding the Thai chili sauce to their products, from White Castle this month rolling out a Sriracha chicken slider to Tabasco bottling its own version of the tangy condiment — a blend of red pepper, vinegar, garlic, salt and sugar.
The popular brand of Sriracha — known for its rooster on the bottle — is the brainchild of Vietnamese refugee David Tran, the CEO of Huy Fong Foods in Irwindale, California. A lawsuit with the city over the factory's spicy smell triggered worries that Sriracha production would be snuffed out long-term. But Irwindale officials dropped the suit last month — ensuring the sauce a long shelf life.
Randy Clemens, author of "The Sriracha Cookbook," credited Sriracha's inclusion at Vietnamese pho shops and in spicy mayo at sushi bars for acclimating American tastes. Reality TV shows, like "Top Chef," and big-name restaurateurs, such as Emeril Lagasse, also helped to hype the movement, he added.
"There was a realization that it wasn't just a few people who were obsessed with the sauce. There was a whole group of fanatics like myself who were having a lot of fun experimenting with the almighty rooster," Clemens said.
Here are recipes submitted by Clemens and other chefs that put a Sriracha spin on summertime staples: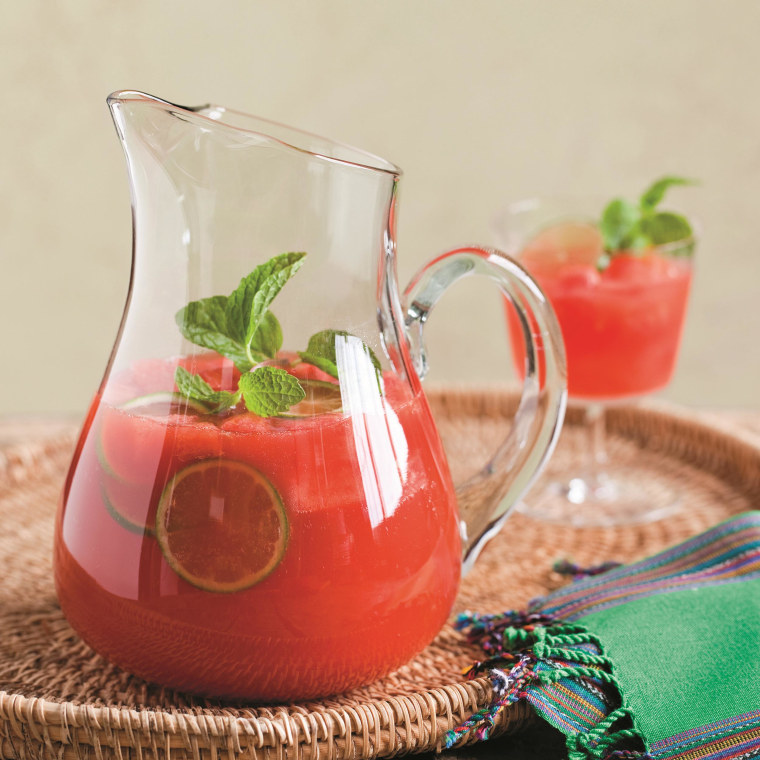 Watermelon Sriracha Sangria
8 cups cubed seedless watermelon
1 (750 ml) bottle dry unoaked white wine (such as sauvignon blanc or pinot grigio)
1/4 cup Calvados, light rum, or brandy
1/4 cup sugar
3 tablespoons Sriracha
2 limes, thinly sliced
12 fluid ounces natural ginger ale (such as Reed's Original Ginger Brew)
Ice cubes, for serving
Fresh mint sprigs, for garnish
Directions (courtesy Randy Clemens in "The Veggie-Lover's Sriracha Cookbook"): In a blender, puree 6 cups of the watermelon. Strain into a large pitcher. Add the wine, Calvados, sugar, Sriracha, lime slices, and remaining 2 cups of watermelon. Cover and refrigerate for at least 2 hours. (This can be made up to 2 days in advance.)
When ready to serve, give the mixture a healthy stir, then pour in the ginger ale. Put a few ice cubes in each glass, then fill with the sangria, making sure to get some lime and watermelon goodies in everyone's cup. Garnish with a sprig of mint and serve immediately.
Makes 6 to 8 servings.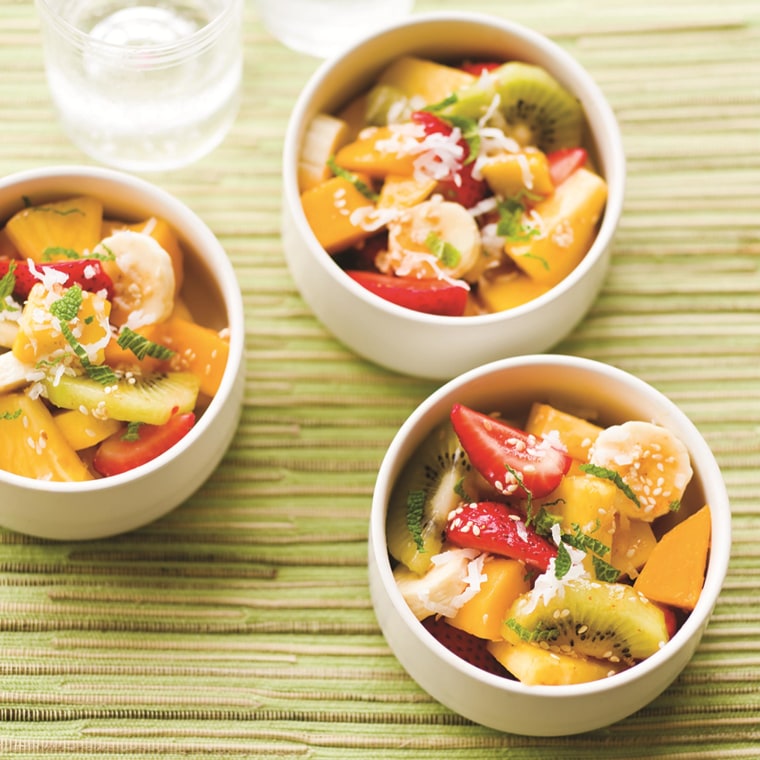 Tropical Fruit Salad with Sriracha–Sesame Vinaigrette
Dressing:
1/4 cup toasted sesame oil
1/4 cup seasoned rice vinegar
1/2 cup honey
2 tablespoons Sriracha
2 tablespoons white sesame seeds
1/4 teaspoon low-sodium soy sauce
Fruit salad:
1 medium pineapple, peeled, cored and cubed
2 mangoes, peeled, cored and cubed
1 papaya, peeled and cubed
2 bananas, peeled and sliced
2 kiwis, peeled, halved lengthwise, and sliced
1 pint strawberries, hulled and quartered
1/2 cup sweetened flaked coconut, for garnish
Fresh mint, cut into thin ribbons, for garnish
Directions (courtesy Randy Clemens): To make the dressing, in a medium bowl, whisk together the oil, vinegar, honey, Sriracha, sesame seeds, and soy sauce. Set aside.
To make the fruit salad, in a large mixing bowl, combine the pineapple, mangoes, papaya, bananas, kiwis, and strawberries. Add the dressing and toss gently. Serve immediately or store, refrigerated, in an airtight container for up to 3 days. Garnish with the coconut and mint chiffonade.
Makes 6 to 8 servings.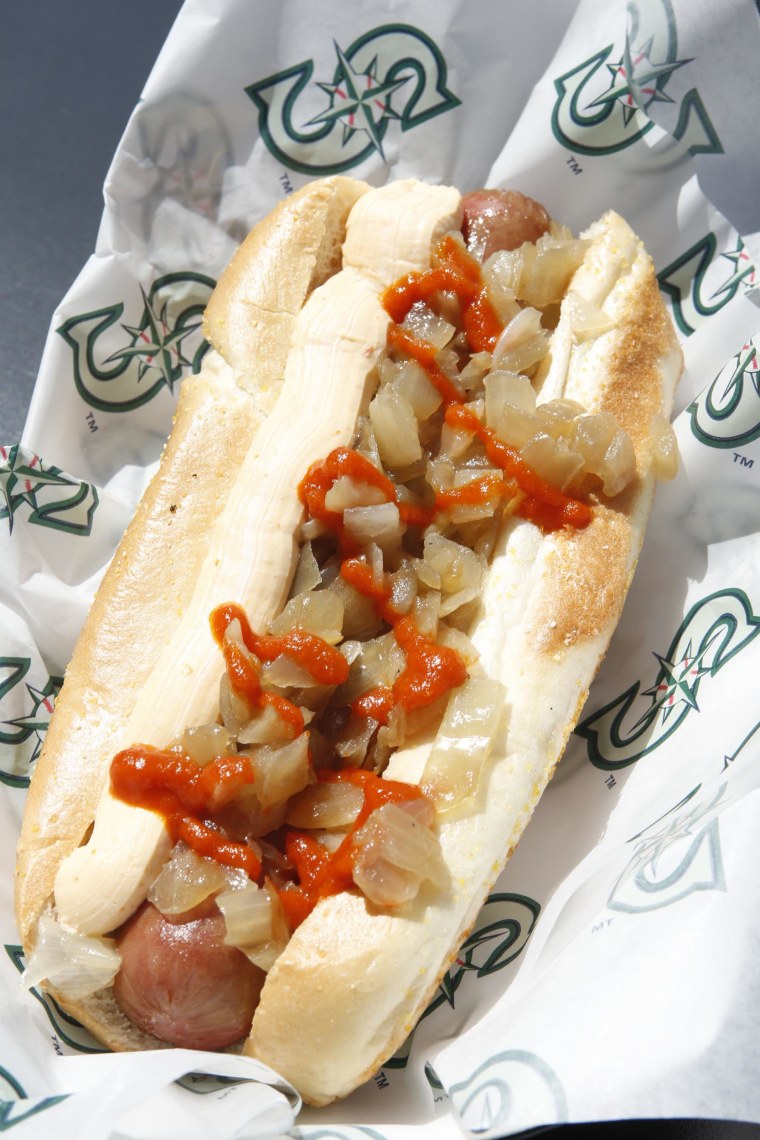 Sriracha Seattle Dog
1 quarter lb. hot dog, grilled
1/4 cup caramelized onions
3 oz. cream cheese whipped with 1.5 oz. of Sriracha
1 hoagie roll
Directions (courtesy Seattle Mariners Head Chef Dave Dekker): Whip the cream cheese and Sriracha together in a mixing bowl until smooth and spreadable, put into a squeeze bottle.
Place hot dog in bun, squeeze the cheese down one side and spread onions on the other. Drizzle with additional Sriracha to taste.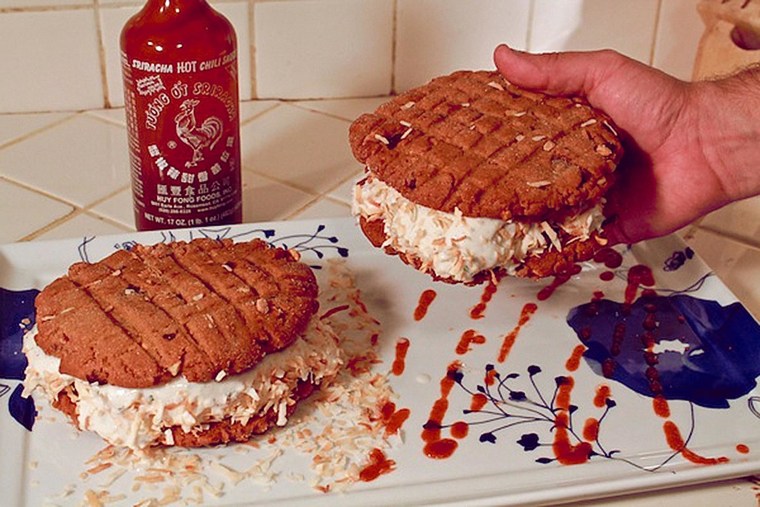 Sriracha Ice Cream Sandwich
Cookies:
3/4 cup unsalted butter, room temperature
1/2 cup light brown sugar
1/2 cup (100 grams) granulated white sugar
2 large eggs
1 teaspoon pure vanilla extract
1/4 cup chocolate chunks
3/4 cup peanut butter (crunchy)
2 cups all purpose flour
1/2 teaspoon baking soda
1/4 teaspoon salt
coconut shreds
Directions (courtesy The Glut Life): After mixing together all of the ingredients into a batter, add the Sriracha — and lots of it, a quarter of a cup or more. (For less spice, a 1/8 cup will suffice.) Roll the batter out and then make an even number of patties for the sandwiches.
Then, take coconut shreds and spread them on parchment paper on a baking sheet. Bake for 15 minutes on 385 degrees Fahrenheit until golden brown. You want to get this part out of the way so it cools down enough to be rolled with the ice cream.
Thai basil ice cream:
1 bunch of Thai basil
1 carton of vanilla bean ice cream
Soften the ice cream by folding it, marble-slab style. Once the ice cream is softened, throw in finely chopped basil and whip it up together. Toss in the mixture in the freezer to set.
Baking:
Preheat oven to 350 degrees Fahrenheit and place rack in center of the oven. Line two baking sheets with parchment paper. Bake the cookies for about 10 to 12 minutes, or until the cookies are lightly browned around the edges. Remove from oven and place on a wire rack to cool.
Once the cookies are cool and the ice cream is softened, scoop the ice cream between two of the cookies. Roll them in toasted coconut to finish.