Shortly after Jeena Lee-Walker filed a federal lawsuit in January alleging she was fired for teaching a unit on social justice, her attorney received a phone call from two Asian Americans looking to help.
Mark Tseng Putterman and Oanh-Nhi Nguyen of 18 Million Rising (18MR), founded in 2012 to politically mobilize Asian-American and Pacific Islander communities through social media and technology, wanted to harness the Internet to call attention to the 37-year-old English teacher's termination last year from the New York City Department of Education.
"I think what we hope to do with the campaign is, one, rally support behind Jeena Lee-Walker's case specifically, but also create this larger conversation with the hashtag #teachtruth to think about the ways this shows up across the board for teachers," Tseng Putterman, a media justice campaigner, told NBC News.
RELATED: 'Shocked': Teacher Allegedly Fired for Central Park Five Lesson Plan Recalls Dismissal
Lee-Walker alleges she was dismissed because of lessons she taught on the Central Park Five, a group of five black and Hispanic men wrongly convicted in 1990 of beating and raping a female jogger in Central Park. According to Lee-Walker's lawsuit, an administrator who observed her class allegedly told her to be "more balanced" in her discussion of the case because it might "rile up" black students.
Last week, 18MR launched an online petition in support of Lee-Walker, which includes links to news stories of other teachers of color allegedly fired for teaching units on social justice. As of Tuesday morning, nearly 800 people have signed the petition, which Tseng Putterman said they might deliver in person to the city Department of Education. The Educators of Color Group of the New York Collective of Radical Educators, a social justice organization of former and current public school educators, is a co-sponsor.
Lee-Walker told NBC News that 18MR's support means a great deal to her. "I'm really touched by it, and I feel really empowered by it," she said.
The city Law Department, which handles lawsuits against New York City, did not respond to an email sent Friday morning seeking comment. But Lee-Walker said she could hear back about her case as early as April, adding that her top priority is to have her teaching license reinstated. For now, she continues to work as a private tutor, she said.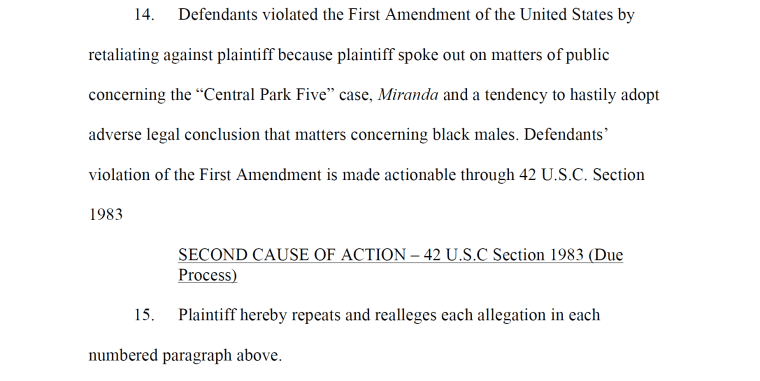 Lee-Walker designed the unit with her mentor in 2013 while teaching English at the Murry Bergtraum High School for Business Careers in Manhattan, she said. She became interested in the case after watching the 2012 documentary "The Central Park Five", directed by Ken Burns, his daughter Sarah Burns, and her husband Daniel McMahon. The goal of the unit, according to her lawsuit, was to get students to "re-examine old assumptions and to challenge orthodoxy" while maintaining a "balanced view of the facts."
After leaving Murry Bergtraum because of staffing cuts, Lee-Walker found a position at the High School for Arts, Imagination and Inquiry, where she taught her unit, she said. For her text, she used "The Central Park Five," written by Sarah Burns and published in 2012. The book explores the story behind the wrongful conviction of the five men and the events — including the confession of an inmate whose DNA matched that taken from the crime scene — leading to their exoneration in 2002.
In 2014, the city settled a federal lawsuit with Raymond Santana, Antron McCray, Yusef Salaam, Kevin Richardson, and Korey Wise, paying out a total of $40 million.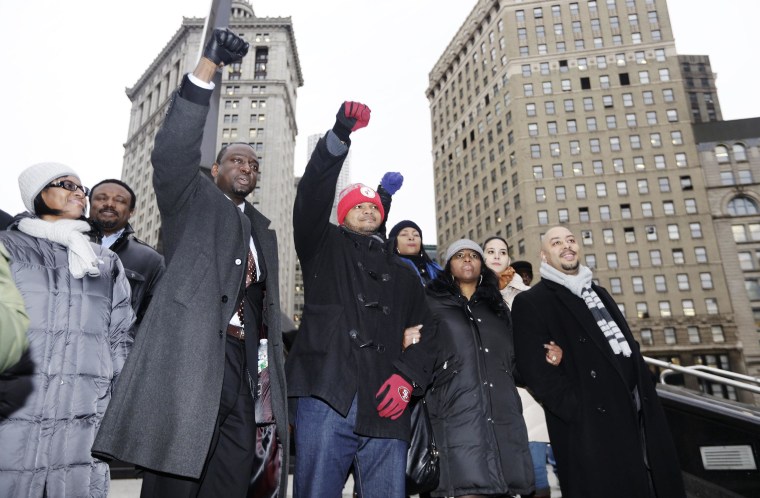 The topic immediately struck a chord with her students, Lee-Walker said; 96 percent of the high school's population is black and Hispanic. But after allegedly being told the unit might "rile up" students, Lee-Walker said she received increasingly negative performance reviews, and her relationship with administrators progressively grew worse. Her lawsuit alleges that her below-average ratings were a pretext to "mask retaliatory animus" against her.
On May 12, 2015, Lee-Walker was formally terminated, according to her lawsuit, which seeks unspecified damages. She also alleges that her firing violated her union contract because she wasn't provided 60-days notice before termination. Lee-Walker's lawsuit notes she was not tenured because her probationary period had been extended by one year in 2013 after she went on maternity leave from 2011 to 2012.
RELATED: New York Reaches $40M Settlement in Central Park Jogger Case
After her case made the news, Lee-Walker said she received emails of support from former students, some of which she shared with 18MR. Lee-Walker, who said she also has the backing of the Central Park Five, added that the bigger issue is that teachers "need to have the freedom to make curriculum choices."
"I think Jeena Lee-Walker's case provides a counter-narrative to the stereotype and assumption that Asian Americans are complicit with systems of oppression," Tseng Putterman said.
Follow NBC Asian America on Facebook, Twitter, Instagram, and Tumblr.