Their journey of a thousand miles began with a single-engine plane.
Last summer, Indiana engineer and amateur aviator Babar Suleman made his dream purchase: a tiny six-seat Beechcraft Bonanza for himself and his 17-year-old son, Haris, to practice flying.
Now, the father and son have embarked on the biggest adventure of their lives — making a potentially record-breaking trip around the world with Haris at the helm.
"I'm glad I have my dad to help me when I mess up — to smack me in the back of my head," Haris told NBC News before beginning the journey out of Indianapolis on June 19.
"He's at the age where there's no fear of the unknown," Babar added.
If successful, Haris would be the youngest pilot in command to fly across the globe in about 30 days with just one other person on board. (A 19-year-old Australian remains the youngest person to circumnavigate the globe in a single-engine plane solo, although a South Dakota teen could soon break his record.)
Haris' fearlessness has served the precocious pilot well. There have been some early setbacks: engine problems after takeoff from Indiana. Treacherous icing conditions 10,000 feet in the air over Canada, with no deicing fluid. Fueling delays in the United Arab Emirates.
But those were quickly forgotten when the pair landed in Karachi, Pakistan last week — putting them one-third through their 26,000-mile, 25-city tour.
Babar's native Pakistan is an especially important leg of the trip. That's because Haris' effort is also raising money to fund schools built by The Citizens Foundation, a nonprofit that supports education for underprivileged Pakistani children.
The goal, Babar said, is to raise $1 million. Two donors have offered to give enough money to build two new schools in Pakistan.
Amjad Noorani, an advisor to the foundation's board, said the group was ecstatic when the Sulemans approached them about teaming up.
"In many areas, there have been no schools or there are abandoned government schools," Noorani said. "Many children in Pakistan are growing up without any education."
The group recently built its 1,000th school, opening 90 this year alone, Noorani said.
Aside from construction costs, paying staff, buying supplies and just keeping the lights on can run about $35,000 (U.S.) a year.
"He's at the age where there's no fear of the unknown."
Babar and Haris toured some of the schools during their pit stops in Pakistan.
Noorani said it would be a good opportunity for children there to see that the sky really is the limit.
"Our young kids have the same dreams as any other child," he added. "This flight will be a good source of inspiration, and hopefully, stimulate more dreams."
While flying around the world has been on Babar's bucket list, his son said he was taken by surprise by his dad's wild suggestion.
Haris was home in the Indianapolis suburb of Plainfield when his dad approached him. If Jules Verne could dream up flying around the world in 80 days for his classic adventure novel, surely they could do it in a month's time, Babar posed.
"We might never get a chance like this again," Babar told his son. "If you're game, let's get a plan together."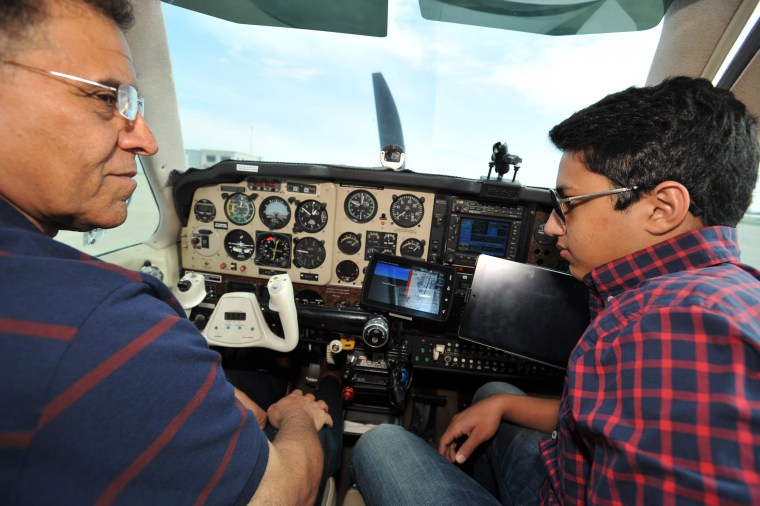 With the blessing of Babar's wife, the father and son pored over maps, charting out how much fuel it would take and which countries would make the best places to stop. They decided on Iceland and Italy, Greece and Egypt, Australia and Indonesia.
"I want to see Bali," said Haris, who'll be a senior in high school next year. "Why wouldn't you want to go to Bali?"
Babar has been flying since 2001, but Haris only picked it up last summer after his father bought the Bonanza. The younger Suleman earned his pilot's license in June.
To prepare for the trip, they took a survival course that included what to do if they land in water.
"Hope is never a good plan," Babar said. "We have to plan for all kinds of eventualities."
Babar knows what that's like. In 2008, he had to make an emergency landing on an Indianapolis highway after the engine in his single-engine plane died. He did so with traffic speeding perilously below.
"I know that things can go wrong — and they do go wrong," Babar said.
Where in the world is Haris Suleman? Track his global flight path here
The longest leg of their journey will be from Hawaii to California — a 2,100-mile stretch that will take 13-1/2 hours of flying over the Pacific Ocean. Haris is counting on his training to help see him through that exhausting expanse.
"I think I'm ready for whatever comes my way," he said last month.
In a blog, Babar has detailed both the trials and treasures experienced as they hopscotch across the globe.
In Egypt, they flew 11,000 feet in the air when they realized they ran out of drinking water — and had to distract their minds by chewing gum.
The United Arab Emirates, meanwhile, filled their senses.
"Dubai is an amazing place where one can find anything from any part of the world — all in one place; a perfect mix of east and west," Babar wrote.
The city also inspired Haris:
So if all goes according to plan, the Sulemans expect to be back in Indiana on July 22. Haris could very well have accomplished a record — and lay claim to another title: the journey of a lifetime.