Republican presidential nominee Donald Trump said Friday that Japan "doesn't have to do anything" and "can sit home and watch Sony television" if the United States were attacked. But the island nation could, in fact, aid the U.S. and other allies in an attack, thanks to a bill passed last year in Japan's National Diet.
Trump's comments came at a campaign event in Des Moines, Iowa, where he said the U.S. is obligated to defend Japan if attacked. Article 9 of Japan's Constitution, drafted after World War II, bars Japan from maintaining a military that can be mobilized overseas to fight in war.
"You know we have a treaty with Japan, where if Japan is attacked, we have to use the full force and might of the United States," Trump said. "If we're attacked, Japan doesn't have to do anything. They can sit home and watch Sony television, OK? No — what kind of deals are these?"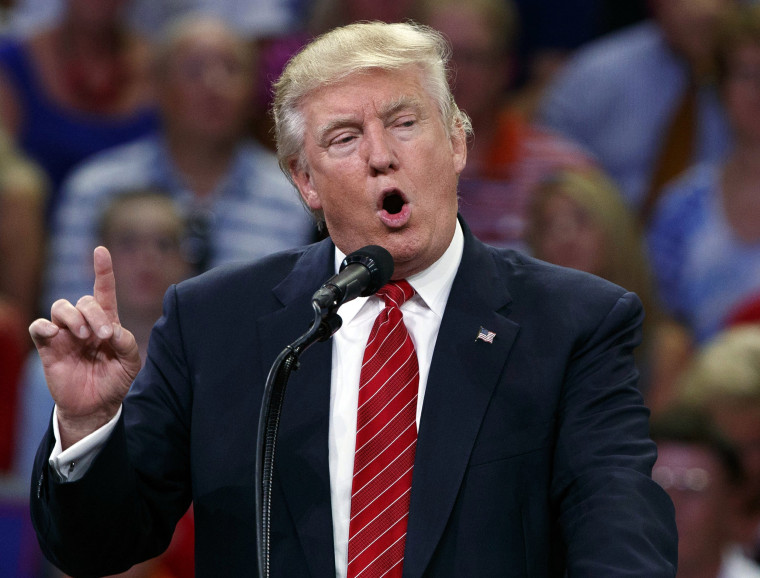 Michael Green, one of 50 former Republican national security officials who signed a letter saying they would not vote for Trump, called Trump's comments Friday "ridiculous" and told NBC News the U.S. needs Japan to act as a deterring force against China and North Korea.
"We don't necessarily need the Japanese on the front lines attacking," Green, a Georgetown University professor, said. "They haven't done that in 70 years, and we're the best in the world at it. What we need is help protecting our force, escorting our carriers, adding extra layers of defense."
RELATED: 50 Top GOP Officials: Trump Would Be 'Most Reckless President'
A bill Japanese Prime Minister Shinzo Abe helped send through the Diet in September is a step in that direction. The bill reinterprets Article 9, allowing for something called "collective self-defense." That means Japan can now shoot down a missile launched by North Korea at the United States, for instance, or provide logistical support to South Korea if North Korea invaded, according to the BBC.
The key caveat, though, is that those actions must be in Japan's vital national interest, Green said.
The bill, a departure from Japan's pacifist foreign policy, did draw noisy protests in Japan last year. But it doesn't revise the language of Article 9, written by American officials heading Japan's occupation after World War II. The article's first clause still reads, "Aspiring sincerely to an international peace based on order, the Japanese people forever renounce war as a sovereign right of the nation and the threat or use of force as means of settling international disputes."
To be sure, Japan can send troops or ships on peacekeeping missions anywhere in the world or even to coalition operations in Afghanistan and Iraq, Green said. And the country also has what's called Self Defense Forces, which would defend the homeland during an attack.
But Article 9 goes on to say, "Land, sea, and air forces, as well as other war potential, will never be maintained. The right of belligerency of the state will not be recognized."
For its part, the U.S. has around 50,000 troops stationed in Japan, an arrangement born out of the Japan-U.S. Security Treaty to defend Japan and maintain peace and stability in the region. The treaty says the U.S. would come to the defense of Japan because of an armed attack, but Green noted that the president and National Command Authority would have to first authorize such a response.
Beginning in the 1970s after the Vietnam War, the Japanese government agreed to pay host-nation support to have U.S. armed forces stationed in Japan, Green said. Japan contributes roughly $5 billion annually toward that goal, he said.
"We could press him to increase it even more, but just as a matter of physics, they're not going to be able to afford to triple their defense spending."
The Japanese build the runways, gates, and housing, and pay for certain parts of maintenance and upkeep, as well as the salaries of workers on the bases, Green said. But the U.S., he added, pays the salaries of the service men and women stationed in Japan.
In his speech Friday, Trump lamented that some countries don't pay enough for U.S. defense. He said he was told Japan "pays 50 percent of the cost of the defense" and said in response, "Why don't they pay 100 percent?"
Green said Abe, Japan's prime minister, has increased defense spending under his watch.
"We could press him to increase it even more, but just as a matter of physics, they're not going to be able to afford to triple their defense spending," he said.
RELATED: Philippine Lawmaker Seeks to Ban Donald Trump From Country
Green added, "If Trump wins, he's not going to be finding Abe resisting him. Abe wants to do more, unlike some of our European partners. But there's just a limit to how much an economy that's growing very slowly can afford."
Green, who served as special assistant to President George W. Bush and senior director for Asian affairs at the National Security Council, said trust between the U.S. and Japan and being able to work together can serve as a "very powerful deterrent against an ambitious China or a dangerous North Korea" and is "worth more than billions and billions of dollars in budget spending."
"A smart candidate" for president, Green added, might want to prompt another debate — whether Japan should have the legal framework to attack back if provoked.
"We need more out of Japan, but the real power of what Abe is doing is that we're joint, we're together, we can't be separated," Green said. "The Chinese and the North Koreans know that almost no matter what happens, even if we haven't put it in writing, if the U.S. goes, Japan goes, and vice-versa."
Follow NBC Asian America on Facebook, Twitter, Instagram, and Tumblr.