Twenty-one years ago, Qinglan Huang was in her midtown Manhattan office when the phone rang around noontime. It was her neighbor, who had called to say her younger brother had been injured and that two police officers were on their way to pick her up.
When they arrived a few hours later, Huang, who worked for an import-export company, got in their unmarked police car and sped off to Coney Island Hospital in Brooklyn, where an ambulance had taken 16-year-old Yong Xin Huang.
"I was praying that hopefully he was doing okay and it was nothing serious," Qinglan Huang, now 46, told NBC News.
RELATED: Former NYPD Cop Peter Liang's Guilty Verdict Leaves a Community Divided
Huang arrived at the hospital around 5 p.m. and met her aunt and cousin who were already there. No one had seen the teen. No one knew if he was okay. No one was talking. Later that evening, the police asked Huang to accompany them to the station house. That's where she learned her brother had been fatally shot by a cop.
"I never thought he was dead," she said. "Never, ever."
Now, two decades later, the death of Yong Xin Huang, the youngest of four and the Huang's only son, has forged an empathetic bond between Qinglan Huang and the family of another man killed by police in 2014 — Akai Gurley.
"Both didn't do anything wrong, and they got shot by police and cut down their lives," she said.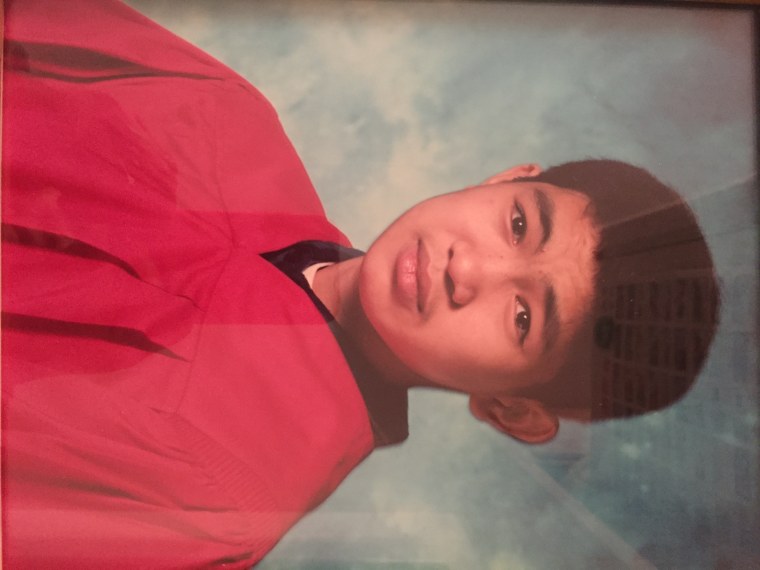 Yong Xin Huang had been at a friend's house the morning of March 24, 1995, shooting a pellet gun when a neighbor called police. A "face-to-face" struggle ensued between one of the New York Police Department (NYPD) officers who responded, Steven Mizrahi, and Huang who was holding a BB gun that the officer thought looked real, a grand jury concluded, according to a New York Times article published May 17, 1995.
During the confrontation, Mizrahi's unholstered Glock 9mm accidentally went off, the grand jury determined, and the single bullet entered Huang at close range from behind his left ear, the New York Times reported. While the 16-year-old's friends testified that Huang had his back to Mizrahi when the officer's gun fired and that he was not resisting, Charles J. Hynes, the Brooklyn district attorney at the time, said two autopsy reports supported Mizrahi's account of events, according to the newspaper.
In the end, the grand jury chose not to indict, a decision Qinglan Huang learned from a reporter who phoned her at work.
"My boss told me just tell the reporter there is no comment," Huang said. "But I said I should not say, 'No comment.' I should say, 'This is no justice for my brother."
To this day, Huang remains angry that the officer who shot her brother was never charged.
"When I heard that Peter Liang killed Gurley, when I heard that he got indicted, I think the system is finally changing a little bit," she said. "Because from 21 years ago when an officer killed an innocent person, there was no indictment, no conviction."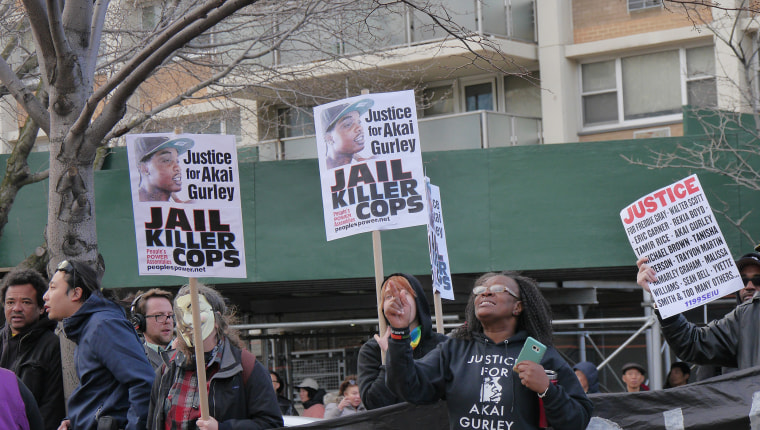 But like Gurley's family and supporters, Qinglan Huang said she was also angered by Brooklyn District Attorney Ken Thompson's recommendation in March that Liang, who was convicted a month earlier of second-degree manslaughter and official misconduct, be sentenced to five years probation, 500 hours of community service and six months of home confinement instead of jail time.
"Probation is definitely not acceptable," she said.
RELATED: Brooklyn DA Won't Seek Prison For Peter Liang After Conviction in Akai Gurley Death
On the night of Nov. 20, 2014, Liang was performing a vertical patrol with his partner in a pitch-dark stairwell of a Brooklyn housing project when his gun, which was drawn, went off.
Liang, 28, testified he had been startled by a "quick sound" after entering from the eighth floor and fired by accident. The lone bullet ricocheted off a stairwell wall and struck Gurley, who was on the floor below with his friend Melissa Butler.
Prosecutors portrayed Liang's actions as reckless and said Liang, after realizing Gurley had been hit, never stepped in to perform CPR. Liang's attorneys said the rookie officer was in a state of shock and tried making radio transmissions that did not go through or were incomplete.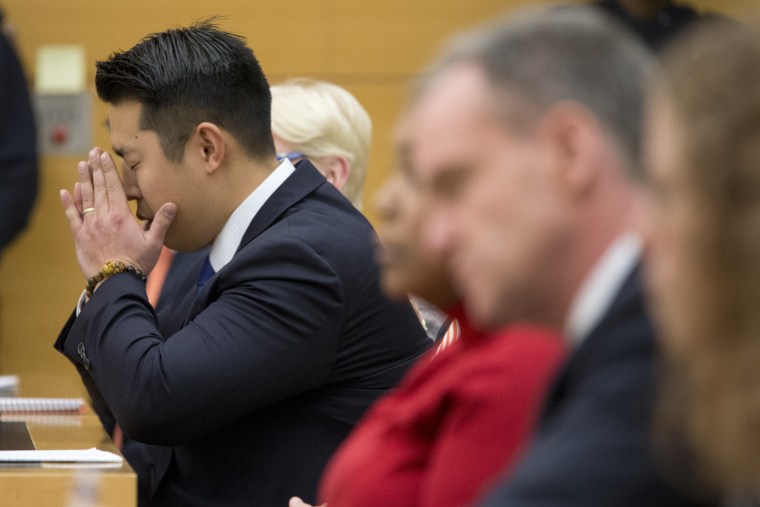 Liang's case unwittingly brought Asian Americans into a national debate on policing, a debate that until then was centered largely on white officers involved in police incidents in which unarmed black men had died. Some in the Asian-American community believe Liang was indicted last February because NYPD Officer Daniel Pantaleo, accused in 2014 of applying a fatal chokehold to Eric Garner in Staten Island, and Darren Wilson, who fatally shot Michael Brown in Ferguson, Missouri, were not.
"If he killed somebody and he never goes to jail, it will never bring justice to the family."
The last NYPD police officer convicted in a fatal civilian shooting was in 2005. Bryan Conroy was sentenced to probation and 500 hours of community service for killing an African immigrant during a police raid.
To Liang's supporters, the rookie officer made an easy target because he is Asian American and should never have been tried in the first place.
"Unfortunately, he's the only one indicted because he's a person of color," Huang said.
But that, she added, does not mean he should be let off for killing Gurley.
"Whatever the charges he's facing is exactly what he did," Huang said.
Yong Xin Huang was seven when he emigrated with his family in 1986 from Taishan in southern China. The Huangs settled in Williamsburg, Brooklyn, and both parents worked in Lower Manhattan, their mother at a garment factory, their father in a restaurant. When he died, Yong Xin Huang was still attending Robert F. Wagner Middle School on the Upper East Side, the result of being placed a few grades behind where he should have been when he came to the U.S., according to Huang.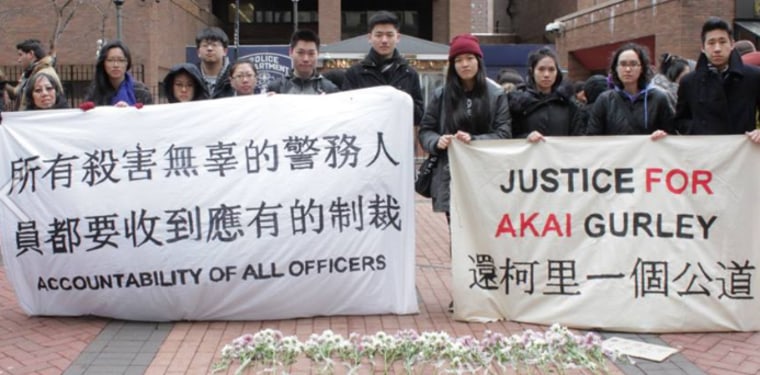 Huang said her brother was an honors student, had perfect attendance, and never cut class. But on the Friday morning of the day he was shot, he had eaten some breakfast, grabbed his backpack and decided to take the subway to a far-flung part of Brooklyn, where a friend he knew from elementary school lived, Huang said.
RELATED: Ex-Cop Peter Liang Apologizes to Akai Gurley's Domestic Partner in Meeting
Just as Kimberly Ballinger, Gurley's domestic partner and mother of his daughter, has filed a wrongful death lawsuit against the city, Liang and his partner, former Officer Shaun Landau, so too the Huangs sued New York City and Mizrahi in 1995.
Represented by the Asian American Legal Defense and Education Fund, the Huangs alleged in a federal lawsuit that Mizrahi's Glock 9mm, which the NYPD began issuing in 1989, did not have a safety device, that the officer received inadequate training in using his weapon, and that he acted recklessly in positioning the gun close to Yong Xin Huang's head. The city settled with the Huangs in 1996 for $400,000.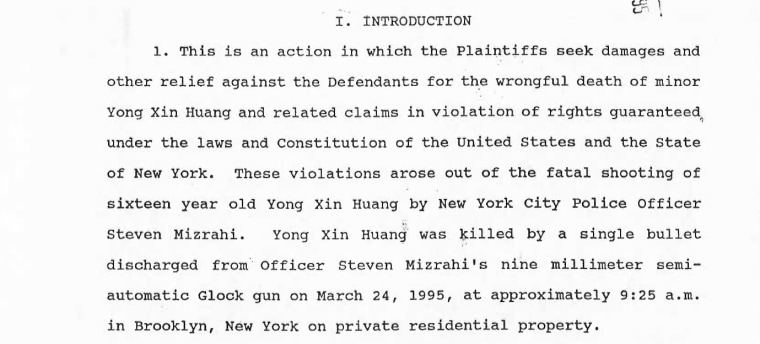 Following her brother's death, Huang said Asian Americans in New York came out to protest, demonstrating in front of the Brooklyn District Attorney's Office and marching from downtown Brooklyn to Manhattan's City Hall. CAAAV Organizing Asian Communities, a group founded in 1986 to address police and hate violence toward Asian immigrants, helped organize those demonstrations.
RELATED: Thousands Rally After Conviction of Ex-Cop Peter Liang in Death of Akai Gurley
CAAAV has also been vocal in calling for Liang's indictment and conviction and has lent its support to the Gurleys. Since the shooting, the organization's members have attended court hearings with the family and have participated in rallies and news conferences.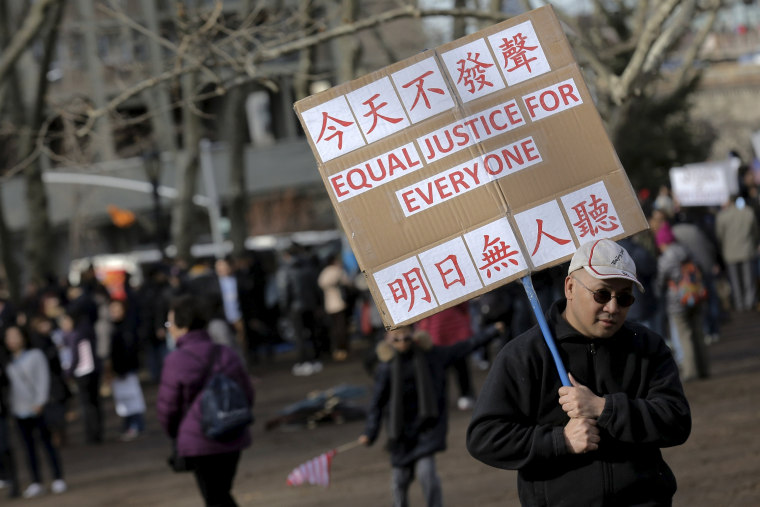 Huang said she feels her family never got the same support from Asian Americans that Liang has received. Phil Gim, who helped organize demonstrations for Liang, told NBC News that WeChat, a Chinese-language social media platform, was one driving force in turning out the tens of thousands of Chinese-American immigrants who participated in Feb. 20 rallies in more than 30 cities across the country. WeChat and social media were not around, though, when Yong Xin Huang was killed.
On Thursday, Liang faces up to 15 years in prison when he's sentenced by State Supreme Court Justice Danny Chun. A hearing is scheduled the day before when a Liang juror will answer questions in court over accusations that he was untruthful during jury selection about his father's past manslaughter conviction.
RELATED: Lawyers for Ex-Cop Peter Liang File for New Trial, Allege Juror Misconduct
Last week, Liang's attorneys, Paul Shechtman and Gabriel J. Chin, filed a request for a new trial based on those allegations. In March, they also submitted a motion to set aside the verdict, arguing that Liang was not reckless when he shot Gurley and that police procedures did not require him to perform CPR, which Liang's attorneys say he was "grossly inadequately" trained in.
Huang said Liang doesn't need to be sentenced to the full 15 years, but added she believes he must serve time in prison.
"If he killed somebody and he never goes to jail, it will never bring justice to the family," Huang said.
Follow NBC Asian America on Facebook, Twitter, Instagram, and Tumblr.
Correction: An earlier version of this story misstated Qinglan Huang's name as Qing Lan Huang.