The University of California at Berkeley's health center is facing backlash after a post on its Instagram account prompted social media users to accuse it of normalizing xenophobia.
Be Well Cal, an account run by the Tang Center, the campus medical service, shared a since-deleted graphic about "managing fears and anxiety around coronavirus." It listed xenophobia among the "common reactions" to the outbreak.
"Please recognize that experiencing any of these can be normal reactions," the school wrote in the post, which also included other items such as "social withdrawal" and "anger" on the list.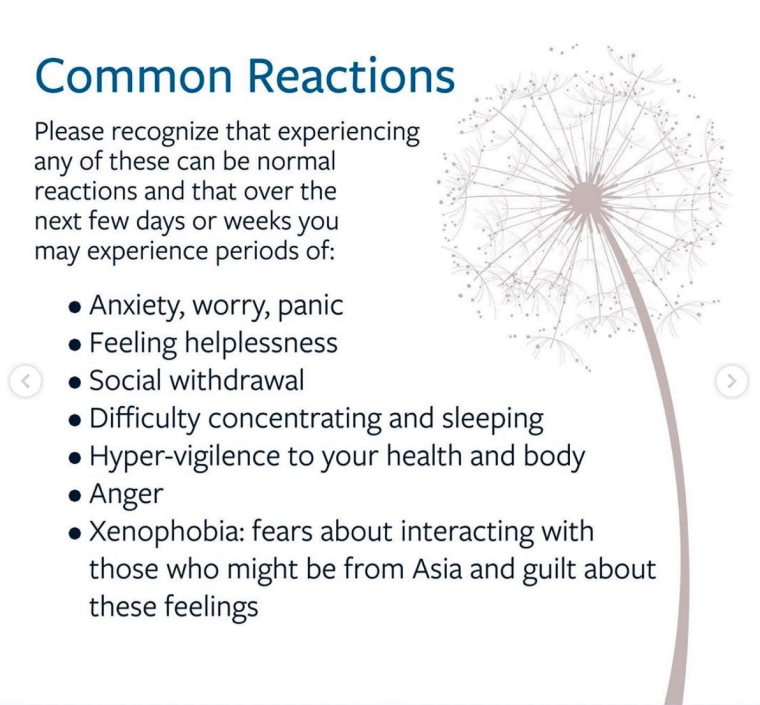 The post, which was shared over the weekend, was removed Thursday. However, it had already prompted the backlash from social media users, who pointed out the school was perpetuating misdirected fears.
Christina Lee, an Instagram user who spoke out about the issue, had emailed the health center Thursday morning to explain her concerns. NBC News viewed the response, in which the organization said that it had "apologized, corrected the captions and our messaging around this in other communications on campus has been reworded and does not use the word 'normal reactions' or 'xenophobia.'" The post continued to remain on its Instagram account hours after Lee had emailed the organization.
"We understand how the social post was set-up did not portray what we intended, which was to say that it is harmful and to be careful of stigmatizing others," the health center's email to Lee read.
The health center did not return a request for comment, but it shared a statement on its social media accounts.
"We apologize for our recent post on managing anxiety around Coronavirus," the health center tweeted. "We regret any misunderstanding it may have caused and have updated the language in our materials."
Though she never attended the school, Lee explained she felt the post was "irresponsible," particularly as it came from a large institution.
"Xenophobia is not a 'normal response' to anything — it's a learned and racist response — and they're writing and publicizing this like an official health source. It's infuriating that they're using this mask of wellness to ignore their racism," she said.
Anthony Ocampo, a sociologist who focuses on race, immigration and LGBTQ issues, echoed Lee's thoughts. While UC Berkeley may have intended to keep its students safe, its messaging was not innocuous and instead "reinforces the 'otherness' of Chinese and other Asian folks.'"
"Rather than reframing the coronavirus as a disease affecting human beings, this association of the disease with Chinese people — a diverse population that, by the way, includes over 1.4 billion people — perpetuates the association between immigrants and disease."
He added that right-wing interests have used the "bogus, unscientific explanation" to advance nationalism, calling the framing a "dangerous precedent."
So far, more than 9,700 cases of the coronavirus have been reported in China alone and as the illness continues to spread, experts are concerned xenophobia will, as well. Already, conservative radio personality Rush Limbaugh has advocated for the United States to put a "ban on Chinese passengers being permitted into the country." Conservative pundit Ann Coulter has similarly criticized Congress for failing to ban "travel from China to block the coronavirus that will kill Americans."
Robert Fullilove, a professor of sociomedical sciences at New York's Columbia University Medical Center, previously said in an email that with more panic comes a greater "temptation to blame the outsider — the other."
"If anything, I am tempted to predict that xenophobia will rise in significance to precisely the degree to which our sources of information — all of them, not just media — give us stuff to panic about," he said.