#WearImFrom: Monica Phromsavanh, founder of ModaBox, as told to NBC Asian America contributor Ruby Veridiano
My parents escaped the chaos and violence of the Secret War in Southeast Asia. Looking to start over, they immigrated to Argentina where I was born and raised. Unfortunately, we were placed in a refugee camp, in living quarters that resembled a warehouse, with around 200 to 300 square-feet of space for each family to live in. Without any government support or sponsors, we were stuck. We lacked resources to get ahead, and it was a challenge to see hope for a better future.
I remember that in order to survive at the camp, the Laotian community had to fish, cultivate, and sell handmade wares on the streets. Some of the older women at the village hand-knitted dolls to sell them as souvenirs. At the age of 7, I began selling those dolls on the street. I used to beg tourists to buy them from me so that I can have money for my meals.
I guess growing up in that type of environment, you don't really think it is abnormal for a 7-year-old girl to be working. I think about it sometimes, and I feel like I've lived so many lives.
I believe my circumstances have helped me build grit. I also learned how to hustle at a very young age. This lesson taught me to value opportunities more than most. When I was young, I would think that opportunities hardly came by. But now as an adult, I'm self-aware and see opportunities even when they don't even exist because sometimes you have to create opportunities yourself.
When I moved to NYC, I didn't know many Laotian people. Once, I was invited to speak at a conference, and met many Laotians who inspired me. Soon after, I started to learn about Legacies of War, a nonprofit organization dedicated to clearing out unexploded bombs in Laos. Did you know that during the Secret War, 250 million bombs were dropped and 80 million of them failed to detonate? That leaves about one-third of the land in present-day Laos still contaminated with unexploded ammunition. This problem is still affecting the lives of Lao people today. I was amazed when I met Elizabeth Suda, the founder of Article 22, a sustainable fashion company. They partner up with local Laotian artisans who melt bombs and make them into jewelry. They are transforming something negative into something positive and beautiful.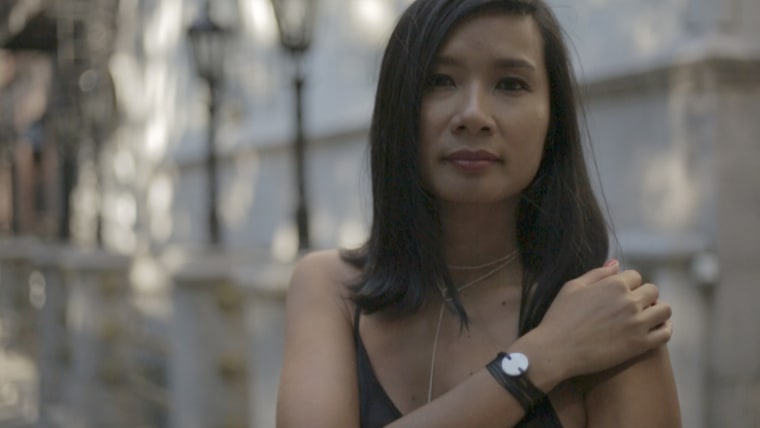 Wearing these pieces reminds me of my family's history. This bracelet reminds me where I'm from because of the rich history behind it. It leads back to why my parents immigrated to Argentina, and leads to who I am today.
Share your photos and stories about how the clothing, accessories, or art you wear express your background and identity using the hashtag #WearImFrom on Twitter and Instagram.
Follow NBC Asian America on Facebook, Twitter, Instagram and Tumblr.