The widows of two New York Police Department (NYPD) officers gunned down in 2014 as they sat in their patrol car have each donated $10,000 to help the families of the five slain officers and seven others wounded in Dallas, Texas.
Pei Xia Chen and Maritza Ramos were among the first to contribute to a fund established by the Stephen Siller Tunnel to Towers Foundation, which had raised more than $1 million for the families of slain Detectives Wenjian Liu, who was married to Chen, and Rafael Ramos.
Chen and Ramos are also expected to travel this week with Tunnel to Towers representatives to visit with families of some of the fallen officers in Dallas, who were shot and killed Thursday evening.
"My prayers are with all the officers and everyone affected by the loss of the five officers and the injured officers of Dallas," Ramos said at a press conference Saturday, also attended by Chen, Liu's parents, and former New York City Mayor Rudolph Giuliani, who donated $10,000 as well.
Ramos made the donation through the Detective Rafael Ramos Foundation, which she founded in her husband's name to help families of police killed in the line of duty.
RELATED: Family, Friends Remember Slain NYC Cops at Plaque Reveal Ceremony
The Stephen Siller Tunnel to Towers Foundation, named after New York City firefighter Stephen Siller, who died in the Sept. 11 terrorist attacks, has already raised more than $334,000 for the Dallas victims' families through Crowdrise, with a goal of $5 million.
The gunman who targeted the Dallas officers, 25-year-old Army Reservist Micah Johnson, was killed early Friday morning following a stand-off with police. Johnson said "he wanted to kill white people, especially white officers" and was "upset about Black Lives Matter," according to Dallas Police Chief David Brown.
The ambush against Dallas police officers on Thursday comes a little more than a year and a half after Liu and Ramos were fatally shot while sitting in their parked patrol car in Brooklyn, New York, on Dec. 20, 2014. The killer, 28-year-old Ismaaiyl Brinsley, had a history of arrests and made threats against police on social media after shooting his girlfriend in Baltimore last year.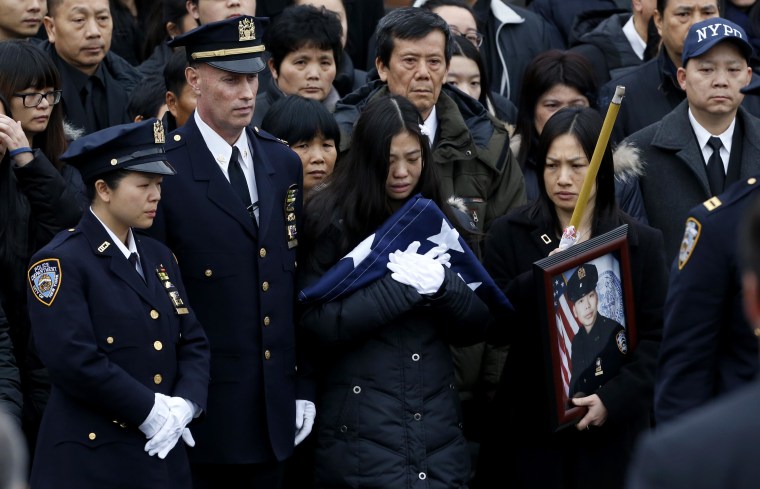 RELATED: Chinese-American Officers Stream to Wenjian Liu's Funeral
Brinsley's threats were apparently connected to police incidents around that time involving the deaths of African Americans, including the fatal August 2014 shooting of Michael Brown in Ferguson, Missouri, and a grand jury's decision in December of that year not to indict an NYPD officer accused of placing a chokehold on Eric Garner, who died during an arrest that summer.
Brinsley took his own life after killing Liu and Ramos, shooting himself on a subway platform not far from where he shot the two officers with the same gun.
Follow NBC Asian America on Facebook, Twitter, Instagram, and Tumblr.