A Wisconsin Hmong-American teenager convicted in the 2015 fatal stabbing of another teen has opted not to seek a new trial.
Dylan Yang, 17, who was convicted of first-degree reckless homicide in the death of 13-year-old Isaiah Powell, withdrew a motion for a retrial on Tuesday. The motion was filed in March by Yang's attorney, Harry Hertel, who argued that his client's first lawyer was ineffective.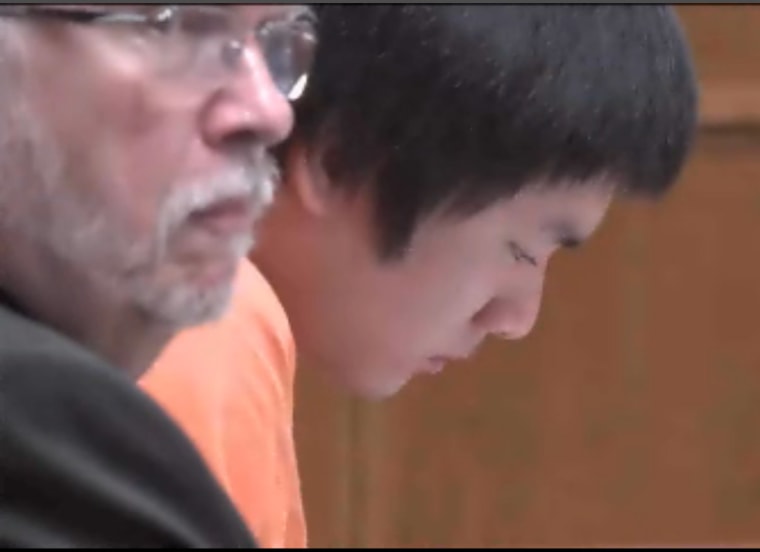 Hertel told NBC News that he had been preparing for a Tuesday hearing up until Monday afternoon when Yang advised him that he had decided to withdraw the motion for retrial.
"We felt we really had a good case, but we also were stuck with the fact that we can't make that decision. Dylan's decision had to be binding," Hertel said.
RELATED: Dylan Yang, Teen Convicted of Homicide, Sentenced to 13 Years Confinement
Yang's case had attracted support in the Midwest's Hmong-American and Asian-American communities. In May 2016, hundreds of people from Wisconsin and Minnesota participated in a "Save Our Children community peace march," in support of Yang. Participants told NBC affiliate WJFW that they believe Yang didn't receive a fair trial due to a lack of diversity on the jury and the fact that he was tried as an adult.
In dropping the motion, Yang will not be able to request a new trial in the future, according to WJFW.
In 2015, Powell and several friends reportedly went to Yang's house with a BB gun following an argument on Facebook, according to WJFW. Yang, who was 15 years old at the time, reportedly stabbed Powell twice with a kitchen knife, an action he has claimed that he took to defend himself and a friend. Powell died after being taken to a local hospital.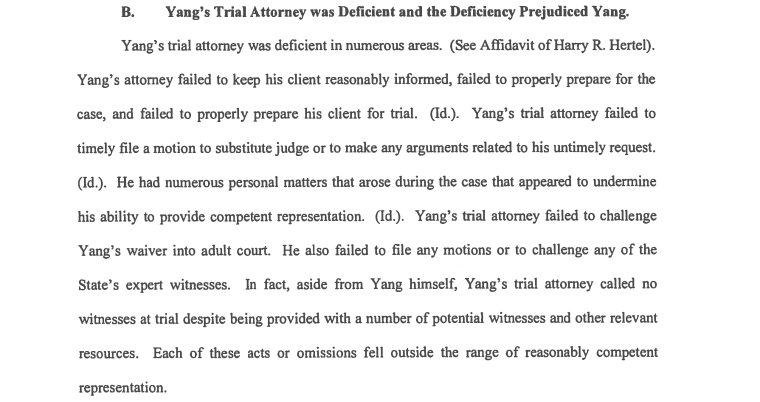 Yang was found guilty of first-degree reckless homicide. He was sentenced to 13 years in prison and 17 years of extended supervision.
The Marathon County District Attorney's Office did not immediately return a request for comment.
Hertel said that although Yang is still a minor, his decision not to seek a retrial was exclusively his — not one a parent or lawyer could make.
If Yang received a retrial and won, he would have been acquitted, Hertel noted. But if he lost, he could have potentially been subject to a longer prison sentence. Yang has currently served more than two years of his sentence, Hertel said.
RELATED: New Lawyers for Teen Convicted of Homicide Call for New Trial
"He felt … that he should be punished for what had happened. In addition, he was concerned that going through the motion hearing would be stressful for both his family and Isaiah's," Hertel said. "If we succeeded and we got a new trial, then there would be a financial burden for the family, as well as well as the emotional burden of going through another trial. And that would apply also to Isaiah's family, having to suffer through that."
Follow NBC Asian America on Facebook, Twitter, Instagram and Tumblr.