Selling a speculative literary fiction novel about a viral plague and collective grief to an editor is one thing, but getting that book published during an actual pandemic in which millions of people have died worldwide is a process Sequoia Nagamatsu described as "definitely eerie." 
After working for more than 10 years on his debut novel, "How High We Go in the Dark," Nagamatsu found that his haunting and hopeful story about grief, loss and the different ways we move on saved him when it came to his own present-day anxieties and struggles.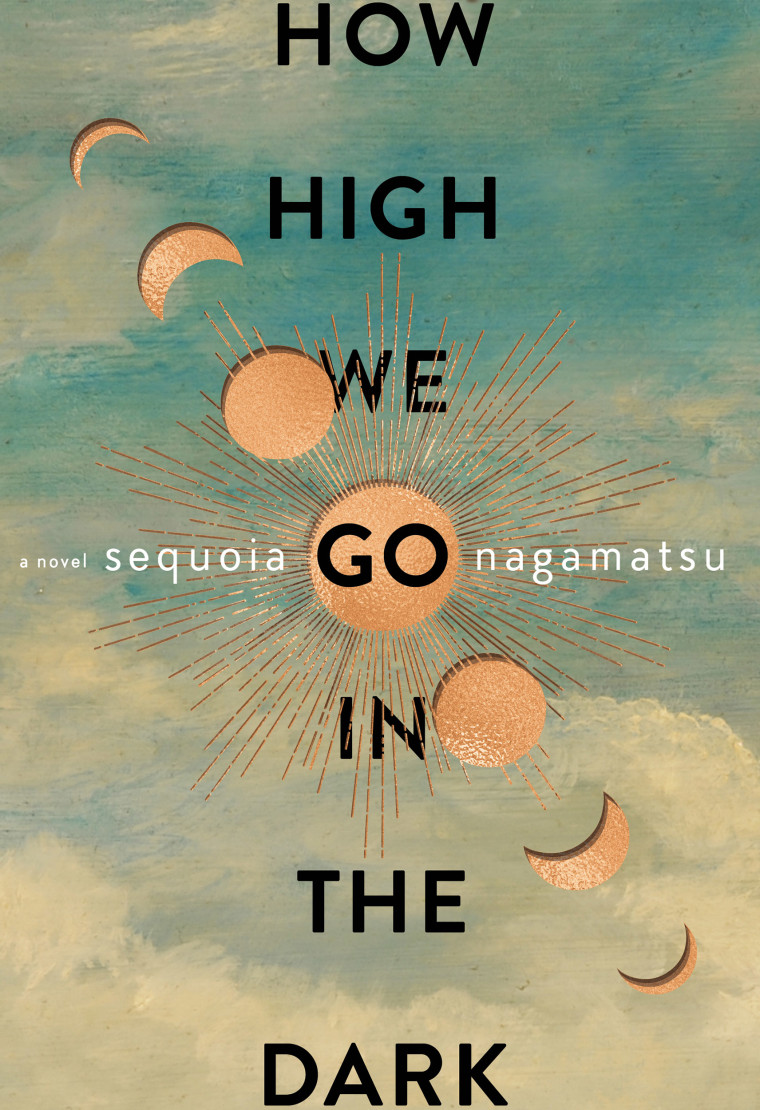 "A plague book was such a healthy thing for me to engage with," Nagamatsu told NBC Asian America. "I worried how people would respond, but even people who had losses from Covid were able to engage with the book in a way that was still tough, but they saw the hope there." 
Spanning generations, continents and space, "How High We Go in the Dark" follows a cast of linked Asian American and Asian characters beginning in 2030 as the Arctic Circle's melting permafrost reveals the preserved remains of a girl who died of an ancient virus, unleashing a pandemic on the world.  
In a series of deeply moving stories, Nagamatsu created an imagined future with funerary skyscrapers, robotic dogs that capture the voices of lost loved ones, a theme park where terminally ill children are euthanized on a roller coaster and a pig nicknamed Snortorious P.I.G. who learns to speak while serving as a test subject in a research lab.
The book's themes are familiar territory for Nagamatsu, who was born in Southern California and mostly raised in Hawaii and Northern California. After his mother left the family when Nagamatsu was a boy, he said, his father, who served in the Navy, enlisted Nagamatsu's grandparents and an aunt and uncle to help raise him.  
When Nagamatsu was 26 and his grandfather was dying, Nagamatsu said he had the chance to return home but didn't due to family-related challenges. The experience especially informed the chapter "Elegy Hotel," where people visit a "death hotel" to bid farewell to beloved corpses.
"The 'Elegy Hotel' chapter digs really deeply in terms of my own history, in terms of not being able to say goodbye and not making the right choices that I should have at the time," Nagamatsu said. 
While editing "How High We Go in the Dark," Nagamatsu said, he learned that his father, from whom he'd been estranged in recent years, was dying of cancer.
"I was able to have counsel with my novel in terms of, what should I do?" Nagamatsu said. "I ultimately reached out and was able to speak with my father a few times before he passed away, and I'm grateful for that." 
Nagamatsu's imagination and passion for storytelling developed as a child who spent a lot of time alone, he said.
"I think from a very early age I was very fascinated with stories, even before I could read," he said. "I'd make up stories and put on plays for my family, and when I could write with crayons, I would make my own tabloids like the National Enquirer."
After attending Iowa's Grinnell College, Nagamatsu returned to San Francisco, where he said he began writing regularly but found himself "broke and floundering." He moved to Japan for two years to teach English, which he called a turning point. As a fourth-generation Japanese American who didn't speak Japanese well, Nagamatsu recalled being so culturally isolated he had plenty of time to focus on writing. 
Nagamatsu returned to the States to attend Southern Illinois University's Master of Fine Arts program in creative writing, where he began reckoning with race in his fiction.
"A lot of my early stories weren't written for myself; they were written for an imagined white audience, since that's the kind of work I saw being published," Nagamatsu, who authored the award-winning short story collection "Where We Go When All We Were Is Gone" in 2016, said.
The renewed anti-Asian sentiment that began early in the Covid-19 pandemic made the representation of Asian Americans in "How High We Go in the Dark" feel more urgent for Nagamatsu.
"I wanted to make sure that it was portraying Asian bodies and voices as suffering just like anybody else and trying to find connections and grieve like anybody else without calling unnecessary attention to the fact that they were Asian," he said. 
Whether thinking about racism, climate-related disasters or our still-raging pandemic, Nagamatsu, a creative writing professor at St. Olaf College in Minnesota, said he believes literature can help people process the overwhelming challenges of the present day. 
"As far as how we can reach for the light in the dark, I think storytelling is one way of engaging with that hope because it's a way of immersing yourself in one person's life or a group of people's life," Nagamatsu said. "We need to be kinder to each other, and that's only going to happen if we have a better understanding of who we are and the other communities we're sharing this planet with."