"You've hijacked my heart," "I'd let you creep sharia all over my body," and "You sp-ISIS up my life" are just some of the snarky and provocative new messages in activist and artist Tanzila "Taz" Ahmed's annual #MuslimVDay cards, now a Valentine's Day tradition which is taking the internet "like drones dropping bombs."
Now in her fourth year of making the politically-charged anti-Islamophobia cards, this personal counterculture art project started as a joke.
"I was spending a lot of time thinking about what it means to be Muslim and to be sharing a Muslim love story," said Ahmed. "It was around Valentine's Day and we were pushing out 'Love, Inshallah,' an anthology that I have a racy love story in. So I started to Tweet using the #MuslimVDay hashtag."
Ahmed decided to paint the six most popular Tweets and print the images onto cards for her friends. The cards were so popular that she made another set of cards each subsequent year, and last year she began to make the cards available for purchase.
"Every year I try to create cards that make people feel uncomfortable and disrupts the narrative people have of Muslim Americans," said Ahmed. "Each of the cards usually is a head nod to something that's going on in the news with Muslim Americans - so each set really reflects a timely snapshot of what the 'Islamophobia' pop news is for the year."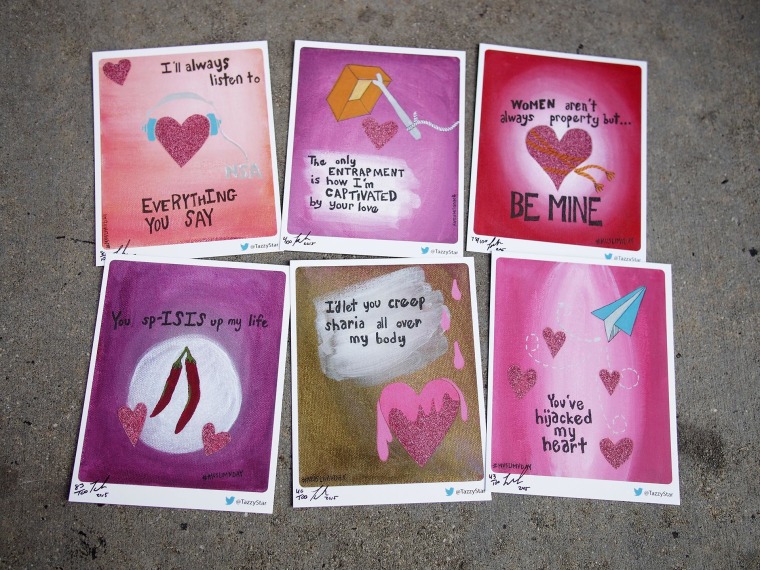 IN-DEPTH
SOCIAL