China has stepped up the construction of a series of large artificial islands, according to satellite images released Thursday, a move that experts said would dramatically extend its reach into hotly disputed waters.
The images, which were taken by Airbus Defence and Space and released by military magazine IHS Jane's Defense Weekly, showed three islands built within the past year at reefs in the South China Sea.
The satellite photos were evidence of China's "methodical, well-planned campaign to create a chain of air and sea-capable fortresses," according to the magazine's Asia-Pacific editor James Hardy. The magazine added it had tracked a Chinese dredger to the area last year and that the builds were similar to other Chinese projects.
One of the islands, built with dredged, reclaimed land in the Spratly Islands, had within the past year grown from a small 415-square-yard platform to a facility 82,000 square yards in size — the equivalent to 14 football fields.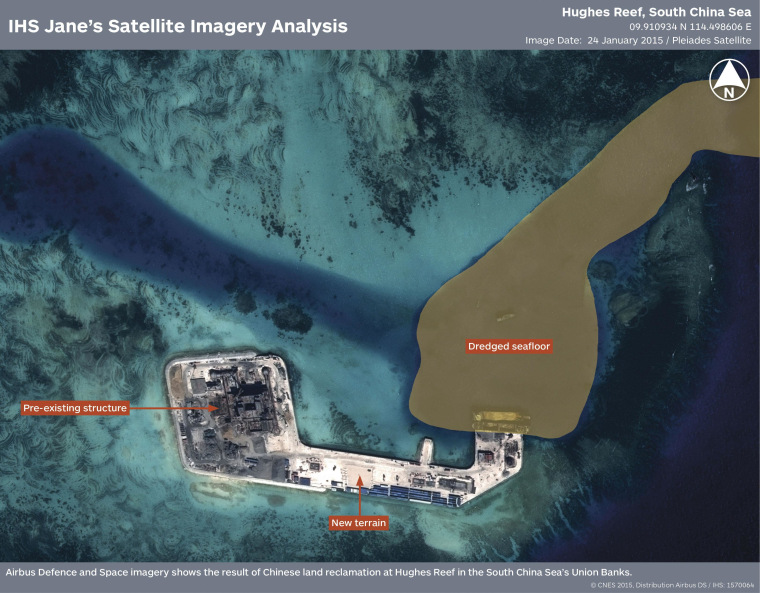 Hardy said the islands featured "helipads, airstrips, harbours, and facilities to support large numbers of troops."
China claims most of the South China Sea for itself, but is in dispute with of several neighbors, including Vietnam, Taiwan, and the Philippines, who have overlapping claims.
"These reclamations are bigger and more ambitious than we all thought," one Western diplomat told Reuters on condition of anonymity. "On many different levels it's going to be exceptionally difficult to counter China in the South China Sea as this develops."
- Alexander Smith
Reuters contributed to this report.